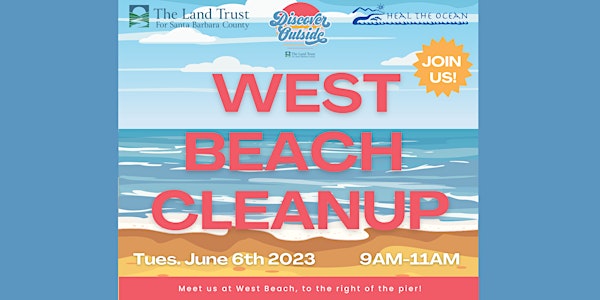 Clean Up West Beach with the Land Trust for SB County and Heal the Ocean!
Please join the Land Trust for Santa Barbara County and Heal the Ocean to beautify our community and clean up West Beach on June 6th, 2023!
By The Land Trust for Santa Barbara County
Date and time
Tuesday, June 6 · 9 - 11am PDT
Location
West Beach (right side of the pier) 217 Stearns Wharf Santa Barbara, CA 93109
Agenda
8:45 AM - 9:00 AM
Meet Up
---
Meet us to the right of the pier to grab your t-shirt, gloves, bags, and record sheets!
About this event
Please register before the event with your headcount and t-shirt sizes.
Bring your friends and family, wear sunscreen, shoes, and comfortable clothes.
Heal the Ocean is providing t-shirts, bags, sturdy gloves, and record sheets to keep track of the trash you pick up. Volunteers can receive official community service credit - email info@healtheocean.org for more details!
This event is part of the Land Trust's "Discover Outside" program, a week+ of free, family-friendly activities from June 1st-11th. Everyone is welcome! Click here for more info.
Beach Cleanup Tips from Heal the Ocean
Our beaches are the bridge between our world and the ocean. Beaches are fragile environments, and trash that is deposited on them can cause serious problems. It is necessary to keep our beaches clean if we hope to keep our oceans clean. Beaches are home to various creatures from sea lions to shore birds. Many animals depend on our beaches to survive. Even ocean dwelling marine life is affected by waste on beaches. When the tides rise, beach trash is taken out to sea where it remains forever!
Why are beach cleanups important?
Beach cleanups are important because each year 8 million metric tons of plastic end up in the ocean! That's the equivalent amount as having 5 grocery bags filled with garbage on every foot of beach in the world…which is way too much.
All this garbage and plastic in the ocean is really harmful to ocean animals. Seals, dolphins, fish, whales, turtles, and shorebirds don't know the plastic and trash is dangerous to their health. They often eat it or get entangled in the garbage and get seriously injured or sick.
Beach cleanups are a great and simple way to help keep the ocean free of trash!
What to Expect:
You will search the beach far and wide and pick up any and all trash that you can find. You may find larger pieces of trash like soda cups, takeout boxes, cigarette butts, wrappers, or chip bags, but a majority of the trash on our beaches are microplastics, which are really small broken-down pieces of plastic or foam. Please look in the sand and seaweed and among the driftwood for small pieces of plastic and foam and make sure to pick those up and throw them out. They are very bad for the environment. Also, please try and remove fruit peels, nut shells, or other food materials that are not naturally found in the beach environment. While food is biodegradable, it isn't naturally found on the beach and can make marine life sick.
If you are cleaning up a beach with a parking lot, foot path, or park attached to it, please pick up trash not only on the beach, but also in the grass or plants around the beach, the sidewalks, parking areas, etc.…it's all going to make its way to the ocean.
Be safe, be smart, be careful! Watch out for sharp objects and always use gloves when handling trash and please wash your hands when you finish.