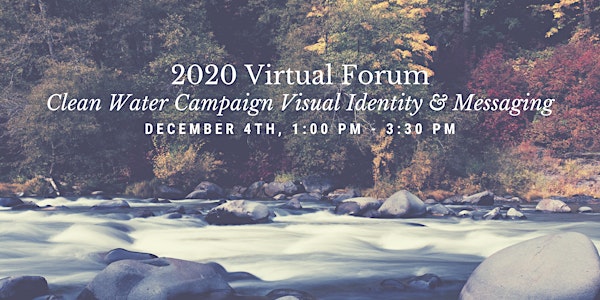 Clean Rivers Coalition 2020 Forum - Campaign Visual Identity & Messaging
Please join us for our 2020 (Virtual) Forum on December 4th from 1:00pm - 3:30pm
About this event
Please join us for our Clean Water Campaign Visual Identity and Messaging Virtual Forum on December 4th from 1:00pm - 3:30pm.
We want to hear from you as the process continues to develop a clean water communication plan. Come hear about the Clean River Coalition's latest progress and provide feedback as we move forward. Our consultant, BRINK Communications, will lead us through the next phase of communication plan development: creating a visual identity and messaging. We will also be asking you to complete a survey about video campaigns we will be creating over the next year. You are an important partner and hope you will join us.
Please register by Friday, November 27th!