Location
Wythe Hotel
80 Wythe Avenue
Brooklyn, NY 11249
Description
Created by artist Brendan Fernandes, Clean Labor is a contemporary dance performance that make visible what is too often overlooked — the work of hospitality workers and cleaning professionals whose contributions ensure that our homes, offices, schools, hotels, and public spaces are safe, clean, and livable.
Performance Schedule
1-2 | Main performance staged throughout three Wythe Hotel rooms

2-4 | Second performance + closing reception and book-signing at The Ides Rooftop Bar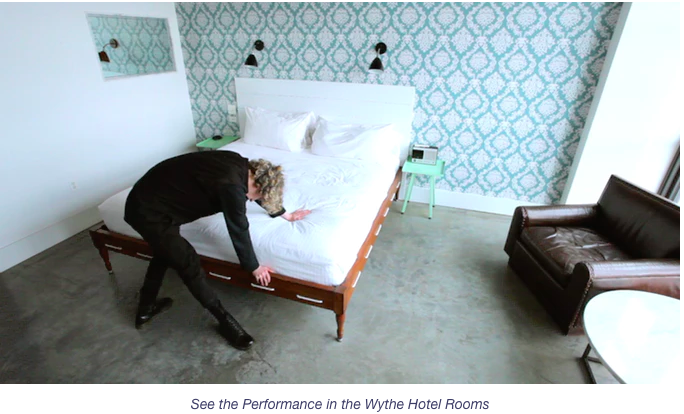 About the Performances
On Sunday, March 5, Clean Labor will be performed at the Wythe Hotel in Williamsburg, Brooklyn. The performances will take place in numerous rooms throughout the Wythe as well as in the Ides Rooftop Bar. The artist is collaborating with members of the housekeeping staff at the hotel to design an original, contemporary dance inspired by the movements and routines involved in their work. The resulting performance explores the similarities between the graceful and methodical movements of maintenance and those of dance, establishing a dialogue between the two, physically demanding professions and making us all more aware of how our bodies shape and are shaped by the work we do.
Throughout the performances, movement artists will engage with and activate the spaces of numerous occupied hotel rooms, shared spaces of the Wythe Hotel by reproducing the gestures of maintenance professionals within the lexicon of contemporary dance. In the hotel itself cleaning and maintenance will go on as usual both with cleaner and her/his dancer shadow. Accompanying them will be the tools of the trade such as brooms, mops, trash cans, and sanitizers contained within stylized janitorial carts that will function as a sculptural element embedded within the performance. While the piece will be rehearsed and scored, the live performance will rely on improvised movements inspired by the spatial elements of each site's floor plan composed of numerous and interlocking corridors, galleries, cafes, bed quarters, and lounges.
The performance is free and open to the public, but RSVPs are required. Support Clean Labor on Kickstarter!
A preview Clean Labor will also be performed at the VIP opening party hosted at the BMW Showroom of the Armory Show art fair in midtown. Additional performances in the NYC area will be announced soon. Please stay tuned.
Partners
More Art is very excited to present Clean Labor in collaboration with the Wythe Hotel, the 2017 Armory Show, BMW, and Sotheby's. Thanks also to the Abrons Art Center for providing rehearsal space.