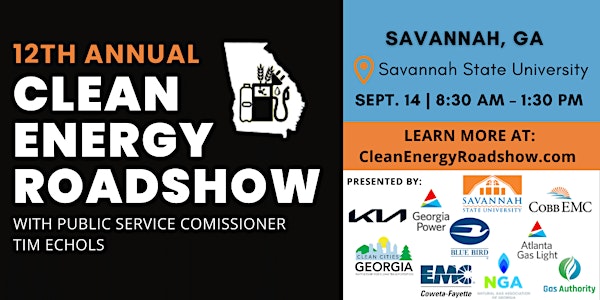 Clean Energy Roadshow - SAVANNAH
Resources and planning workshop for government and commercial fleet managers highlighting natural gas, propane and electric vehicles.
When and where
Location
Savannah State University - Student Union 4711 LaRoche Ave Savannah, GA 31404
About this event
Savannah State University
NOTE: This registration site is for the Savannah State University event ONLY. For more information and registration links to Marietta, Fayetteville, and Valdosta, visit www.CleanEnergyRoadshow.com
WHEN: 8:30AM – 1:30PM, Event includes lunch - September 14.
WHERE: Savannah State University - Student Union 4711 La Roche Avenue Savannah, GA 31404
ABOUT: As the first public HBCU in Georgia and the first institution of higher learning in the historic city of Savannah, SSU serves the educational needs of an increasingly diverse student population. Its 201-acre campus is by far the most picturesque in the state of Georgia. SSU's Global Logistics and International Business program focuses on increasing awareness and understanding of global logistics, international business, and supply chain management as they apply to the Port of Savannah, recognized as one of the most strategic ports on the East Coast, and beyond.
AGENDA
8:30 AM – 9:00 AM (Outdoor)
Alternative fuel vehicle showcase and demos
9:00 AM – 10:00 AM (Indoor)
Introduction and benefits of propane, natural gas and electric vehicles
Funding and technical resources for alternative fuel fleet acquisitions
10:00 AM – 10:45 AM
Class 1-2: Light duty vehicles and small wheel utility vehicle applications
10:45 AM – 11:30 AM
Class 3-7: Medium duty trucks including vans, shuttles and pupil transportation
11:30 AM – 12:15 PM
Class 8: Heavy duty trucks and off-road AFVs
12:30 PM - 1:00 PM
Complimentary Lunch and networking - test ride/demos