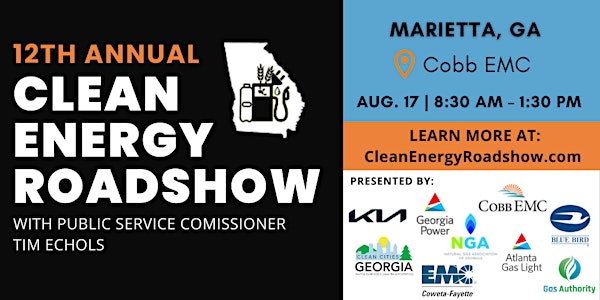 Clean Energy Roadshow - MARIETTA
Resources and planning workshop for government and commercial fleet managers highlighting natural gas, propane and electric vehicles.
When and where
Location
Cobb EMC 1000 EMC Pkwy NE Marietta, GA 30060
About this event
COBB EMC
NOTE: This registration site is for the Marietta event ONLY. For more information and registration links to Fayetteville, Valdosta, and Savannah, visit www.CleanEnergyRoadshow.com
WHEN: 8:30AM – 1:30PM, Event includes lunch - August 17.
WHERE: Cobb EMC - 1000 EMC Pkwy NE, Marietta, GA
ABOUT: Join us at host sponsor Cobb EMC's campus in Marietta for the first stop of the 2022 Clean Energy Roadshow. Cobb EMC is among the few cooperatives in the nation that have incorporated microgrid technology on their campus. In addition to the EV charging available onsite under solar canopies, guests will be able to tour elements of the campus microgrid, including the striking Solar Flower Garden which stands proudly in front of the Cobb EMC Headquarters. The garden showcases three 18-foot tall Smartflowers along with a DC fast charger for EVs, and educational signage about sustainable energy. The campus also features 1.85 MW DC of solar and 1 MW/4 MWh of battery storage that enables Cobb EMC to operate at almost zero-carbon energy and share solar energy back to the grid.
AGENDA
8:30 AM – 9:00 AM (Outdoor)
Alternative fuel vehicle showcase and demos
9:00 AM – 10:00 AM (Indoor)
Introduction and benefits of propane, natural gas and electric vehicles
Funding and technical resources for alternative fuel fleet acquisitions
10:00 AM – 10:45 AM
Class 1-2: Light duty vehicles and small wheel utility vehicle applications
10:45 AM – 11:30 AM
Class 3-7: Medium duty trucks including vans, shuttles and pupil transportation
11:30 AM – 12:15 PM
Class 8: Heavy duty trucks and off-road AFVs
12:30 PM - 1:00 PM
Complimentary Lunch and networking - test ride/demos