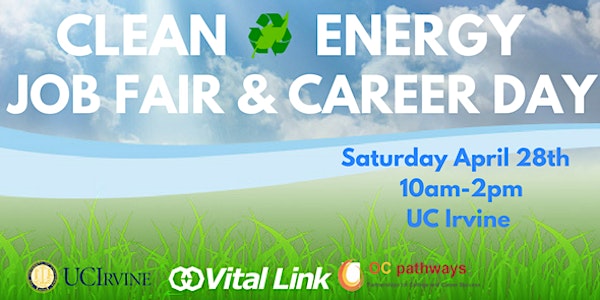 Clean Energy Job Fair & Career Day
When and where
Location
University of California Irvine Lot 16 H Irvine, CA 92697
Description
Put positive energy toward your future career!
Do you have an interest in working for companies that encompass sustainable and environmental initiatives? Do you want to connect with these industries in intimate setting that allows for you individual, face-to-face time with employers from a variety of different clean energy companies? Why are you waiting, join us!
Industries represented at the Clean Energy Job Fair & Career day include: Renewable energy, automotive, engineering, clean technology, green building, solar energy, public works and utilities, wind power, industrial sustainability and much more!
What is a "clean energy" job fair & career day?

Vital Link is excited to host the first Clean Energy Job & Career day for individuals seeking to Explore, Discover & Connect to their possible future careers. The event is structured similarly to other career fairs, but participating employers are hiring for positions with an environmental and sustainability focus.
Should I participate if I am not currently seeking a job or internship?
Yes, the job fair & career day is a critical opportunity to develop professional networking connections and to learn about employers that may interest you in the future.
Who can come to this event?
Everyone! This free event is open to the general public. All students any age are welcome to attend.
When is the Clean Energy Job Fair & Career Day?
The Clean Energy Job Fair & Career Day will be taking place on Saturday, April 28th 2018 from 9:00 am-3:00 pm.
Where will the event be located?
The event will take place at University of California Irvine campus, outside at Lot 16.
How much is parking?
Parking will be available on the UCI campus for $10.
Are parents & families allowed to attend?
Yes, this event is open to the general public & we encourage parents & families to come help support their students to explore, discover & connect with new opportunities in sustainable & environmental careers.
How can I find out which employers will be attending?
Vital Link will be releasing the full list of companies on our website, www.vitallinkoc.org and social media platforms once it becomes available.
Why work a clean energy job? There is a demand for environmentally conscious careers. Applying your skills to a clean energy job can provide fulfilling experiences in your career path and benefit the environment overall.
As an employer, where can I find more information about the event and details about becoming an exhibitor?
Please email Arantxa Guillen at arantxa@vitallinkoc.org for more information about becoming an exhibitor.