Location
EVO Power
BLDG 41, 885 Mountain Highway
Bayswater, VIC 3153
Australia
Improve your energy efficiency and reduce your business energy bills.
About this event
Are you looking to save money and upgrade your business energy solutions?
Brought to you by Solar Savers, Bayswater Business Precinct (BBP) and hosted by local business EVO Power, this event brings together state and local government clean energy initiatives that are available for businesses to access.
Join us for a night of conversation, networking and meeting neighbouring businesses who share an interest in energy efficiency and sustainability.
The evening will be hosted at EVO Power - a Battery Energy Storage System (BESS) company that designs and commercialises turnkey solutions for Commercial, Industrial and Utility scale projects to store renewable energy onsite.
The Clean Energy Business Event is bought to you by Solar Savers - a local government initiative making solar power easy - and BBP - a partnership between Maroondah, Knox and Yarra Ranges Councils to support and promote businesses in the industrial and manufacturing area of Bayswater and surrounds.
The event will feature representatives from Energy Savers, eko energy, Cherry Energy Solutions, Solar Victoria and Sustainable Australia Fund so you can:
Speak directly with the experts and access tailored advice for your business
Find out what financial assistance is available to upgrade or install energy-saving products that will reduce your carbon footprint
Learn about ways and cut your businesses' power bills
This event will be catered.
*Solar Savers and the Bayswater Business Precinct strive to host inclusive, accessible events that enable all individuals to engage fully. If you have any accessibility requirements or needs, please advise during registration or contact us at info@solarsavers.org.au and we will try our best to accommodate.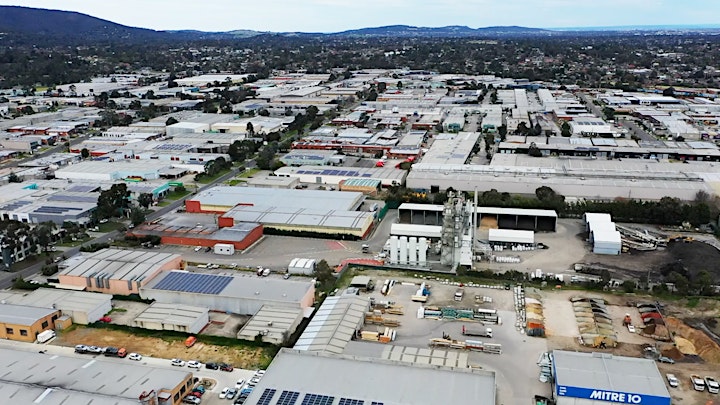 Important Information
Who should attend? Business owners who are interested in improving their businesses' energy efficiency, reducing power bills, and connecting with other local businesses. Whether you are a renter or owner-occupier, register to learn about the financial assistance available to upgrade to energy efficient products and install rooftop solar panels and batteries.
How will the event run? The Clean Energy Business Event will include stalls for business owners to speak directly with Solar Savers, Energy Savers, eko energy, Solar Victoria, and the Sustainable Australia Fund. These local and state government initiatives provide advice for businesses to access energy efficient upgrades and financial assistance to install solar power and batteries and Energy saving appliances. As the host, EVO Power will provide tours and information on their Battery Energy Storage Systems (BESS).
Partners
Solar Savers
Solar Savers is a local government initiative helping households and businesses to install quality and affordable rooftop solar to reduce energy bills, future-proof against increasing energy costs, and support a transition to clean, renewable energy. The program is led by the Eastern Alliance for Greenhouse Action (EAGA) and currently has eleven participating Victorian Local Governments.
Bayswater Business Precinct (BBP)
Bayswater Business Precinct is a precinct comprised of innovative and technology-based businesses in advanced manufacturing and industry 4.0. The main industries for employment, export, and local expenditure are manufacturing, professional services, construction and wholesale trade. The precinct is supported by the three councils with the purpose of growing business investment, attraction and employment.
Host
EVO Power, Bayswater
EVO Power is a leader in energy storage technology and innovation that enables the electrification of large commercial and small utility projects with fully integrated energy storage solutions. EVO Power's turnkey Battery Energy Storage System (BESS) and software solutions enable clients to contribute to market trading and grid services. Engineered to overperform for a high return on investment, EVO Power's solutions open opportunities for Commercial & Utility Enterprises and Government Organisations to lead the charge to a renewable energy future.
Guests
Energy Savers
Energy Savers connects businesses with a select panel of accredited and trustworthy suppliers who take care of the upgrades, including the required paperwork to access subsidies for equipment such as refrigeration, lighting, hot water systems and air conditioning.
Solar Victoria - Solar for Business Program
The Solar for Business Program is an initiative designed to support Victorian businesses to reduce their energy costs by accessing the benefits of renewable energy. This initiative will bring down energy bills for eligible businesses by reducing the upfront cost of the installation of an approved small-scale solar PV system up to 30kW inverter capacity. To support the economic recovery of Victorian businesses and the broader solar sector, 15,000 solar PV rebates will be available over the next three years.
Sustainable Australia Fund
Australia's leading provider of finance for businesses to upgrade their buildings to achieve savings through energy efficiencies, as well as addressing climate change. Finance is available for loans between $15K - $20M thus making sustainability easier for commercial building owners
eko energy
eko energy specialises in the supply and installation of residential and small business solar, energy storage, energy management and energy monitoring systems. Backed by Energy Australia, eko energy has installed over 9,000 residential and small business solar and battery systems over the last 14 years.
Cherry Energy Solutions
Cherry is a premium energy efficiency solutions company backed by Energy Australia with a heavy focus on safety and quality.