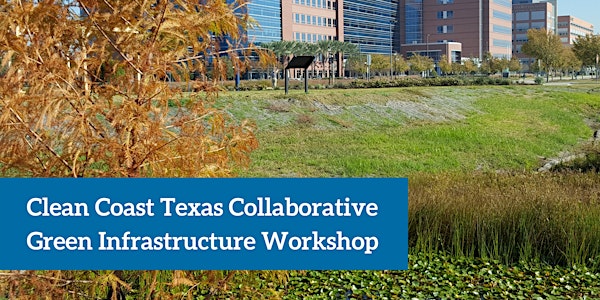 Clean Coast Texas Collaborative Green Infrastructure Workshop (VIRTUAL)
Join Clean Coast Texas to learn about nature-based solutions for stormwater management!
About this event
Attend this half-day workshop virtually and find out more about nature-based practices to clean and conserve stormwater for people and wildlife at any scale: business or home, urban/suburban or industrial, local or regional.
Local elected officials, municipal representatives, county staff, landowners, and facilities managers will benefit from attending. Speakers will focus on the why and the how of green infrastructure practices.
Topics Covered:
Guidance for sustainable stormwater drainage on the Texas Coast.
Using wetlands in flood control basins to enhance water quality and wildlife habitat.
Collecting and cleansing stormwater at home and in the local neighborhood.
Protecting and restoring large-scale wetlands and natural areas for flood control and water quality benefits.
Choose to attend in-person, or online.
There is no cost to attend, but in-person seating is limited.
Registration is required. Click here to register for the in-person workshop, or use the green "register" button on this page to register for the virtual workshop.
Continuing education hours are available for AICP CM or CFM credits.

Organizer of Clean Coast Texas Collaborative Green Infrastructure Workshop (VIRTUAL)