Description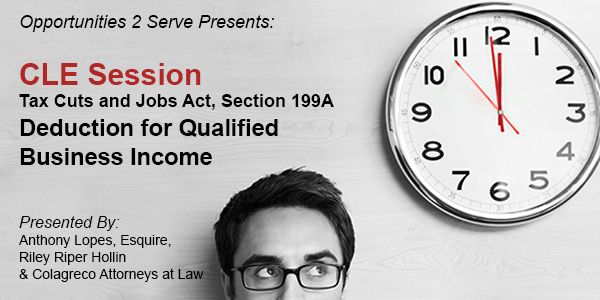 This presentation will focus on the new Section (199A) to the Internal Revenue Code, which is part of the Tax Cuts and Jobs Act. Section 199A of the Internal Revenue Code provides many taxpayers a deduction for qualified business income from a qualified trade or business operated directly or through a pass-through entity. Section 199A may create an opportunity for pass through entities to obtain a 20% deduction of Qualified Business Income ("QBI") from their income taxes. Individuals, trusts and estates with qualified business income, qualified REIT dividends or qualified PTP income may qualify for the deduction, subject to certain limitations and exclusions.

Discussion points include:
Brief introduction of the Tax Cuts & Jobs Act (TCJA)

Components of Section 199A's importance and proposed regulations

What is "Qualified Business Income?"

What is a "Specified Service Trade or Business," and what is a "Qualified Trade or Business?"

Significance for individuals in service industries

Exclusions and limitations of Section 199A

Significance for real estate investors

Examples of Section 199A
You will have an opportunity for a discovery meeting to quickly build an asset map and complete a "fire-drill" to assess how you are doing with respect to the "6L's"
Attendees will earn 1 substantive credit (PA)
Presenters: