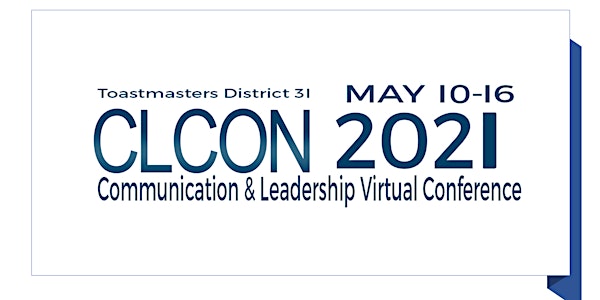 CLCON2021 Communication and Leadership Conference hosted by D31Toastmasters
A weeklong event with speakers, workshops, panels, networking breakouts, speech contests, and more!
About this event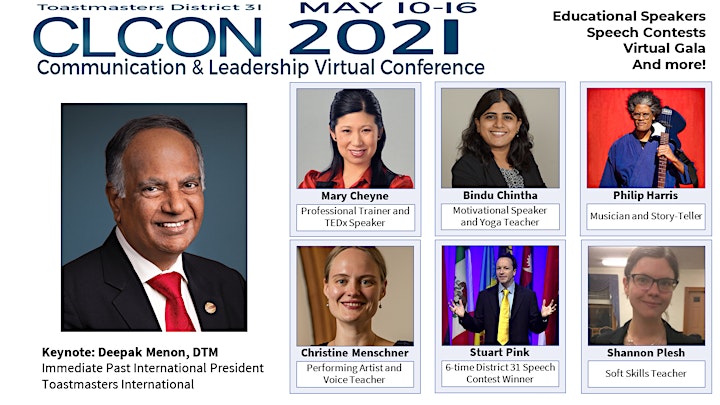 Conference Schedule
(Scroll down for more detail on presenters)
All times are Eastern Daylight Time (EDT)
Monday 5/10
6:00pm CLCON Kickoff with District Director Anthony A. Alexander
6:15pm Stuart Pink: 'The Essential Tool to Plan and Deliver Any Speech'
7:15pm Intermission -- Breakout Rooms for Networking, Table Topics, Toastmasters Questions
8:00pm Christine Menschner: 'Warm Up and Exercise Your Voice Like a Pro'
Tuesday 5/11
6:00pm Day Two Kickoff
6:05pm Toastmasters in the Community Panel Discussion moderated by Reese Eskridge
7:00pm Intermission -- Breakout Rooms for Networking, Table Topics, Toastmasters Questions
7:30pm Bindu Chintha: 'Becoming Unstoppable'
Wednesday 5/12
6:00pm Day Three Kickoff
6:05pm Mary Cheyne: 'Go Beyond Speaking and Start Training'
7:00pm Intermission -- Breakout Rooms for Networking, Table Topics, Toastmasters Questions
7:30pm Candidate Showcase -- Prerecorded Interviews with Candidates for Elected District 31 Leadership Roles
Thursday 5/13
6:00pm Day Four Kickoff
6:05pm Shannon Plesh: 'Zoom Etiquette and Dynamic Presentations'
6:30pm Breakout Rooms - Networking, Table Topics, Toastmasters Questions
7:00pm Philip Harris: 'Present Like a Virtual Rock Star'
8:00pm Afterparty Breakout Room with Philip Harris
Friday 5/14
6:00pm Day Five Kickoff
6:05pm Youth Leadership Showcase
Saturday 5/15
8:30am Business Meeting Registration + Credentials, Networking
9:00am Keynote Address - Deepak Menon, Immediate Past International President
9:30am District 31 Toastmasters Annual Business Meeting
2:00pm International Speech Contest - District 31 Finals
7:00pm Hall of Fame - Annual Recognition - New District Leadership Installation with Deepak Menon
8:00pm Virtual Gala
Sunday 5/16
9:00am Networking Breakfast with DTM Speeches
10:00am Humorous Speech Contest
1:00pm Conference Closing Address from District Director Anthony A. Alexander
Keynote Speaker
Deepak Menon, DTM
Immediate Past Toastmasters International President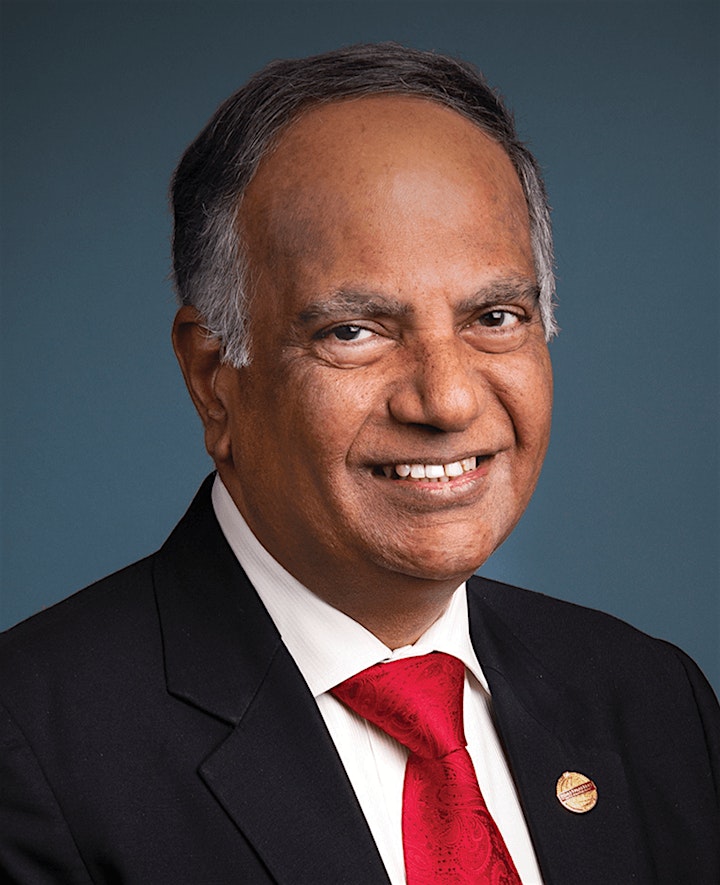 About Deepak: Deepak Menon, DTM, of New Delhi, India, is a chartered accountant at J.P., Kapur & Uberai in New Delhi, where he is one of nine partners. He oversees management and operations, and specializes in international taxation, cross-border taxation, transfer pricing and direct taxes. Menon is also a trustee of the Columban Endowment Trust, a nonprofit organization. Menon is a fellow chartered accountant with the Institute of Chartered Accountants of India, where he also earned a Diploma in Information Systems Auditing.
Menon served as the Chief Coordinator for the Toastmasters' Youth Leadership program in collaboration with the American Center in New Delhi and helped build communication and leadership skills for approximately 700 underprivileged children in six cities in India. He also served as secretary of St. Columba's School's alumni society Old Columbans Association, and in 2006, co-founded the publishing house, Ambi Knowledge Resources Private Limited
A Toastmaster since 2002, Menon's home club is Central Delhi Toastmasters. He has held a number of high-profile leadership positions within Toastmasters and has attained the Distinguished Toastmaster designation—the highest level of educational achievement in the organization.
"Toastmasters has taught me skills that no school, college or university can teach," he says. "It has helped me evolve from a being a lone-player to a being a team-player; from being led to being a leader; from the problem to being the solution."
As an officer of the Toastmasters International Board of Directors, Menon is a "working ambassador" for the organization. He works with the Board to develop, support, and modify the policies and procedures that guide Toastmasters International in fulfilling its mission.
-----------------------------
Stuart Pink
Six-Time District 31 Speech Contest Winner
The Essential Tool to Plan and Deliver Any Speech
Monday 5/10 - 6:15pm
After many years of speaking and membership of Toastmasters Stuart realized that most speakers still make a fundamental mistake in understanding what a speech is. This mistake is important because it significantly hinders our ability to create and deliver good speeches. This essential tool requires rethinking what a speech is, and it can provide the clarity you need to create and deliver your speech. Stuart used this tool last year to help win the District 31 International Speech Contest, and now you too can use it to deliver more powerful speeches.
About Stuart: Stuart is a member of Foxboro Achievers and has been a Toastmaster in District 31 for 10 years. He has won the District 31 International Speech Contest 6 times. In 2012, he came 3rd in the Toastmasters World Championship of Public Speaking. Stuart is passionate about public speaking and creativity and more information can be found at his websites (stuartpink.com and brainarium.com).
-----------------------------
Christine Menschner
Performance Artist and Voice Coach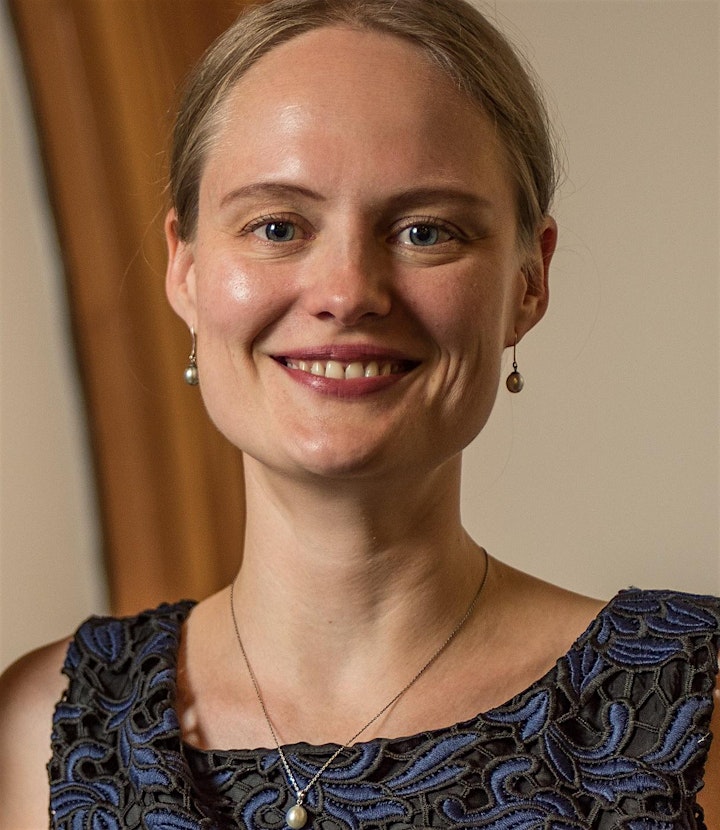 Warm Up and Exercise Your Voice Like a Pro
Monday 5/10 - 8:00pm
Do you wish that you could improve not just your speeches, but your speaking voice? Do you wish you did not become hoarse when speaking? That you had a wider vocal range? Or, that you simply liked the sound of your own voice more? You are not alone!
As speakers, our voice is our connection with our audience. Influential speakers train their voices just as they practice the skills of speech craft, such as storytelling and using body language.
Join Christine for an interactive workshop at CLCON 2021. Christine creates a safe space where you will learn the simple exercises that have benefited members of her home club and that will help you get "into voice" and speak with strength, comfort, and confidence.
About Christine: Christine Menschner, PM1, holds master's degrees in Music Education, Vocal Performance and Vocal Pedagogy. A performing artist and voice teacher, she has been helping singers and speakers improve their voices for over 15 years. Christine trains performers from beginners to professionals. She especially loves helping shy and introverted singers and speakers find their own strong, comfortable, and confident voices.
A member of Crimson Toastmasters at Harvard University, in 2020 Christine taught a series of voice workshops to help members overcome vocal fry, improve articulation, and project their voices consistently through the end of phrases and sentences.
-----------------------------
Bindu Chintha
Motivational Speaker and Yoga Teacher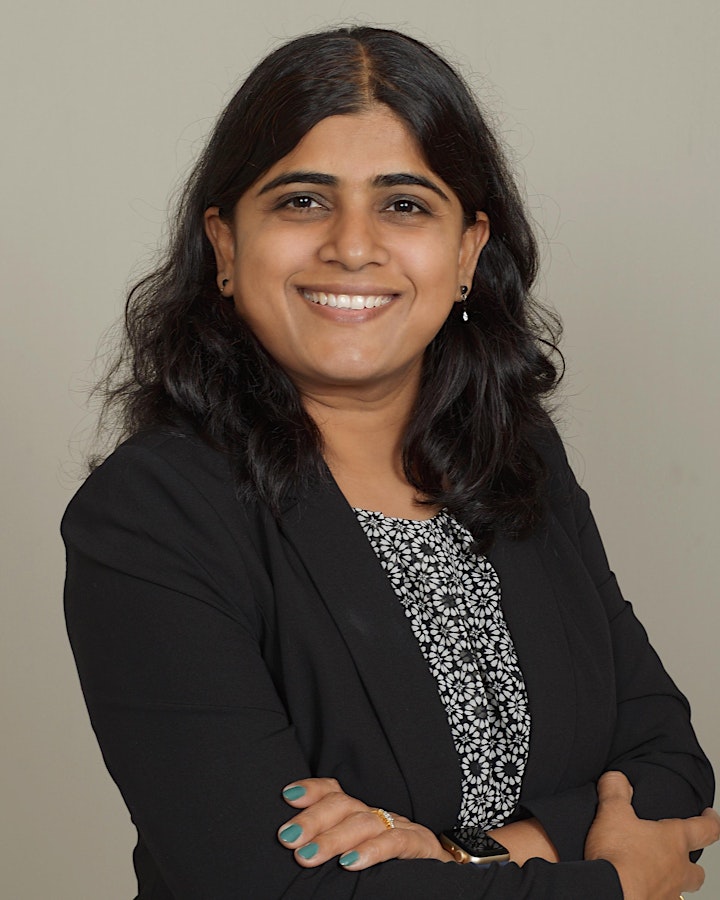 Becoming Unstoppable
Tuesday 5/11, 7:30pm
Are you interested to understand yourself more deeply & identify what superpower you have? Keen to know how to use the superpower residing within you to not only live a happy successful life but lead others to live one? If you've answered yes, this session is for YOU! Come to Become Unstoppable!!
The session will help you identify your superpower, build these skills into strengths, and enjoy consistent performance in the pursuit of life objectives. In this session, you will learn:
Concepts of Emotional intelligence; Mindfulness; Flourishing with Positive Psychology.
How to bring these unique simple practices into day to day activities.
How these practices bring success in work, relationships and our physical well-being.
About Bindu: Bindu Chintha is a certified Project Management Professional (PMP) & certified Scrum Professional-Scrum Master (CSP-SM) and has been working in the fields of technology and leadership for more than 20 years. She is a certified Yoga Teacher teaching yoga and mindfulness for more than 10 years. She is a passionate member of Toastmasters for past 6 years and acquired her Distinguished Toastmaster (DTM) award. She is a motivational speaker presenting inspiring talks in her signature Podcast show – Inspire & Empower!
With a passion for Toastmasters Education Program she strives to bring the program to youth by conducting youth leadership programs in community and recently chartered first ever Toastmasters Gavel Club in her community. She also has been instrumental in starting three new Toastmasters clubs -- one for the community she lives in, one for the spiritual community she is part of, and one at her workplace.
Bindu loves to run and is a 7 time marathon runner with recently running the iconic marathons - The Chicago, The New York and The London Marathons! Bindu is also a Guinness World Record Title holder for participating in the record breaking event of Virtual London Marathon.
-----------------------------
Mary Cheyne
TEDx Speaker, Author, and Trainer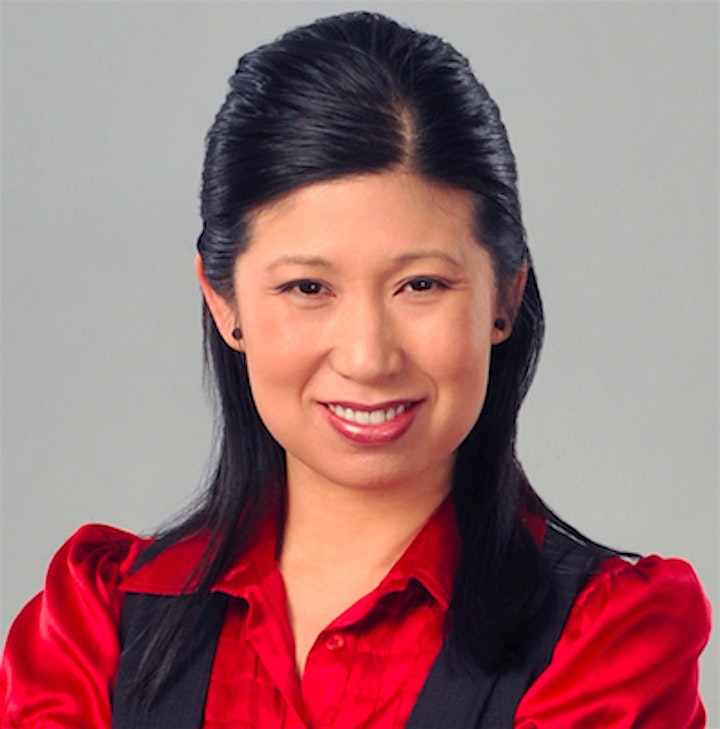 Go Beyond Speaking & Start Training: Use World Class Training Techniques to Mesmerize Your Audience
Wednesday 5/12 - 6:00pm
"Going from speaking to training is like going from playing checkers to playing chess."
Many public speakers can give a "talk", but to FULLY engage, educate AND entertain your audience takes A LOT MORE tools in your toolbox.
In this session, you will:
● Discover how to go from giving a 7-minute speech to longer workshops/trainings. HINT: Create a training curriculum in less than 15 minutes!
● Learn what is the most common mistake speakers make when venturing into training & what the pros do instead.
● Receive well-tested training techniques used by the world's top trainers, that will keep them engaged & entertained while they learn the whole time!
● How to PLAY with your audience & HAVE FUN, giving them even more value and have you stand out.
About Mary: Mary Cheyne, TEDx Speaker, MBA, is the 2009 World Championship of Public Speaking second place winner out of 25,000 contestants from 14 countries. She has trained over 20,000 people in over 30 cities internationally.
Mary is the author of the Best Selling book "Present" Yourself in Public Speaking – Tell Your Inner Critic to SHUT UP! And the Real You to SPEAK UP!
Mary is proof that transformation is possible, as she began her career as a socially awkward computer programmer who hid behind her desk because she was too self-conscious. This vast experience has led Mary to one important, unvarnished conclusion: "To communicate and persuade effectively, the first person you need to convince is YOURSELF."
Mary's mission is to help aspiring enlightened leaders develop conscious communications & self-mastery skills in order to create a global movement that shifts the evolution of humanity from head-and-ego-centric to heart-and-contribution-driven.
Two fun facts about Mary is that she holds a Karate Black Belt rank and loves playing the ukulele.
-----------------------------
Shannon Plesh
Soft Skills Teacher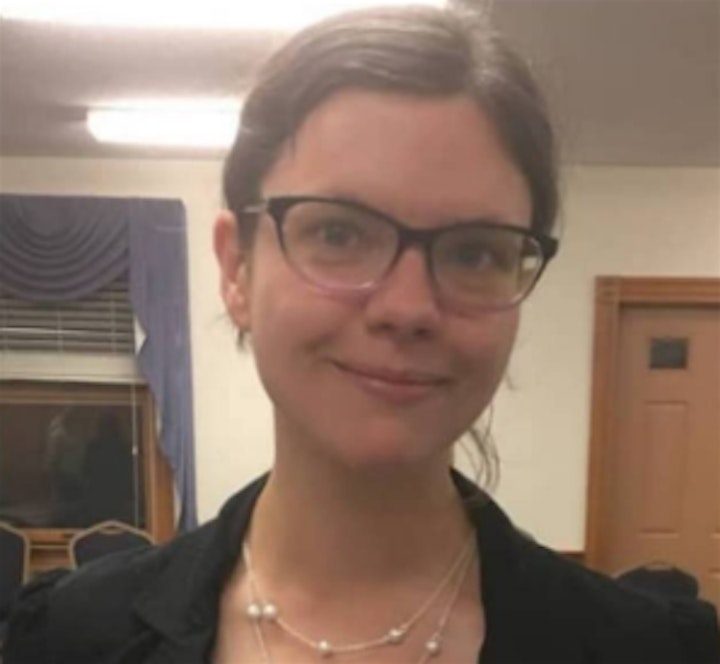 Zoom Etiquette and Dynamic Presentations
Thursday 5/13 - 6:00pm
Shannon will share tips and best practices for etiquette while online, whether you're an attendee or presenting. When you're tapped to speak, how do you make your presentations dynamic and interesting, even if you're using Power Point or your information is 'dry'? Find out in this session!
About Shannon: Shannon has been in Toastmasters about 5 years and has earned her DTM (Distinguished Toastmaster award). She works in Enterprise Cyber Security and also presents at the Career Center teaching soft skills. She currently resides in New Hampshire but stays connected virtually to D31.
-----------------------------
Philip Harris
Musician and Story-Teller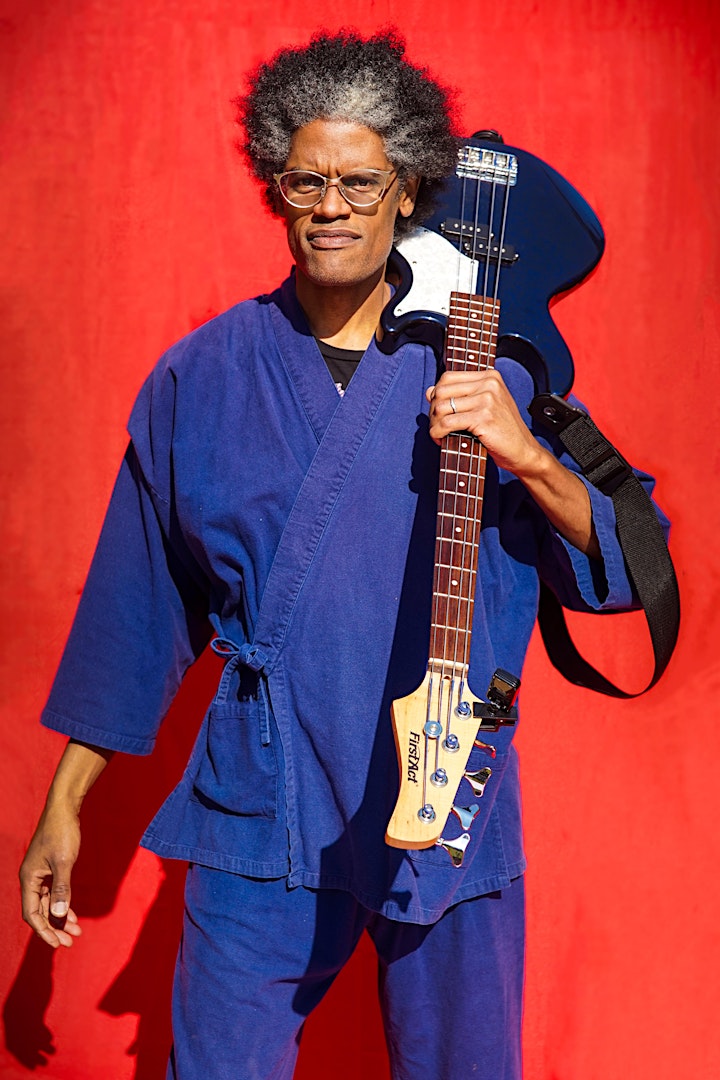 Present Like a Virtual Rock Star
Thursday 5/13 - 7:00pm
This session will give speakers the tools they can use to enhance virtual presentation. Lessons will be drawn from methods used by musicians to entertain, educate, and energize their audiences. This session will give participants a different perspective on how they can relate to an audience - and how to present like a virtual rock star.
About Philip: In 2004, while living in Japan, Philip joined his first Toastmasters club. He was getting married and the thought of giving a speech at the wedding terrified him. Fortunately, he learned a few things and made it through the speech. Over the years he discovered that getting up in front of people and making presentations or telling stories can actually be a whole lot of fun! These days Philip expresses his creative side through stories and songs with his band, ShimoKita Bam Bam.