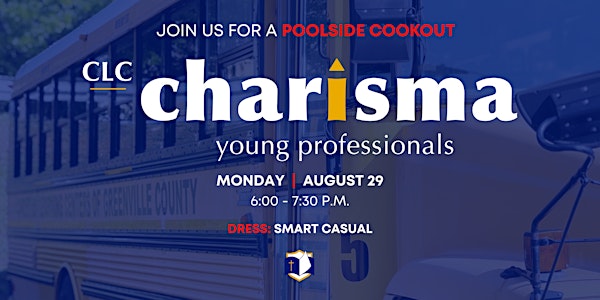 CLC Charisma Young Professionals -- POOLSIDE COOKOUT!
Location
204 Welling Cir
204 Welling Circle
Greenville, SC 29607
Join Charisma Young Professionals for a Poolside Cookout! Come meet other Christian YPs to network & partner with Released-Time ministry.
About this event
What: Christian YP Networing Event
Why: To support CLC of Greenville County
When: Monday, August 29th 6:00 p.m.
Where: 204 Welling Circle
What to wear: Smart Casual OR whatever you wore to work (we want you to join us)
What to bring: a side to share
Are you a Christian Young Professional? Join us for our first ever Charisma Young Professionals Poolside COOKOUT!
Come after work! We are so excited that the Hynemans have agreed to allow us to use their beautiful backyard for this time together. You won't want to miss it! Please bring a side item or burger/hotdog topping to share and a friend (or several!) to join you. But also, don't be afraid to come on your own and make new friends.
What is Charisma Young Professionals? Local YPs excited about living out the Gospel in their communities and partnering with CLC to ensure the next generation of young believers comes to know Jesus through Released-Time Christian Education.
Come ready to learn and have your heart encouraged by the gospel ministry of Christian Learning Centers of Greenville County. We will be providing the opportunity for you and your friends fo formally join CLC Charisma Young Professioanls as a member (if you aren't already!) and become a ministry partner.
About CLC: www.clcofgreenville.org
Contact: Laura Beth Kirsop - lkirsop@clcofgreenville.org | 864-242-2326