Description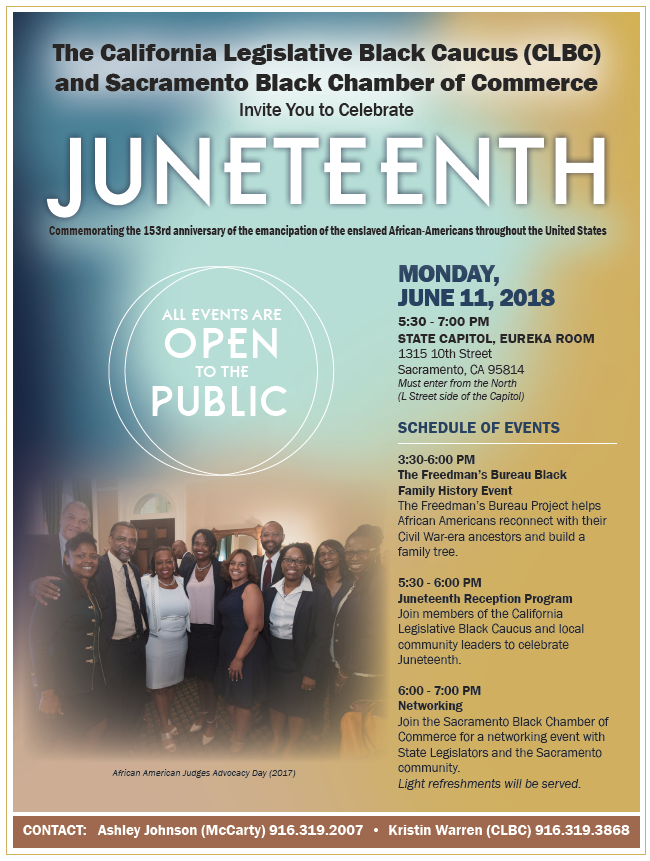 The California Legislative Black Caucus (CLBC) and Sacramento Black Chamber of Commerce Invite You to a
Celebration of Juneteenth
Commemorating the 153rd anniversary of the emancipation of the enslaved African-Americans throughout the United States.

Monday, June 11, 2018
State Capitol, Eureka Room
*Must enter from the North (L Street) side of the Capitol
1315 10th Street, Sacramento, CA 95814

Schedule of events
3:30-6:00 PM – The Freedmen's Bureau Project
The Freemen's Bureau Project helps African-Americans reconnect with the Civil War-era ancestors and build a family tree.

5:30 PM – Juneteenth Reception Program
Join members of the CLBC and local community leaders to celebrate Juneteenth.

6:00 PM – Join the Sacramento Black Chamber of Commerce for a networking event with State Legislators and the Sacramento community. Light refreshments will be served.

All events are free and open to the public.

Inquiries:
Ashley Johnson (Asm. McCarty) (916) 319-2007
Kristin Warren (CLBC) (916) 319-3868
Organizer of CLBC Celebrates Juneteenth

CLBC VISION
The California Legislative Black Caucus envisions a world where African-American families have equal opportunities to thrive and political representation that accurately reflects the diversity of the populace. When we promote equity for African-Americans and celebrate diversity, we advance the values California stands for.
CLBC MISSION
The mission of the California Legislative Black Caucus is to advocate for the interests of Black Californians, remove road blocks Black Americans face in every aspect of life, demand equity to eliminate disparities between racial groups, and increase African-American participation and representation in all levels of government.