Description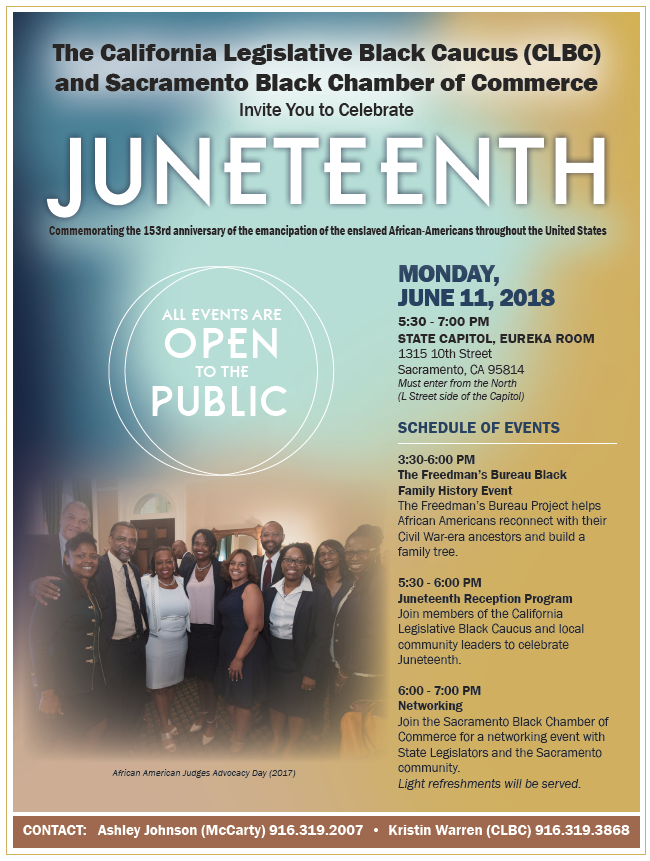 The California Legislative Black Caucus (CLBC) and Sacramento Black Chamber of Commerce Invite You to a
Celebration of Juneteenth
Commemorating the 153rd anniversary of the emancipation of the enslaved African-Americans throughout the United States.

Monday, June 11, 2018
State Capitol, Eureka Room
*Must enter from the North (L Street) side of the Capitol
1315 10th Street, Sacramento, CA 95814

Schedule of events
3:30-6:00 PM – The Freedmen's Bureau Project
The Freemen's Bureau Project helps African-Americans reconnect with the Civil War-era ancestors and build a family tree.

5:30 PM – Juneteenth Reception Program
Join members of the CLBC and local community leaders to celebrate Juneteenth.

6:00 PM – Join the Sacramento Black Chamber of Commerce for a networking event with State Legislators and the Sacramento community. Light refreshments will be served.

All events are free and open to the public.

Inquiries:
Ashley Johnson (Asm. McCarty) (916) 319-2007
Kristin Warren (CLBC) (916) 319-3868