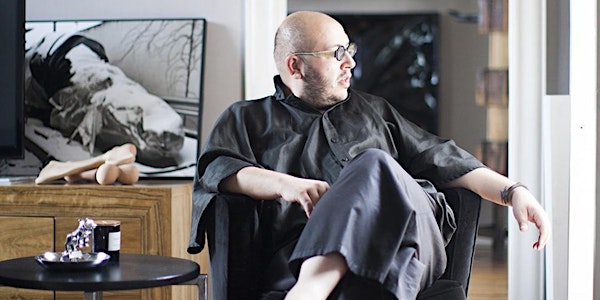 Clay Workshop with Anuar Maauad
Join Black Cube for a special workshop led by Mexico City-based artist and Black Cube Artist Fellow, Anuar Maauad.
When and where
Location
Black Cube Headquarters 2925 South Umatilla Street Englewood, CO 80110
About this event
This indoor workshop is free and open to all ages. Due to limited capacity, registration is required. Masks are optional. Light snacks and beverages will be provided!
About the Workshop:
Join Black Cube for a special workshop led by Mexico City-based artist and Black Cube Artist Fellow, Anuar Maauad. Participants are invited to create small figures using air-dry clay, a material that has informed the artist's ongoing body of work and most recent exhibition at GAVLAK Gallery in Los Angeles. All materials will be supplied, and the sculptures made by participants will become a part of Maauad's sculptural archive.
Additionally, those who participated in Maauad's 2019 city-wide Black Cube project in Denver, SHARE, are welcome to meet the artist and pick up their custom storage box and certificate of authenticity. SHARE is series of 100 bronze, sculptural text installations that were gifted to the public and displayed on building facades throughout the city, as a token of generosity to the community. Each work reads "To share is precious, pure, and fair" and several remain on view at dispersed locations in the Denver area.
Artist Bio:
Anuar Maauad lives and works in Mexico City. Maauad's work examines the relationship between political identity and social memory, and the subject of the perceptive experience. Maauad founded Casa Maauad (2010-2017), an artist-run residency program in Mexico City that hosted more than 60 national and international artists, curators, and critics from all disciplines. His work can be found in significant collections, including the Jumex Foundation in Mexico, the Costantini Collection in Argentina, the Denver Art Museum, among others. Maauad is represented by Efrain Lopez Gallery in Chicago. He received his BS in Architecture from the Universidad de Las Américas, Puebla, and a BFA from La Esmeralda (Escuela Nacional de Pintura, Escultura y Grabado), Mexico City.
About Black Cube:
Black Cube is a nonprofit nomadic art museum headquartered in Denver, Colorado. Unlike stationary museums defined by their permanent architecture, Black Cube operates nomadically. It roams from place to place as a traveling contemporary art museum, producing site-specific artworks in the public realm. The nonprofit organization endeavors to nurture the sustainability of today's artists and inspire audiences across the globe to discover contemporary art beyond the confines of a gallery. Open, experimental, and flexible, Black Cube relies deeply upon collaboration and the willingness to explore bold ideas. Founded in 2015, the museum holds a W.A.G.E. (Working Artists and the Greater Economy) certification, reinforcing its commitment to ethical labor relations with artists. Visit www.blackcube.art to learn more.