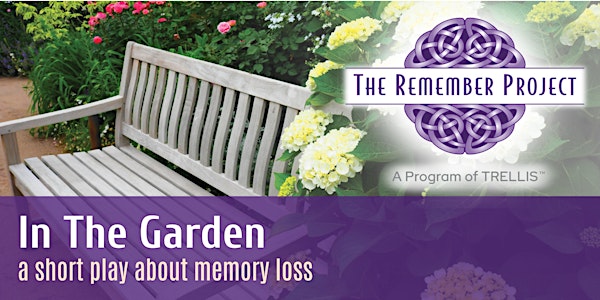 Clay County Age Well - In the Garden
In the Garden by Matthew Widman With small group discussions to follow the theatrical video.
Date and time
Wednesday, March 8 · 1 - 3pm PST
About this event
Join our effort to raise awareness and fight the stigma of memory loss. This virtual Remember Project event for the Greater Clay County region is part of our Winter 2023 tour. Watch the short play "In the Garden," participate in the Dementia-Friendly Communities movement, learn about resources throughout the Greater Clay County region, and meet with others who are interested in learning more while supporting those who live with dementia and their care partners.
Join together with others for a shared screening OR participate from home/office by using your own computer or iPad.
In-person Viewing Locations:
Barnesville Senior Community Center, 501 2nd Ave NE, Barnesville
Detroit Lakes Public Library, 1000 Washington Ave, Detroit Lakes
Fergus Falls Public Library, 205 E Hampden Ave, Fergus Falls
Hjemkomst Center, 202 1st Ave N, Moorhead
Our Savior's Lutheran Church, 302 3rd St NE, Barnesville
For additional assistance call: (218) 354-7090
Jim Pounds plays Arthur Monsetin in this short play that explores the role adult children play in the sometimes difficult decision-making process that surrounds the journey of memory loss. The roles of Karen, Peter, and Jamie Monsetin are performed by Megan Hanks, Jason Richards, and Mark Benzel.
Wednesday, March 8, 2023
Preshow: 2:45 pm
Main Event: 3:00 - 5:00 pm
In the Garden
Playwright: Matthew Widman as published in the MemoryCare Plays Anthology
Director: Danette McCarthy
Sound/lighting design/engineering: Rachael Cady
Director of Photography/Videography: Hannah Robb
Theatrical Video Editing: Rachael Cady & Hannah Robb
Digital/still photography: Danette McCarthy
Set Design: Peter Weber, Steven Kath, Danette McCarthy
Production Assistance: St. Croix Festival Theatre
Learn more about The Remember Project with this short documentary by Hannah Robb. Find resources and additional information at our website The Remember Project .
The Remember Project is a program of Trellis. The creation of The Remember Project theatrical videos was made possible by a 2020-21 by an Arts Tour Minnesota grant from the Minnesota State Arts Board, an activity made possible by the voters of Minnesota thanks to a legislative appropriation from the arts and cultural heritage fund.