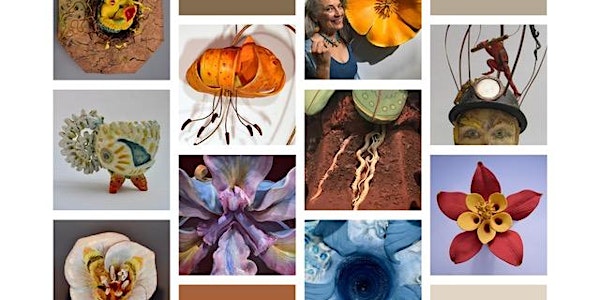 Clay and Earth: Where we Stand: Vicki Gunter at Benicia's NY2CA gallery
The East Bay pod hosts a visit to the new NY2CA Gallery, where Vicki Gunter is the first invited artist for the grand opening
Date and time
Friday, June 2 · 11am - 2pm PDT
Location
617 1st St 617 1st Street Benicia, CA 94510
About this event
Clay & Earth. Where We Stand is a retrospective collection highlighting 16 of Vicki Gunter's ecojustice pedestal pieces from 2013 to the present. The exhibition is the inaugural event of the new NY2CA gallery in Benicia, and Vicki is honored to be the first invited artist to show her work at this site. She will host an artist talk and tour for NCWCA members, followed by a no host lunch at a nearby restaurant.
Artist Vicki Gunter's home/studio, NY2CA Gallery, and many NCWCA members, live on Ohlone land where the Chochenyo language is spoken."Shuumi means Gift in Chochenyo. The Shuumi Land Tax is an invitation to support the vital work of the Sogorea Te' Land Trust, a small step towards acknowledging the history of genocide on this land and contributing to its healing." Sogorea Te' Land Trust. Vicki considers it a great honor to collaborate with SF Baykeeper, an organization that defends the health of San Francisco Bay, its watershed, and Bay Area residents, holding polluters accountable. She was invited as the very first artist to exhibit her work as the inaugural venture of the NY2CA gallery in Benicia in a show that is also a collaboration with Greenpeace USA. Greenpeace is creating QR codes for visitors to further explore and contextualize each sculpture. "Alone we are a drop. Together we are an ocean." Greenpeace.The abstract paintings of Co-owner Terry Twigg will be exhibited on the walls.
A percentage of all Vicki's sales will equally benefit Segorea Te' Land Trust (https://sogoreate-landtrust.org) and SF Baykeeper (https://baykeeper.org)
Vicki's website: https://vickigunter.com
About the organizer
The Northern California Women's Caucus for Art (NCWCA) is a networking organization for women in the arts. We offer a broad range of events and programs: member forums, exhibitions, art-making, art activism and community.