About this Event
Old-time clawhammer banjo is a unique sound in American traditional music. Once you get the basic technique, it's pretty easy to make music, and play along with all kinds of songs. We will start from scratch with basic technique and learn some songs and tunes from the standard repertoire. We will also discuss some basic music theory that is useful for any instrument, in any genre. For all ages. (Minimum class size 6 students)
*Deering Good Tyme Banjos are available for rent for the session, or sale at a discounted price. Contact evie@evieladin.com if you are interested in renting or purchasing a banjo.
Evie Ladin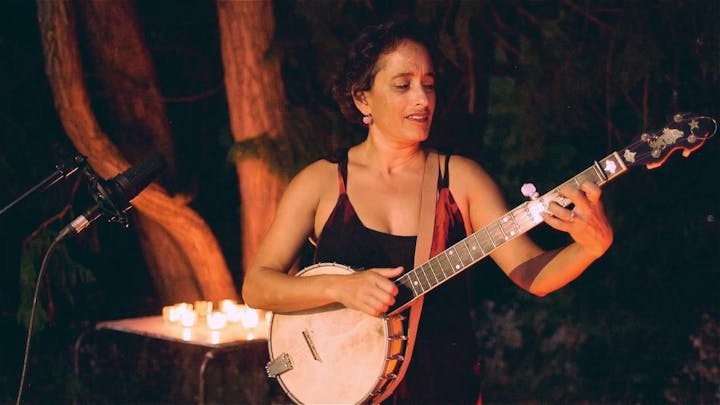 Banjo player, singer, songwriter, percussive-dancer, choreographer and square-dance caller, Evie grew up steeped in traditional folk music/dance, and brings a contemporary vision to her compositions and choreography. Evie's performances, recordings and teaching reconnect Appalachian music/dance with other African-Diaspora traditions, and have been heard from A Prairie Home Companion to Lincoln Center, Hardly Strictly Bluegrass to Celtic Connections. She has taken home ribbons in folk song from Mt Airy, NC Fiddler's Convention, and Neo-Trad Band from the Appalachian Stringband Festival, Clifftop, WV. Based in Oakland, CA, Evie tours with Keith Terry and the Evie Ladin Band; and has produced 6 CDs and two instructional DVDs. In the percussive dance world, she is Executive Director of the International Body Music Festival, directs the moving choir MoToR/dance and is an ace freestyle flatfooter. In the trad world, Evie teaches banjo and harmony singing at the infamous Freight & Salvage, online at Peghead Nation and numerous camps. In the songwriter world, she just writes great songs. A highly entertaining performer, Evie enjoys facilitating arts learning in diverse communities.
Erik Pearson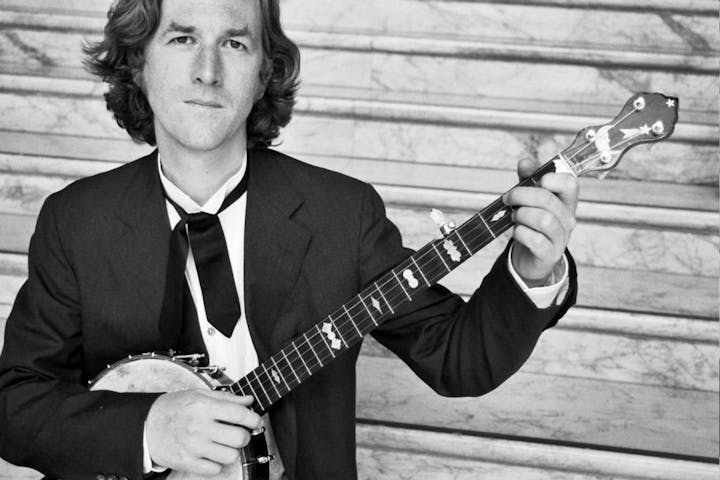 Erik Pearson has been immersed in music of all kinds since he was a child in Easton, Pennsylvania, where he studied classical flute and music theory, sung in choirs, and played in rock bands. In the late 1980's at Oberlin College/Conservatory of Music he studied Music Composition and Cultural Anthropology, and was also drawn to Carnatic Music of Southern India and to his growing interest in the banjo and Old Time American Music, a passion which has remained a constant in his life.
Since moving to San Francisco in 1990 he has made over 30 records/CDs and performed with a multitude of bands including Mushroom, Sonya Hunter, Evie Ladin/Evil Diane, The Crooked Jades, Alice Bierhorst, The Billy Talbot Band, Daevid Allen's University of Errors, Irene Sazer, Matt Lax and Nearly Beloved, The Stairwell Sisters, and his own Erik Pearson Band. He has composed music for San Francisco choreographers Chris Black, Erin Mei-Ling Stuart, and Jordan Fuchs, and written film and chamber music ranging from Creeping Dawn: Mountain & Shadow, a prize winning composition for 24 recorders performed in the 2007 season of the American Recorder Orchestra of the West, to "Fork & File", a banjo composition on the Crooked Jades' World's on Fire CD which was included in the soundtrack for Sean Penn's 2007 film Into the Wild.
Pearson spends a lot of time on the road accompanying master storyteller Diane Ferlatte on banjo and guitar. Together they have made six CDs, all of which have won awards including three Parent's Choice Gold awards, and a 2007 Grammy® nomination for their CD Wickety Whack, Brer Rabbit is Back. Performance highlights include The National Storytelling Festival in Jonesborough, TN (where 10,000+ people come to hear stories!), and The Kennedy Center in Washington D.C. They have performed at schools, libraries, and festivals all over the USA and beyond, and are on the touring roster of the Los Angeles Music Center as well as San Francisco's Young Audiences.
At home he teaches guitar, clawhammer banjo, and electric bass at the Community Music Center in San Francisco and occasionally at the Freight and Salvage in Berkeley, plays square dances with his band Super Modal, and is an enthusiastic participant in the Bay Area's creative community.
Pearson's other recent projects include recording a solo banjo CD, writing a piece of music for harpsichord and percussion for a concert celebrating the 100th anniversary of the Rite of Spring at the Community Music Center, and creating an orchestral version of Diane and Erik's storytelling show Aesop, Alive and Well.
Performers
Date and Time
Refund Policy