Claude Bourbon @ Norton Buffalo Hall •WEST•

Friday, April 12, 2019 from 7:00 PM to 10:00 PM (PDT)
Event Details
Norton Buffalo Hall •WEST•

-Presents-
Medieval and Spanish blues guitarist
Claude Bourbon
Friday, Apr. 12, 2019 - 7PM
Doors open at 6:30PM
Refreshments / Drinks Available
Tickets $20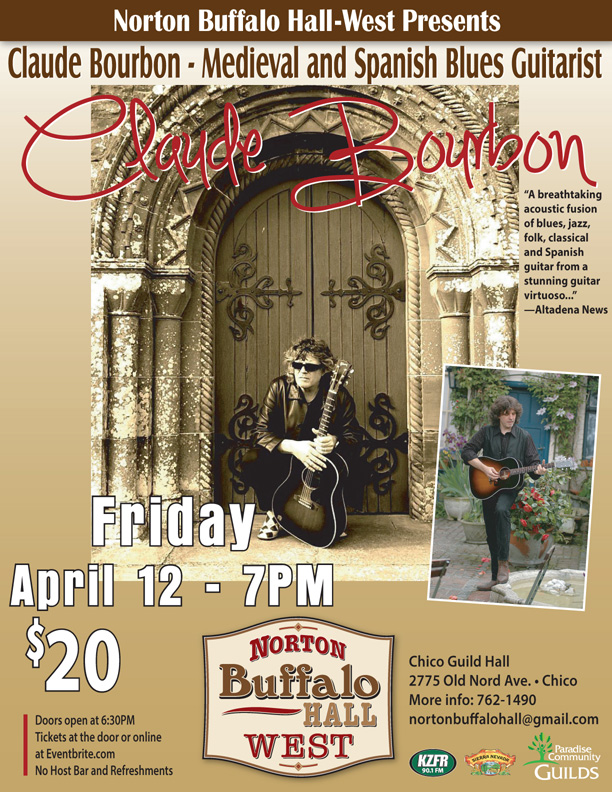 Quotes:
"...Claude Bourbon is an enigma, he is a classically trained musician, who fuses every conceivable genre of acoustic guitar music into a master-class of a stage performance. There are Latin, Spanish, Gypsy, Jazz and Delta Blues influences throughout, and often within one seamless stream of perfection...an almost endless amalgam of different influences, melting into each other...from classical openings, across a whole continent of cultural roots, from the Balearic's to the Balkans, and then across to the Mississippi Delta, and shoehorned into all that was music that would not have been amiss in the courts of emperors and kings". — Bretforton, Graham Munn
"...a world-renowned player, highly acclaimed for his finger-picking style—plucking, picking and strumming at such speed that his fingers seem to appear just as a blur. This latest album utilises strains of folk, western, jazz and blues through such melodic delights as the traditional English Dance, the hypnotic Rodrigo and a gorgeous version of the Rolling Stones' Angie." — Maverick Magazine

About Claude Bourbon:
(Listen to Claude's haunting folk-blues tune J'ai repris la Route on YouTube)
Claude Bourbon is known throughout Europe and America for unique and talented guitar performances that take blues, Spanish, and Middle Eastern stylings into uncharted territories.
Thousands of people in the UK, Europe and USA have enjoyed listening to this virtuoso and return again and again to hear and watch him play, as his fingers lightly dance over the strings of his guitar and create a unique sound that is 'Claude'.
It's not easy to begin to describe the breadth or mastery of the music you will hear if you are fortunate to catch one of Claude's gigs, it is a sort of sensory experience like no other. A top master of his craft and never appearing to be rushed, he has impeccable timing and makes things that one can only marvel at seem simple.
Now based in the UK, some of this guitarists' influences allow us a fascinating insight into this remarkable musician: Paco De Lucia, Deep Purple's Richie Blackmore, Joaquin Rodrigo, JJ Cale, JS Bach, Mark Knopfler…
Claude has played countless venues, including Glastonbury Festival, Isle of Wight Festival, Colne Great British & Blues Festival, Rock O'Z Arene, Avenches, Switzerland, among others. He has shared the stage in Europe and the USA with countless musicians, Calvin Russel, Charlie Morgan (Elton John, Gary Moore), Jan Akkerman (Focus), Steve Grossman (Miles Davis), Herbie Armstrong ( Van Morisson), Jose barrense Dias and many more.
Doors open for seating at 6:30PM. Delicious refreshments and a no host bar will be available throughout the night.
---
Coming up:
2019
• Sat, Mar. 23, 7PM | Whitey Johnson Band
• Sat, Apr 9, 7PM | Don Ross (Canada) @ MONCA
• Fri, Apr 12, 7PM | Claude Bourbon (U.K.)
• Sat, May 11, 7PM | Motoshi Kosako @ MONCA
• Sat, May 25, 6PM | Recuerdos de Paradise (L.A. Guitar Quartet, with Flamenco guitarists Adam del Monte, Jack Cima, Berto Boyd) @ Paradise Performing Arts Center
For more info call 762-1490 / nortonbuffalohall@gmail.com
When & Where

Chico Guild Hall
2775 Nord Avenue
Chico, CA 95973


Friday, April 12, 2019 from 7:00 PM to 10:00 PM (PDT)
Add to my calendar
Organizer
Located at the Chico Guild Hall, 2775 Nord Ave in Chico.
Norton Buffalo Hall was the home of Paradise Community Guilds, an historic, non-profit, community-based service organization promoting the values of sustainability and stewardship.
Chico Community Guilds has graciously allowed us to honor our music events at Chico Guild Hall under the name "Norton Buffalo Hall WEST" while we pull together the resources to rebuild in Paradise.
Membership is open to all, and the public is generally welcome to attend all Guilds events.
Photos and other media support can be found at https://www.facebook.com/pcgevents/.