Classroom Empowerment through Self-Regulation

Friday, July 29, 2016 from 9:00 AM to 3:00 PM (EDT)
Event Details
Session I - Classroom Empowerment through Self-Regulation
Educational Consultant, professor and martial artist, Pedro Bennett, offers insight into creating critical thinkers and self-aware students. These strategies allow teachers to teach and students to learn.
Presenter, Pedro Bennett, will focus on effective ways to empower educators and motivate students. He will discuss how poor metacognition contributes to an unclear understanding of self-regulation and how a vibrant understanding of self-regulation will help rejuvenate students' desire to pursue excellence. Additionally, he will discuss a correlation between Maslow's Hierarchy of Needs and Bloom Taxonomy and how this understanding of the correlation equips educators with tools to help students unlock their educational barriers.
Additional Session: Session II ($50); Total cost to attend both sessions (I & II): $125
Additional Event - For both events: $125.00 (Session I & II)
Session II - Responding to Student Physical Aggression
When classroom performance declines, there is a threat of classroom violence.
Professor Bennett will discuss and demonstrate classroom strategies to reduce class anxiety, verbal and physical altercations inside and outside the classroom. He will provide an insight into self-defense and classroom safety awareness.
Do not miss out on an opportunity to learn from a master.
Friday, July 29, 2016
Session I—Classroom Empowerment through Self-Regulation
9:00 AM to 3:00 PM (EDT)
Lunch Break: 12:00 PM to 1:PM (BYOL)
Session II—Responding to Student Physical Aggression
3:00 PM to 5:00 PM (EDT)
Session I - $75 / Only

Session I & II - $125
 For additional information - visit vennleadershipandconsulting.com
When & Where

Regus Building
780 Lynnhaven Pkwy, 1st Floor Meeting Room
Virginia Beach, VA 23452


Friday, July 29, 2016 from 9:00 AM to 3:00 PM (EDT)
Add to my calendar
Organizer
Pedro Bennett - Presenter    
Pedro Bennett, previously a police officer, has been an educator for over 20 years. He taught middle and high school and currently teaches college courses. He has a BS in Chemistry, Masters in Education and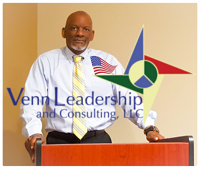 completed all postgraduate course work in Organizational Leadership / Conflict Resolution (ABD).
Mr. Bennett is the President/CEO of Venn Leadership and Consulting, LLC, Martialartsnow.com and the founder of Venn Kempo Jujitsu Methods. Mr. Bennett currently is an adjunct professor at South University in Virginia Beach, Virginia. In 2015, he was voted Adjunct Professor of the year. He has been actively involved in the martial arts for over 30 years. He is a member the Hawaii Martial Arts International Society and The World Head Family Soke Council, holding terminal titles as Grandmaster, Professor and Soke.   
Prior to being an educator, he was a police officer in the metro Atlanta, Georgia area. It was after working in the Organized Crime Unit that he recognized how important positive feedback and conflict resolution are in providing a true learning environment for all learners.
In the classroom, Professor Pedro Bennett uses best practices, the understanding of cognitive discovery, conflict resolution, positive feedback and motivational strategies in a holistic manner to create a learning environment that addresses his students' needs. Professor Bennett believes that theories are great; however, theories lose their value if the theories do not add value to the classroom. Pedro Bennett seeks real answers for real problems.