Description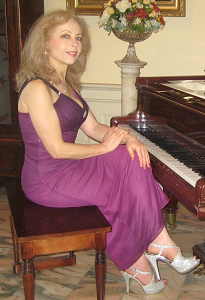 The program will feature Sonata in D minor 'Tempest' by Beethoven inspired by Shakespeare's play, Sonata in B-flat minor by Chopin, works by Liszt, Rachmaninoff and more.
Sophia Agranovich, an internationally acclaimed soloist, chamber musician, recording artist and educator, is "a bold, daring pianist in the tradition of the Golden Age Romantics…A tigress of the piano" - Fanfare. Her performances are captivating audiences by the "orison of uncommon beauty" - Audiophile, "the extraordinary dramatic urgency", "the ideal balance she achieves between the intellectual and the emotional" - Fanfare, "interpretation that dares to be different", "magnificent shading and superior musicianship" - American Record Guide.
A Steinway Artist, Ms. Agranovich has performed in USA, Europe, Israel, and Canada. Among her venues are Avery Fisher Hall, Bruno Walter Auditorium and Paul Hall at Lincoln Center, Carnegie Hall, Merkin Concert Hall, Roerich and Metropolitan museums, Steinway Hall, and Bargemusic, all in New York City, Salle Cortot in Paris, Ehrbarsaal in Vienna. Ms. Agranovich has collaborated with prominent musicians and members of the major orchestras.