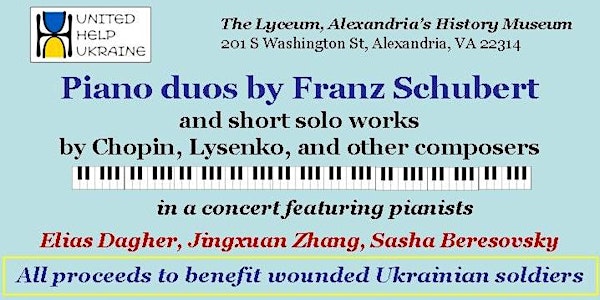 Classical Piano Concert to Benefit Ukraine's Wounded Soldiers
When and where
Location
The Lyceum: Alexandria's History Museum 201 South Washington Street Alexandria, VA 22314
Refund Policy
Contact the organizer to request a refund.
Description
Piano duos by Franz Schubert | April 22 at 6:30 pm (doors open at 6:00 pm)
Pianists: Elias Dagher, Jingxuan Zhang, Sasha Beresovsky
Featuring piano duos by Franz Schubert including the A-flat Variations, Andantino varié, D Major and A Major Rondos, as well as solo piano works by Chopin, Lysenko, and others.
Seniors/Veterans/Students $15 Off: Enter Promotional Code TAKE15OFF and please bring your Student ID. Ticket purchases subject to Eventbrite processing fee.
All proceeds to benefit wounded Ukrainian soldiers
Complimentary champagne toast and light hors d'oeuvres included in your ticket.
About the artists: Our three pianists this evening claim origin in distant lands - Jingxuan (Jing) Zhang is an immigrant from China, Sasha Beresovsky was born in the former USSR, and Elias Dagher is a Lebanese-Bostonian - yet a deep confraternity with the musical universe of Franz Schubert has played its part in the repeated minimizations of geographical disparities. Elias and Jing are currently housemates in Quincy, Mass. studying at the New England Conservatory in the studio of Georgian pianist Alexander Korsantia. The weekend before last, Sasha joined the two friends for several days of gardening preparations, delicious meals, moped maintenance, Fellini movies, excursions to the windmills and sea-views of Hull-town and, of course, rehearsals. Jing and Elias are frequent Schubertian collaborators, dating back to their days as students at Columbia University and Julliard. Sasha and Elias, meanwhile, had performed right here at the Alexandria Lyceum in the 2016 version of "Pianists for Soldiers." Today the three friends team up for the first time in a truly expansive presentation of some of Schubert's most beautiful works in the four-hand genre. Throughout the evening, you will frequently see and hear Sasha and Jing take turns weaving Schubert's irresistible melodies on the upper (primo) part, clothed, prodded, and otherwise supported by Elias on the more harmonic and rhythmical lower (secondo) part. We hope you enjoy it!
In the program:
Schubert D Major Rondo
Chopin Set of Preludes
Schubert A flat Variations
Lysenko Variations on a Folk Song
Schubert March
Beethoven 109 2nd Mvt
Chopin Revolutionary Etude
Scriabin Op. 42 No. 8
INTERMISSION
Bach Busoni Ich Ruf Zu Dir, Herr
Schubert March
Chopin 2nd Scherzo
Schubert Andantino Varie
Chopin Set of Etudes
Schubert A Major Rondo
Join us on Facebook:
https://www.facebook.com/events/247721275688965/