Event Information
Refund Policy
Refunds up to 7 days before event
Description
Attendees: 100
Language: Chinese/English
Dress code: Semi Formal
Age group: 10+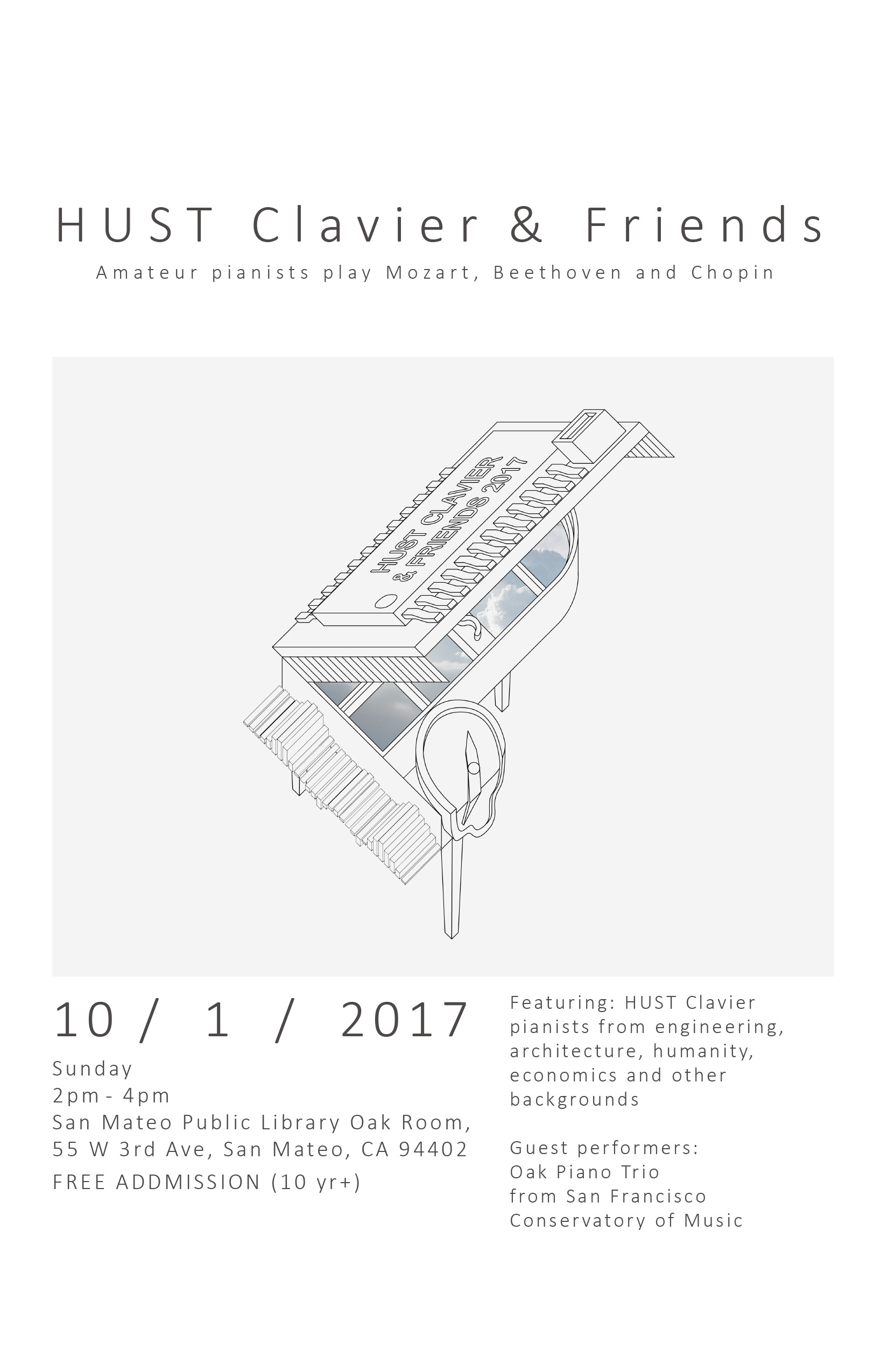 Classic piano and cello can inspire imaginary thinking, enhance work efficiency, reduce stress, and build emotional connection with people. A study by the Royal College of Music's Centre for Performance Science has proved that listening to and performing music has 'a positive, biological effect on mood and stress levels'.
PROGRAM
Piano Sonata No.16 in C Major, K.545 Wolfgang Amadeus Mozart (1756-1791)
I.

Allegro
Piano: Yongzhe Chen (Image Scientist at OmniVision Tech.)
Fantaisie Impromptu in C-sharp minor Frédéric Chopin (1810-1849)
Piano: Wendy Jin
Piano Sonata No.30 in E Major, Op.109 Ludwig van Beethoven (1770-1827)
I.

Vivace, ma non troppo
II. Prestissimo
III. Andante molto cantabile
Piano: Fanran Li (Architectural Designer at IB+A)
Graceful Ghost Rag William Bolcom (1938- present)
Piano: Muxi Yan (Software Engineer at Google Inc.)
Impromptu, Op.90, D.899, No.4 in A-Flat Major Franz Schubert (1797- 1828)
Piano: Tongge Jiang (Gerontology student in University of Southern California)
Nocturne, Op.27, No.1 Frédéric Chopin (1810-1849)
Piano: Jialu Streeter (Research Data Analyst at Stanford University)
Piano Sonata No.8 in C minor, Op.13, "pathétique" Ludwig van Beethoven (1770-1827)
I.

Grave - Allegro Di Molto E Con Brio
Piano: Tongge Jiang
III. Rondo - Allegro
Piano: Wendy Jin (Software Engineer at Intuit Inc.)
Piano Trio in B Major, Op.8 Johannes Brahms (1833- 1897)
I. Allegro con brio - Tranquillo - In tempo ma sempre sostenuto
II. Scherzo: Allegro molto - Meno allegro - Tempo primo
III. Adagio
IV. Finale: Allegro
Guest Performers: Oak Piano Trio (San Francisco Conservatory of Music)
Violin: Kexin Ye
Cello: Bowen Liu
Piano: Jinzhao Xu
About the pianists
The amateur pianists you will hear today come from a variety of backgrounds. They hold graduate degress in architecture, engineering, economics, and computer science, and are employed full-time at places such as Google, Intuit, Stanford University, IB+A and University of South California. One thing they have in common is their passion for music in general and piano in particular. They have studied piano since childhood and were members of a well-known university music group, HUSTClavier, in China.
About HustClavier
HUSTClavier was founded in 1999 by a group of non-music major students in Huazhong University of Science and Technology (HUST), a top-ranked university in China. Since its foundation, HUSTClavier has offered over 60 concerts on college campuses. All of its members have received years of music training in piano, accordion, or keyboard. As their reputation rises, HUSTClavier members now also hold joint performances with professional pianists. Currently, there are more than twenty HUSTClavier alumni in the US.
About Oak Piano Trio
Established in 2016, Oak Piano Trio consists of Kexin Ye, Bowen Liu, and Jinzhao Xu from the San Francisco Conservatory of Music. The three of them study chamber music with Prof. Yoshikazu Nagai and Prof. Jennifer Culp. Oak Piano Trio participates in chamber music concerts and events both in the Bay Area and in China. They had the honor to attend masterclasses by Prof. Geoff Nuttall in Stanford University and Prof. Vivian Weilerstein in New England Conservatory, and received high compliments for their performances.
Date and Time
Location
Refund Policy
Refunds up to 7 days before event