About this Event
ArtHub - Presents
Classical based Dance and Music Fusion Competition
1st December, 2019 in Hyderabad
Participate in a classical based fusion competition to win:
- Exciting Cash Prizes for top3 winners
- 5 concerts in major cities for the Top team
- Trophies and certificates
- Become ArtHub ambassadors
It will not matter:
- What your age is
- Whether your training is in Hindustani, Carnatic or Western forms
- If you are a vocalist, dancer or instrumentalist
- An amateur or professional
- Where you are currently located
Your team will be judged only on your talents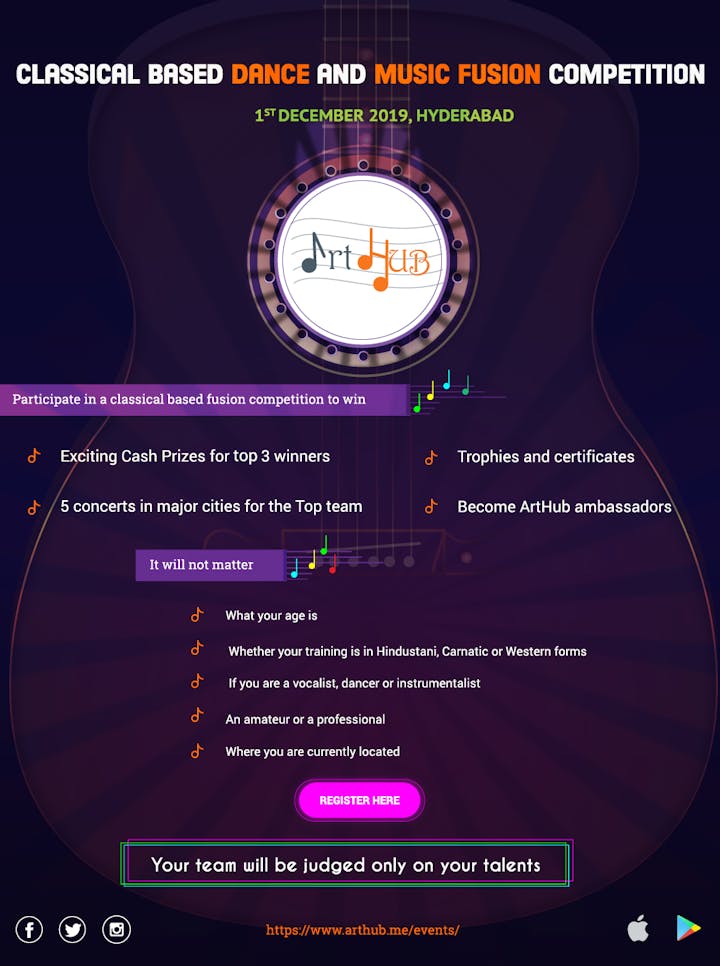 ArtHub Classical Music and Dance Fusion Competition
1st December 2019, Hyderabad.
Prize:
The winners will have cash prizes, certificates, trophies and also opportunity to perform in different cities of India.
a.Cash prizes of INR 25,000; INR 15,000 and INR 10,000 and 5,3 and 2 concerts in different cities (with all transportation and accommodation paid for the concerts) for the 1st, 2nd and 3rd prize winners respectively.
Criteria:
1. The outcome of the performance will have to be a pure classical form, whether be Hindustani, Carnatic, Western, Jazz or others. No film, folk or country music will be entertained.
2. There should be a minimum of 3 and maximum of 4 participants in a group.
a. If the group has 3 participants, two need to be experts in one classical form and third participant should be from different genre.
b. Similarly, if the group has 4 participants, 3 should be from one genre and fourth one from different style. E.g. in a group of 4 performing Hindustani style, three participants will have to use a predominantly Hindustani form such as Vocal, Kathak, Sitar, Tabla, Santoor and the fourth one could be Guitar, Djembe, Drums, Cello, Veena or Mridangam etc.
3. Participants in a group could be of any age.
4. The competition will be held in two rounds.
a. Preliminary round will be a video round, in which the participant will have to upload a video link on ArtHub App. The reason being that we want it to be fair and the judges will be sensitive to the fact that all ArtHub members (1500+) will also be able to view the entries, even if they are not judging.
b. The video does not have to be professional recording however the sound quality should be high. A video link from a concert not later than 6 months can also be used in the preliminary round. The video should show the artists and not artefacts or scenery.
c. The video should be of reasonable quality good enough to be posted on ArtHub App as well as on ArtHub Facebook page over time as we would like to encourage all teams who participate to get good exposure to global audience.
d. The video length should be between 6-10 minutes (non edited).
5. 20 groups will be selected from the preliminary round who will present and compete live in the final round in Hyderabad.
6. You will have to bring your own instruments and everything that you need for the live round.
7. For the final round, each presentation will be limited to 12 minutes and 5 minutes for stage setting.
8. A non-refundable fee of INR 500 for the preliminary round and INR 2000 for the final round (if selected) would be charged for each group as participation fee.
9. Participants will have to organize their own transportation, stay for participating in the final round.
10. The last date for receiving forms for the first round is 15th October 2019 with results out by 30th October where names of 20 groups will be selected from the preliminary round who will present and compete live in the final round in Hyderabad.
11. You can register your interest and participation in one of the three ways:
a. Register your group on ArtHub App (Details on flyer or find on Google Play or App Store). Just send us the name of the group on contacts mentioned on flyer or below (email or whatsapp). Individual artists of a group can register independently on ArtHub too.
b. Send information as stated below as plain text via email or a picture on whatsapp.
For other details contact hello@arthub.me, phone numbers 8500 546 228 and
9618 710 514.
Visit : https://www/arthub.me/events