Classic Sundays Nashville

Weekly Event - Every Sunday: 3:00 PM (CDT)
Event Details
March 30th, 2014 TurntableUniversity.com in association with DJVatican.com bring you the 4th episode of #ClassicSundayNashville. THIS Sunday help us welcome DJ Shortkut of the Invisibl Skratch Piklz, The Beat Junkies, & The Triple Threat DJs to the #MusicCity!
(21+ / Advance Tickets Only $12)
DRINK SPECIALS
$15 SEX ON THE BEACH PITCHERS ALL NIGHT & $1 WELLS TILL 10PM
Join the world's hottest turntablists every Sunday afternoon as we celebrate musical influences that birthed hip-hop. Brought to you by the folks who brought you he 2013 Nashville DMC Regionals & #FlashpointWednesday with GrandmasterFlash ["Best DJ Residency of 2013," Sean Maloney of The Nashville Scene]..
 hosted by DJ Debonair of @DeBoSinatra featuring
Tony Touch (Sunday March 9th)
Grandwizard Theodore (Sunday March 16th)
Kool DJ Red Alert (Sunday March 23rd)
DJ Shortkut (Sunday March 30th)
 main event page: https://www.facebook.com/events/665542913510261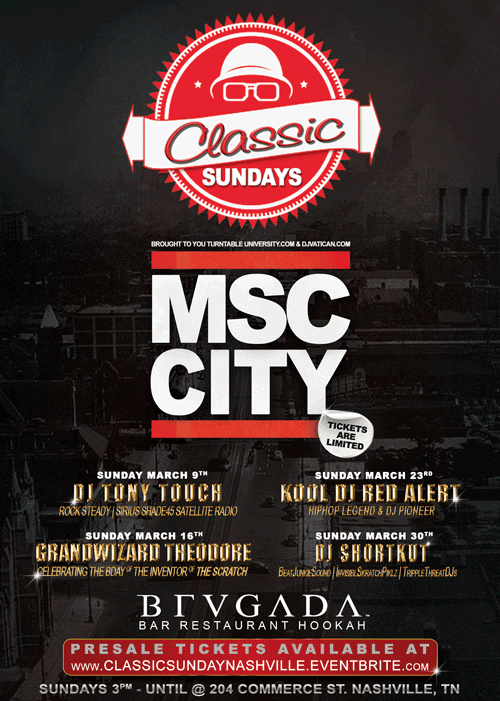 please visit: www.TurntableUniversity.com 
"The World's Premier Online DJ School"
please visit: www.DjVatican.com
"Home of the Hottest Musical Tastemakers in Commercial Radio & Touring"
DJ Shorkut's Bio
No other DJ in the world will ever be a member of the three most innovative and influential DJ crews to ever exist. As a member of the Invisibl Skratch Piklz, Beat Junkies and Triple Threat DJs, Shortkut's contributions to the DJ world greatly assisted in building this culture into the multi-million dollar industry it is today. His years of musical experience and unparalleled presence in the national and international circuits exemplifies his passion and dedication to a culture he helped create. In 2007, Shortkut celebrated 20 years as a DJ, producer, DJ equipment designer, and battle champion. 

Shortkut began his DJ career in 1987 with Just 2 Hype!, a mobile DJ soundsystem based out of Daly City, California. In 1994, J Rocc, the "Funky President" (Stones Throw Records), invited Shortkut to join his internationally acclaimed collective of DJs and producers, The Beat Junkies. Since Shortkut's addition to the group, he has diversified the Beat Junkie audience. In 1995, Shortkut, DJ Q-Bert and Mixmaster Mike (Beastie Boys), formed the Invisibl Skratch Piklz, a legendary turntable band that led a new era in the DJ/turntablist world. The Invisibl Skratch Piklz went on to become the most influential DJ crew of all time. In 1999, Shortkut, along with world DJ champions Apollo and Vinroc, founded the Triple Threat DJs. These DJs all shared the same philosophy of combining raw turntable skills for the hardcore, while satisfying dancefloor crowds. This musical philosophy exploded with the birth of the Triple Threat DJs, and is now what DJs around the world follow today. 

Throughout his career, Shortkut has made numerous contributions to the DJ culture. His involvement with seminars and tutorials in techniques and DJ history helps develop aspiring DJs and turntablists from middle schools to college classrooms worldwide. He was also a key designer of the Vestax 05 Pro, which became the best-selling DJ mixer of the Japan-based Vestax mixer line. 

Shortkut claimed numerous titles, notably the 1994 and 1998 US/West Coast DMC Championships. He has also been featured in prized national and international publications including Rolling Stone, URB, DJ Times, Scratch, and VIBE. His talent has taken him to almost every continent, in which he showcases his performance/mixing DJ style to crowds - many of whom were introduced to the artform for the first time. In 2001, Shortkut appeared alongside X-ecutioner's Rob Swift and actress Shannon Sossamon for a GAP clothing commercial that aired worldwide. He was honored with the Grand Wizard Theodore Lifetime Achievement Award in Germany for his contributions to the development of scratching & DJ culture in 2004.

A diverse selection in music, combined with turntablist roots makes Shortkut one of the world's premier DJs. He has the creative ability to fuse many styles, which enables him to play for various audiences. Influences such as Jazzy Jeff, Rob Swift, Q-Bert, and his DJ crewmembers have contributed to Shortkut's well-rounded DJ style. 

Shortkut's musical talent magnetizes audiences of all ages both in his hometown of San Francisco, throughout the United States, and overseas. His 20+ years of DJ experience and membership with three of the world's most influential DJ collectives allowed him to enhance his skills, expand his musical selection and develop into an inspiring musician that believes in sharing his talent. Shortkut continues to add to his discography through creations in different areas of music production, mix projects and more recently, video mixing. With the addition of the visual element to his DJ sets, Shortkut continues to innovate and lead in progressing the art of DJing.
for more info contact: DeBo@TurntableU.com
Where

Brugada Bar & Restaurant
204 Commerce Street
Nashville, Tn 37201


Weekly Event - Every Sunday: 3:00 PM (CDT)
Add to my calendar
Organizer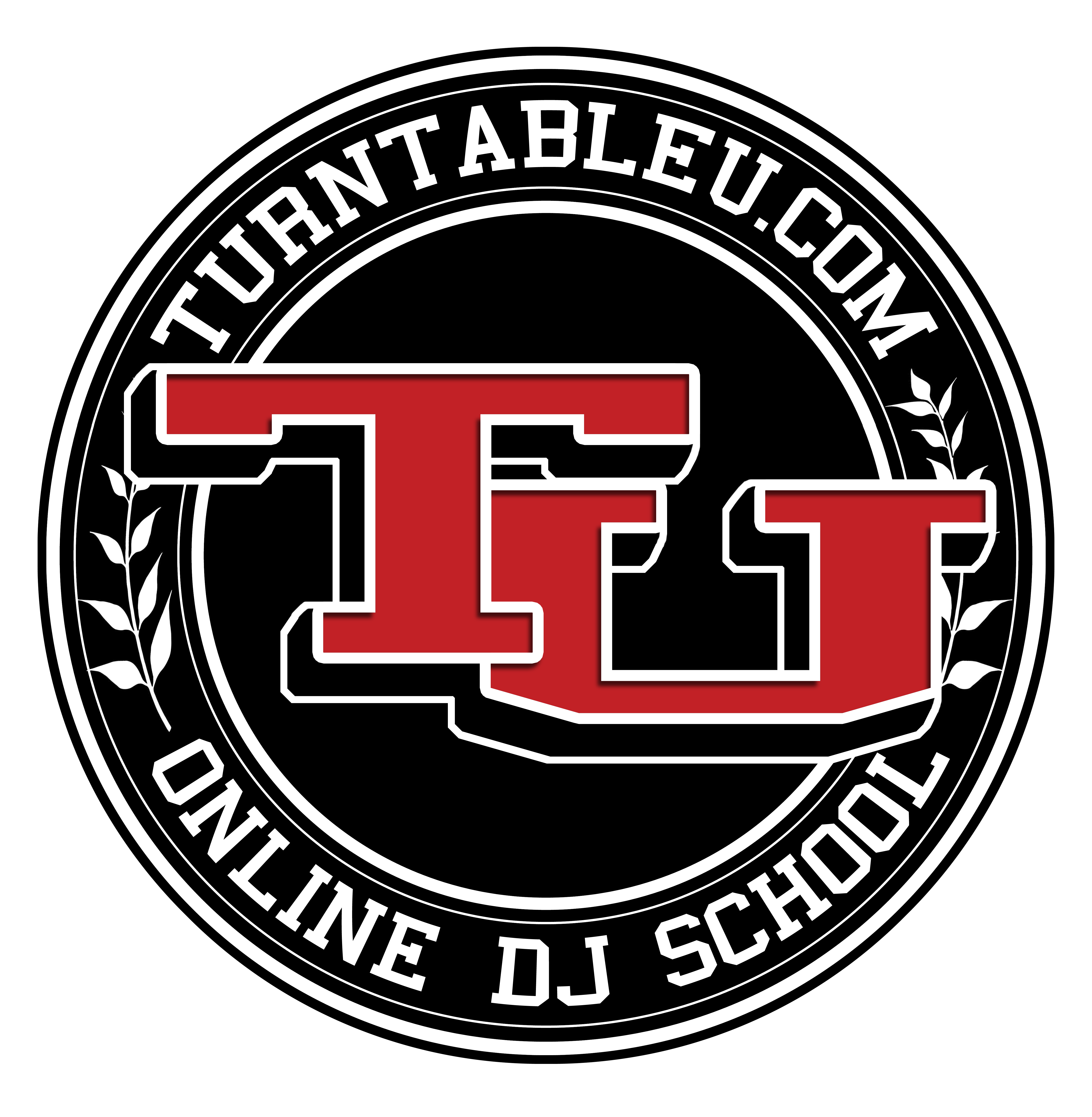 www.TurntableUniversity.com
Turntable U is "The World's Premier Online DJ School." Our curriculum is structured to sharpen your talents, emphasize fundamentals, and define your strengths and weaknesses in order for you to become a successful DJ. Beginning DJs will be able to grasp the basics of mixing, blending and scratching within a few lessons. Intermediate and Advanced DJs will be able to brush up and fine-tune their skills and stay up to date on today's cutting edge techniques and scratches. Whether you want to learn the basics, expand your scratch techniques, or learn how to be a radio DJ, Turntable U makes learning easy, accessible, fun and affordable.Turntable U is the first online DJ school to give DJs around the world direct access to high quality DJ tutorials. All lessons are presented through state of the art digital video production. We bring you unequaled access to turntable fundamentals that are essential to being a well-rounded DJ. In addition, Turntable U will help you to refine your own DJ style—which is the secret to success. Turntable U's world renowned faculty of DJ instructors takes the guesswork out of learning. All you have to do is PRACTICE! Learn to how to rock the party from DJ legends you know and respect. No matter what type of musical genre you prefer—or your skill level—with Turntable U you will be able to rock the party.
www.DjVatican.com
 The DJ Vatican© consists of the hottest DJ's in music entertainment: the tight-knit group made up of the most influential tastemakers in commercial broadcasting, club, and touring. The DJ Vatican boasts an association of over 100 key DJ's and program directors in both radio and television with a listenership that reaches millions throughout the United States and the world. "The original DJ conference call, established in 1992," continues to change the game. The DJ Vatican is a direct link to major and independent record labels, and has provided valuable exposure for established, up-and-coming recording artists, and international brands alike.DJ Vatican members are a vital part of his/her respective community and market. During the DJV conference call DJ's and programmers exchange valuable information and knowledge on artists, music and trends that are making an impact in their individual markets. This free exchange between DJ Vatican members empowers them to stay on the cutting edge, introduce new music and trends, and break future hits worldwide. Recent conference call guests include: Cali Swag District, David Banner, DIPLO, Mayer Hawthorne, Bob Sinclair, Estelle, Trina, Afrojack, Lloyd, Diddy, George Clinton, and Grammy nominated artists T.I., Flo-Rida & Pitbull.