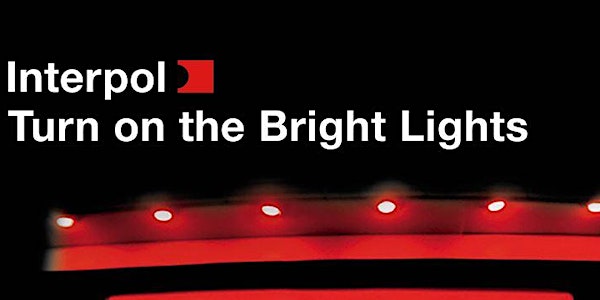 Classic Album Sunday D.C.: Interpol "Turn on the Bright Lights"
Classic Album Sundays D.C. Presents
Location
Songbyrd
540 Penn Street N.E.
Washington, DC 20002
Classic Album Sundays D.C. celebrates Interpol debut album "Turn on the Bright Lights"!
About this event
Sunday August 25, 2019
D: 2:00 // S: 2:00 PM // $5 / $7
--
Classic Album Sundays is the world's most popular album listening experience and allows the listener to hear music contextually, communally, uninterrupted, and in great sonic detail. At our worldwide listening sessions, music fans are able to immerse themselves into an album that has helped shape our culture and in some cases, our lives.
We relay the artist and album's unique story and provide a musical context that gives the listening experience deeper meaning.We share the experience of hearing the album in its entirety, on vinyl, and on a world-class audiophile hi-fi so that fans can experience the music as close as possible to the artist's original intention. Classic Album Sundays treats the album (and music in general) with the respect it deserves rather than as a free commodity or aural wallpaper. We remind people what they love about music.
For our August 2019 session we celebrate Interpol classic "Turn on the Bright Lights"!
On the surface, the story of Interpol's 2002 full-length debut Turn on the Bright Lights is almost annoyingly of its place and time: four guys meet in New York, start a band, make tightly-wound indie rock jams that sound great at your favorite mid-gentrification Williamsburg bar, sign to a renowned independent label, and the rest is history. But the early-aughts New York of Turn on the Bright Lights is not the young, vibrant, and impossibly cool place of cultural myth. It is a darker and more complicated place, fraught with disappointment and disconnection. It is a crushingly real place, rendered in such vivid emotional detail that it rings true even to those who have never set foot in the city.
Interpol's debut full-length is wrought with emotional disconnection and faded glory, epic sweep and intimate catharsis. Inevitably, the hype exceeds return (that's why it's hype-- and, to be fair, Interpol has largely flown under the radar compared to most other NYC acts), but there's no getting around that Turn On the Bright Lights is an incredibly powerful and affecting album. Loss, regret, and a minor key brilliantly permeate jangling guitars and rhythmic and tonal shifts.
Join us to hear Interpol like you never have before!