Classes Without Quizzes - 2014

Saturday, April 19, 2014 from 9:00 AM to 1:30 PM (PDT)
Event Details
ONLINE REGISTRATION HAS ENDED, BUT YOU CAN STILL COME AND REGISTER AT THE DOOR!
Leave your blue books and #2 pencils at home!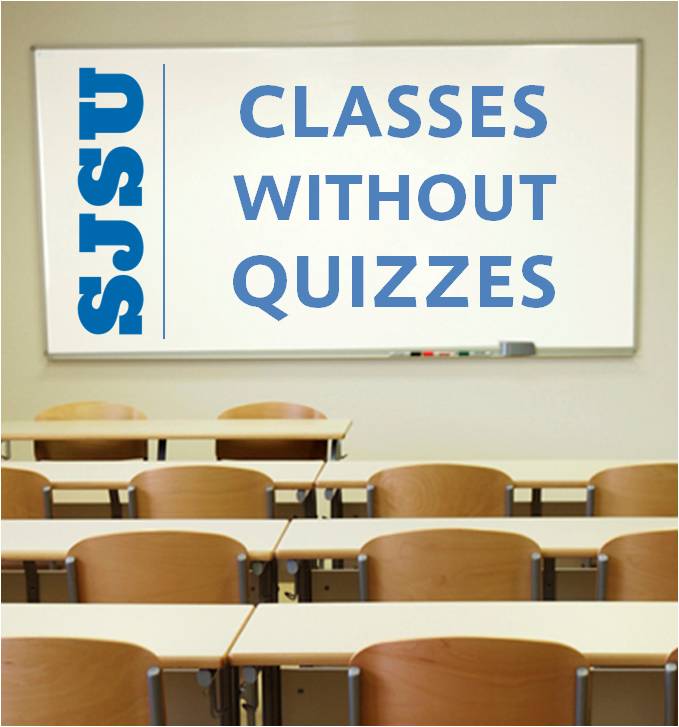 What is Classes Without Quizzes?
Classes Without Quizzes is a fun day of education and enrichment! Alumni, students, friends of the university and the community are invited to attend classes presented by alumni, faculty, and community members. Highlight your knowledge and enthusiasm by attending three workshops of your choice. Then enjoy a complimentary lunch in the SJSU Sculpture Garden where you can mingle with new friends!
When & Where
Saturday, April 19, 2014
9:00 a.m. - 1:30 p.m.
Clark Hall, San José State University Campus
$10
Lunch, refreshments and notebooks included!
Schedule
9

:00 a.m.    

Registration in Clark Hall Lobby


9

:30-

10:20 a.m.    

Class Session 1  

10:20-10:30 a.m.


Break

10:30-11:20 a.m. 


Class Session 2

11:20-11:30 a.m.

Break

11:30 a.m.-12:20 p.m.

Class Session 3

12:20-1:30 p.m.

Lunch in the SJSU Sculpture Garden (outside Clark Hall)


Parking and Directions
Parking is available in the South Garage (7th Street Garage)

Course Information and Registration
Review the class schedule below before registering for the event.

Select one course in each of the three sessions. Make a note before you go to the registration page!


Class sessions are subject to change.

Please create an Eventbrite username and password on the registration page. This will allow you to edit your class selections after you've registered, if desired. If you wish to change classes on the day of the event (subject to availability), you may do so at the registration tables.

Additional classes may be added. We will send an email to those who have registered with the additional classes.

Refer to your registration packet on the day of the event for classroom numbers and locations. Most classes will be held in Clark Hall.
Class Schedule
Session 1 (9:30 – 10:20 a.m.)
Class 1A: Finding and Using Your Strengths
Deanna Peck, Coordinator for Educational Programs, SJSU Counseling Services
You are a unique individual with exceptional and distinctive strengths.   Start thinking about your positive points and how they can help you achieve in your personal and professional life.  This workshop will introduce you to a well-known tool, interactive exercises, and some common language that will raise your confidence and improve your well-being.
Class 1B: Drawing Calligraphy with a Bamboo Pen
Toshimi Kumagai '60, Educator and Calligrapher
Learn the basics of lettering and drawing with a hand-cut bamboo pen in this hands-on session taught by an expert calligrapher and instructor! Materials provided.
Class 1C: Philanthropy 101
SJSU University Advancement
Learn about the social and historical overview of philanthropy, get insight into the world of giving and volunteerism and learn key resources to aid you in raising funds for causes and organizations.
Class 1D: Walk This Way!
Nick Waschezyn, Co-Founder of The Commute
Walking is a relatively easy, inexpensive and relaxing way to exercise. But, what about walking 52.6 miles from Downtown San Jose to Downtown San Francisco in 24 hours?
Learn about the benefits of walking as it relates to your health and the community, hear stories about the crazy people that have walked The Commute over the past four years and why they would do such a thing, and get tips and resources for incorporating endurance walking into your life.
Session 2 (10:30 – 11:20 a.m.)
Class 2A: Assyrian for a Day!
Adessa Kiryakos '11, Founding Member, Assyrian Student Association at SJSU
This class will be a fun and interactive way to learn about one of the oldest groups of people: the Assyrians! Get a taste for their food and learn the basics of how to write the alphabet and common phrases.
Class 2B: Learn About our Water Supply
 Linda LeZotte, Director, District 4, Santa Clara Valley Water District
Learn about Santa Clara Valley's water supply. Topics include flooding, water supply, fluoridation, advanced treatment, purification, droughts and more.
Class 2C: New Ideas for Neighborhood Safety
Kenneth Kelly, '62, Board of Directors Chair, United Neighborhoods of Santa Clara County
Explore new concepts for ensuring public safety, including: a proposed San Jose Police Dept program, San Jose Crime Free; things we can do as citizens to protect ourselves, including a discussion of private safety patrols; and an introduction to the Responsible Landlord Engagement Initative - working with property owners to help make their residences cleaner, safer and crime free.
Class 2D: Spartan Staffing
Daniel Newell, Job Development and Marketing Specialist, SJSU Career Center
Come learn about the new Spartan Staffing program! Spartan Staffing is an innovative and unique staffing service coordinated through the SJSU Career Center that matches current SJSU students and alumni with jobs and internships with employers.  Spartan Staffing accommodates direct placements/hires, internships, temporary hires, and temporary to permanent hires.
Class 2E: Savvy Women, Smart Investors
Christian Ortez, '02, Chief Investment Officer, LPL Financial
Women today face unique financial pressure, whether they are raising a family, caring for parents or saving towards their own long-term goals. In this class, we will review these challenges and offer tips specifically geared towards women to help them plan accordingly.
Class 2F: Positive Regard in Social Media and Self Regard in Social Networks
Christopher Zubiate, '98, '01, President & CEO, Psynergy Programs, Inc.
In our busy lives surrounded by "social" media, many of us have lost the skills and opportunities for social connectedness.  How often do we see rude behavior or mean-spirited email exchanges.  Can we really engage our social networks in authentic dialogue without demonstrating UNCONDITIONAL positive regard? This class will explore concepts borrowed from humanist-existential psychology and client-centered therapy as a means to challenge each of us towards self-acceptance and empathy. The presentation will connect psychological processes to real life experiences that participants can use to reflect and explore with themselves and each other.
Session 3 (11:30 a.m. – 12:20 p.m.)
Class 3A: Spartan Film Studios Experience
Nick Martinez, Director, Spartan Film Studios
Spartan Film Studios offers students a truly unique opportunity to participate in one of San José State University's most adventurous programs. Under the guidance of studio directors Barnaby Dallas and Nick Martinez, along with expert instructors and industry professionals, students are given a full range of film production experience that has resulted in multiple feature-length and short subject films. Learn about the student experience and watch clips of their work.
Class 3B: Globalizing Your Startup
Jeff Kirkley, '91, CFO and Strategic Advisor, ShiftMobility
This class will discuss the globalizing of a startup company, and will cover reasons, preparations, and experiences related to the strategic decision to globalize. Real examples will be given to highlight benefits and challenges experienced by the speaker to provide context and to shorten the learning curve for students.
Class 3C: Your Credit Score
Valerie Desrosiers, Personal Banker, Xceed Financial Credit Union, SJSU Alumna
Xceed Financial Credit Union will be going over the importance of a credit score, how to keep a good score, and how to repair a bad score. We will explain the different credit reporting models, the break down of how scores are determined, and what consumers need to be aware of when using credit. Xceed will also go over how a credit score affects the consumer when they are purchasing big items like a home or auto.
Class 3D: Conversational Speaking 101
Alberto Gutierrez, '08, '13 MA Communication Studies
Learn how to use the basic structure of public speaking (intro, body and conclusion) in a whole new way for conversations and networking.
Class 3E: Library Tour
The King Library is a shared building with both the San José City and SJSU communities. Opened in Fall 2003, this library has been infused with artist Mel Chin's award winning public art and resources and services for both the SJSU and City of San José communities.  Come explore the nine floors of the building, including the building's design, collections and art.  This tour focuses on the art and history between the joint library building, including the building's design, collections and art.
Class 3F: Culture Crash: A Crash Course on San José's Innovative and Creative Culture
Flora Moreno de Thompson, Writer and Editor, Content Magazine
Alumna, Mexican American Studies, San José State University
There's a lot more to San José than you think. This course will showcase the diversity and creativity in our community by focusing on local businesses and innovators as featured in the pages of San José's Content Magazine. From bicycle designers to restaurateurs, artists to politicians, come hear stories about the vibrant people that make San José a great place to be.
This session is provided by Content Magazine
---
The Alumni Association may photograph this event.
Your attendance indicates that you have granted permission
to have your photo used in association media.
If you do not wish your photo to be used,
please notify the photographer.
When & Where

Clark Hall at San José State University
One Washington Square
San Jose, CA 95192-0066


Saturday, April 19, 2014 from 9:00 AM to 1:30 PM (PDT)
Add to my calendar
Organizer
Serving San José State University since 1872, the SJSU Alumni Association connects our graduates with each other and their alma mater. Learn more about the Alumni Association and become a member at www.sjsualumni.com
Classes Without Quizzes - 2014