Event Information
Location
Microsoft
11 Times Square
New York, NY 10019
Description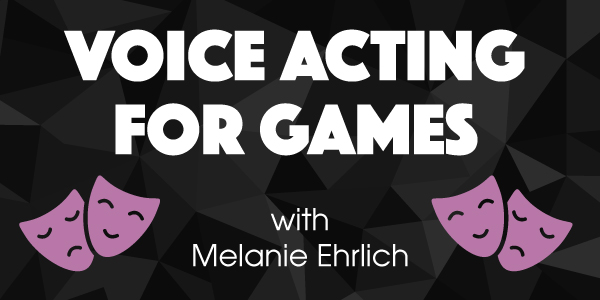 ---
Learn the foundations of good voice acting for video games, as well as what creators and casting professionals are looking for when choosing voice actors for games.
---
Class Description
Good voice acting can make a good game great, and bad voice acting can make a decent game terrible—but both those making games AND those acting in them need to know what to do (and what NOT to do!) to create the best game possible! In this class, Melanie will lead you through the video game voiceover production process, where you will experience first-hand the process of finding voice actors, deciding who is right for the role, and how to get the best voice acting performance possible. The class will include an interactive mock video game audition session, where you can see all of these things put into practice right in front of you. Melanie brings a unique perspective as both a professional actress and a casting director, making this class equally useful for those who would like to include voice acting in their own games, those who would like to do the voice acting themselves, and those who are just curious about how it all works.
---

About the Instructors
Melanie Ehrlich is an actor/director/voice actor based in NYC. Her 200+ VO credits include the lead female character, Vella Wilde, in the upcoming Japanese-inspired 3D RPG YIIK, to be released for PC, Mac, Wii U, PS4 and PS Vita in Q2 2016. On screen, Melanie will be making her Hollywood debut alongside Matt Damon in Alexander Payne's upcoming film, Downsizing, in 2017. She also recurs as "Ali" on Brit Marling and Zal Batmanglij's new Netflix series, The OA.

In addition to acting, Melanie has also worked in production, having recently cast and directed the voice acting for 2D point-and-click adventure game Norse Noir. She also cast and directed ADR for Media Blasters' first in-house anime dubs, Holy Knight and Ladies versus Butlers. To learn more about Melanie, check out her website, www.MelanieEhrlich.com.
Date and Time
Location
Microsoft
11 Times Square
New York, NY 10019