Class: Using lifestyle routines as medicine for each body-type according to...
Description
FREE Health Class: Using lifestyle routines as medicine for each body-type. Daily regimen and habits for Vata, Pitta & Kapha body-types according to Ayurveda (Dinacharya).
The 3rd class of a series of classes and workshops on Ayurveda by Khabir Southwick in Dubai and Abu Dhabi, 2017.
Based on ancient Ayurveda text, each dosha has seasonal regimens for the protection of health. During this talk, we will explore the principles used to design daily lifestyle regimens for each bodytype or dosha. This type of treatment in Ayurveda is caleld Dinacharya.
* A very important subject for anyone wanting to naturally improve their health.
#2602, The Oberoi Centre, The Oberoi Hotel, Business Bay
https://www.google.com/maps/place/Dhyana+Yoga+and+Pilate+Studio/
Online registration is required from this page. Limited space, please RSVP for each person to attend.
---------------------------------------------------------------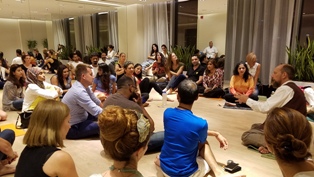 APPOINTMENTS WITH KHABIR IN THE UAE
Between Nov. 25th and Dec. 10th Khabir will be providing private appointments most days. For details about a private appointment and to schedule an appointment please go here: www.khabirsouthwick.com/contact/uae
REGISTER FOR EVENTS IN UAE: www.khabirsouthwick.com/events/uae
--------------------------
* Lectures are for educational purposes only and not intended to treat or diagnose any medical condition.
Date and Time
Location
Dhyana Yoga at the Oberoi
Business Bay
2602, The Oberoi Centre
Dubai
United Arab Emirates