CLASS FULL/ENROLLMENT CLOSED: Discovering Contemporary Art: Classes for Parent Educators and Children Ages 5 and Up

Multiple Dates
Event Details
Discovering Contemporary Art
Classes for Parent Educators and Children Ages 5 and Up
September 2011 through May 2012
CURRANT STATUS FOR SERIES: FULL
If you have any inquiries about the series or would like any information on future workshops please email tours@henryart.org.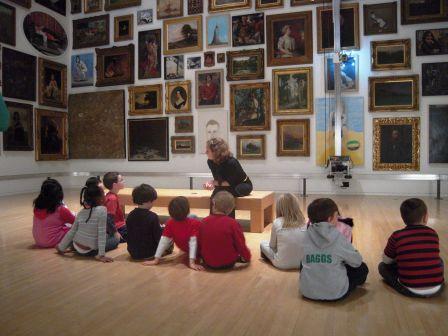 Calling all Homeschool Educators and Children!
Join area Homeschool Families at the Henry on select Fridays throughout the school year. Look at a range of contemporary art, create your own art inspired by works on view and learn how you can extend the exploration of art back at home.

Sign up for the 8 part series, or take a selection of individual classes.
Where: Henry Art Gallery, Seattle's oldest art museum with the newest ideas, located on the campus of the University of Washington.
When: 1:00-2:30pm on select Fridays at the Henry
Who: Homeschool Parent Educators and Children 5 years old and up. Parents are strongly encouraged but not required to participate.
Class Fees
Individual Class Cost:
$15.00 per child; $5 for each additional sibling; Parent Educators are FREE.
Participation for the Entire 8 Part Series:
$80 for entire 8 Part Series; $5 for each additional sibling still applies; Parent Educators are FREE.
Class fee includes: guided tour, art instruction, museum and art materials, instructional take-home exercises and, or lessons. Teacher to Participant ratio: 1 Henry Instructor to 8 participants.

Enrollment Details: CLASS CURRENTLY FULL
Registration required with a minimum of 7-days in advance. 
Register via Eventbrite (recommended), or email mariar@henryart.org or call 206.221.4980.

Enrollment is limited and space is available on a first come first served basis. Classes are limited to 25 participants.
Class Descriptions and Dates:
Friday, September 23, 2011 / The Creative Eye
Look at a range of digitally enhanced photographs in The Digital Eye: Photographic Art in the Electronic Age and become inspired to create a photo collage scene or portrait back in the Studio.
Friday, October 28, 2011 / Mixing Mediums
Explore the works of Dutch artist Carel Balth in Videowatercolors: Carel Balth Among His Contemporaries. Combine a variety of materials to create unique watercolor collage paintings inspired by the works on view.
Friday, November 18, 2011 / Filling Spaces
Walk around and marvel at Compound, a sculptural installation made of rattan and bamboo created by Cambodian born artist Sopheap Pich that will fill the Henry's two story high East Gallery. In the Studio let your imagination soar as you create a design for your own room-sized installation.
Friday, January 20, 2012 / Abstract Spaces and Places
View a variety of photographs exhibited throughout the Henry that explore abstract spaces and places. Using chalk pastels create your own abstraction inspired by a secret space or place.
Friday, February 24, 2012 / Clay Play
Get inspired by a range of ceramic works in Seattle Ceramics and design your own funky vessel out of clay to take home. 
Friday, March 23, 2012 / Moving Images
Explore the power of moving images found in video art. Back in the Studio create a fun series of images in a flipbook format and get inspired to create your own stop animation video.
Friday, April 27, 2012 / Moody Abstractions
Immerse yourself in Andew Dadson's richly layered paintings and experience the power of abstract art. Using a variety of media, participants will blend layers of color and materials that reflect emotions and ideas.
Friday, May 18, 2012 / Art in Public Spaces
Explore a range of artworks presented on the University of Washington campus and reflect on the ideas of public art.

Have questions about CLASS FULL/ENROLLMENT CLOSED: Discovering Contemporary Art: Classes for Parent Educators and Children Ages 5 and Up?
Contact Henry Art Gallery
Where

Henry Art Gallery
University of Washington
15th Ave NE & NE 41st St
Seattle, WA 98195


Multiple Dates
Add to my calendar
Organizer
Henry Art Gallery
Henry Art Gallery is a center for contemporary art and ideas. The only dedicated contemporary art museum in our region, our home within the University of Washington provides a rich and dynamic laboratory for cross-fertilization and the ongoing quest for new knowledge. The Henry is internationally recognized for its groundbreaking exhibitions, for being first in the field to champion artists who go on to global acclaim, and for premiering and sponsoring new works by artists of note. Since our founding in 1927, the Henry has been committed to providing opportunities for discovery, inspiration, and exhilaration through immersive experiences with art.
CLASS FULL/ENROLLMENT CLOSED: Discovering Contemporary Art: Classes for Parent Educators and Children Ages 5 and Up