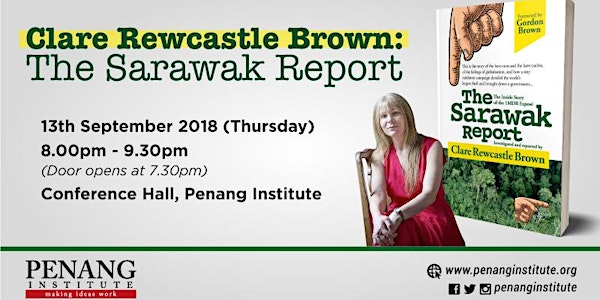 CLARE REWCASTLE BROWN: The Sarawak Report
When and where
Location
Penang Institute 10 Jalan Brown George Town, Pulau Pinang 10350 Malaysia
Description
CLARE REWCASTLE BROWN: The Sarawak Report
Moderator: Dato' Dr Ooi Kee Beng
Penang Institute welcomes you to the launch of The Sarawak Report: The Inside Story of the 1MDB Exposé by Clare Rewcastle Brown, which will include a talk by Rewcastle Brown, a question-and-answer session and a book signing session with the author.
The Sarawak Report is the stranger-than-fiction tale of how one woman uncovered the world's biggest theft which, in May 2018, brought down the Malaysian government.
Investigating the deforestation of Sarawak and the dispossession of its people, journalist Clare Rewcastle Brown followed a trail of corruption that led her to the heart of Malaysian politics and to former prime minister Najib Razak himself. To nail down absolute proof, Rewcastle Brown criss-crossed the globe and, defying danger, pieced together the evidence of the 1MDB scandal – the theft of billions from the country's sovereign wealth fund.
Sweeping in scope, The Sarawak Report provides a jaw-dropping behind-the-scenes narrative of Malaysia's recent turbulent political struggles, revealing as never before how government-funded cyber-warfare and fake news operate and, in an era of threadbare mainstream media demonstrating that epoch-changing investigative journalism is still possible. It is an urgent account of the reality of globalisation – and the astonishing story of how one person made a difference.
Note: Registration begins at 7.30PM (Please be punctual)