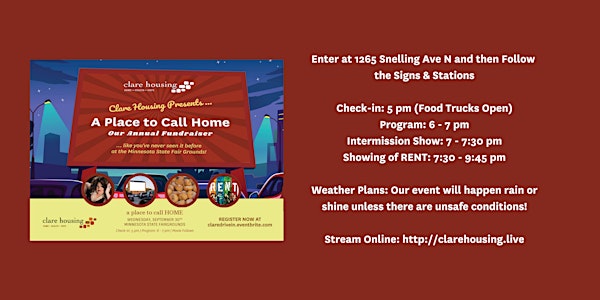 Clare Housing's A Place to Call Home: A Drive-in Annual Fundraiser
At this inspiring one-hour event, hear first hand how we're ending homelessness for Minnesotans living with HIV, one move-in at a time.
When and where
Location
The Minnesota State Fair 1265 Snelling Ave N Saint Paul, MN 55108
About this event
LIVE-STREAMING OPTION NOW AVAILABLE!*
We're doing something fun and different this year, and we'd love for you to join us. On September 30th, we'll be hosting a drive-in theater inspired A Place to Call Home fundraiser! This socially distanced program takes the place of our yearly signature Luncheon fundraiser.
Cruise on down to the Minnesota State Fair Grounds via car, bike or transit for a socially distanced, one-hour celebration of the community that makes home, health, and hope possible for our residents. After an uplifting program featuring speakers including Phoebe Trepp, our new executive director, you will be invited to support our work by making a financial contribution.
As a bonus, you and your guests may stay for a free showing of the motion picture musical RENT following the program. Pack a meal, or buy fair-inspired favorites from food trucks! Have questions? Check our FAQ.
Questions before or during the program?
Call our volunteer Leah 612-209-2235.
Can't make it? Still want to support our residents?
You can make an online donation at any time at GiveMN.org.
*Note that out of respect to copyright concerns, the Intermission Show and RENT cannot be live-streamed.
SAFETY GUIDELINES
Due to the ongoing pandemic, there are a number of healthy and safety guidelines will ask you to honor while we convene tonight. People not adhering to these guidelines may be asked to leave.
If you are driving, please minimize the amount of time spent out of your vehicle while at the event.
When outside of your vehicle, please wear a mask at all times. A custom Clare Housing mask will be your gift for attending!
Use hand sanitizer liberally. Thanks to Gilead, you will be provided with your own bottle. There will also be hand sanitizing stations at the restrooms and the food trucks.
Keep at least 6 feet distance between yourself and others when outside a vehicle, particularly in lines at the restroom and food trucks.
FREQUENTLY ASKED QUESTIONS
Can I bring my own food to the event? If I don't, will there be food available for purchase?
Yes, you're welcome to bring your own picnic meal and non-alcoholic beverages to the program. Free, pre-packaged Riverview Theater popcorn will be available to all attendees as a special treat! There will also be food trucks available starting at 5 pm. Note no food will be served during the fundraising program from 6 to 7 pm. Kindly refrain from bringing alcoholic beverages, as we're not licensed to have or serve alcohol at this program.
Will there be a parking or seating chart for this event?
No, guests will park on a first-come, first-served basis. Cars will be parked in columns with enough room to allow for guests to leave the event in their vehicle if desired during the intermission and before the movie is shown.
Unless you make independent arrangments, you will not be parked near your Clare-avan Host. If you want to be parked near someone, you may meet independently as a group outside of the Fairgrounds, and drive in together in your own caravan.
Can I leave before the movie?
Yes, there will be a half-hour intermission between the fundraising program, and our showing of the motion picture musical RENT. Cars will be positioned in columns to allow for social distancing, and for attendees to leave after the fundraising program if they should so choose. Simply pull forward to the front of the lot and hang a right to exit. Please watch for people who may be leaving their cars.
Can I come for just the movie?
No, A Place to Call Home is our big Annual Fundraiser! The free showing of RENT is intended as a bonus for the supporters who attend the fundraising portion of our program.
Do I have to drive a car to attend this year's Annual Fundraiser?
No, not at all. Pedestrians, transit users, and bikers are all welcome! We will have special, socially distanced space at the front of our parking lot for you to sit. Please bring your own folding chairs or blankets so you may sit comfortably during the program.
Will there be restrooms and hand sanitizer available at the event?
Yes, there will be portapotties available and hand sanitizer. Attendees should be aware that they use these facilities at their own risk and are encouraged to use hand sanitizer and take other precautions to protect their health.
Can I bring my dog?
As much as we love dogs, please leave your furry friends at home. They are not allowed at events at the Fairgrounds.
Can I sit outside my car or have my windows open?
Cars will be distanced according to the State of Minnesota guidelines regarding social distancing. You can keep your windows down during the program but may want to put your mask on for additional protection.
For safety and social distancing reasons please remain inside your car during the program, except to use facilities or purchase food.
Have other questions? Please let us know!
Call our volunteer Leah 612-209-2235.