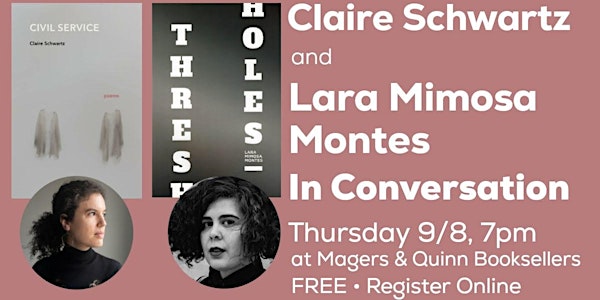 Claire Schwartz and Lara Mimosa Montes In Conversation
Claire Schwartz presents Civil Service, in conversation with Lara Mimosa Montes
When and where
Location
Magers & Quinn Booksellers 3038 Hennepin Avenue Minneapolis, MN 55408
About this event
While the spectacle of state violence fleetingly commands a collective gaze, Civil Service turns to the quotidian where political regimes are diffusely maintained—where empire is not the province of a few bad actors, but of all who occupy and operate the state. In these poems populated by characters named for their occupations and mutable positions of power—the Accountant, the Intern, the Board Chair—catastrophic events recede as the demands and rewards of daily life take precedence. As a result, banal authorizations and personal compromises are exposed as the ordinary mechanisms inherent to extraordinary atrocity. Interwoven with bureaucratic encounters are rigorous studies of how knowledge is produced and contested. One sequence imagines an interrogation room in which a captive, Amira, refuses the terms of the state's questioning. The dominant meanings of that space preclude Amira's full presence, but those conditions are not fixed. In a series of lectures, traces of that fugitive voice emerge as fragmentary declarations, charging the reader to dwell beside it and transform meaning such that Amira might be addressed.
In this astonishing debut, Claire Schwartz stages the impossibility of articulating freedom in a nation of prisons. Civil Service probes the razor-thin borders between ally and accomplice, surveillance and witness, carcerality and care—the lines we draw to believe ourselves good.
Claire Schwartz is the author of the poetry collection Civil Service and the poetry editor of Jewish Currents. Her writing has appeared in the Nation, Poetry Magazine, Virginia Quarterly Review, and elsewhere.
Lara Mimosa Montes is most recently the author of THRESHOLES (Coffee House Press, 2020). Her writing has appeared in BOMB, The Brooklyn Rail, The Poetry Project, and elsewhere. She holds a PhD in English from The Graduate Center, City University of New York. She is the recipient of artist residencies from Marble House Project, Storm King: Shandaken, and Headlands Center for the Arts. In 2018, she was awarded a CantoMundo Fellowship as well as a McKnight Fellowship in Poetry. She currently teaches editing and publishing at the University of Minnesota.
A note about in person events:
We are very excited to bring authors and readers back together in our space, and we know you are too!
As we all navigate the transition back to congregating in person, we ask that you use honesty, care, and understanding in interacting with fellow event-goers, staff, and authors.
Please note that Magers & Quinn will always comply with current city and state regulations, and reserves the right to change the below policies at any time. These are guidelines only, and if you have questions about the most up to date information, you can always call us at 612-822-4611.
For information about how our in-person events will work over the coming months, please read on:
Q: Are masks required?
A: Please wear a mask while in the event area and in the signing line.
For the health and safety of others, we strongly encourage you to wear a mask or face covering.
Q: Are in store events free?
A: Yes, Magers & Quinn events are free and open to the public unless otherwise noted.
Q: Do I need to RSVP?
A: Yes, please. Each event will now include a registration link.
As we navigate this step back to in-person events, we will be limiting event capacity to ensure a safe and comfortable experience for all attendees and authors. By requiring pre-registration, we can easily communicate event updates and policies with those who plan to attend, and can contact attendees after the event with follow-up information.
We strongly suggest registering via the Eventbrite link provided on our website, but if you are unable to sign up online, please call or visit the bookstore and register with a bookseller.
We may or may not be able to accommodate unregistered walk-ins, and seating priority will always be given to registered customers. We appreciate your understanding of this process!