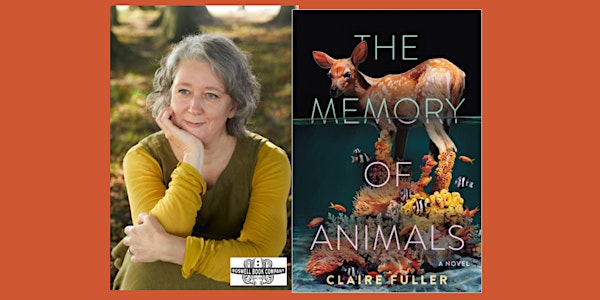 Claire Fuller, author of THE MEMORY OF ANIMALS - an in-person Boswell event
Claire Fuller, author of THE MEMORY OF ANIMALS - an in-person Boswell event
Date and time
Starts on Monday, June 12 · 6:30pm CDT
Location
Boswell Book Company 2559 North Downer Avenue Milwaukee, WI 53211
About this event
Boswell Book Company presents an evening with Claire Fuller, author of The Memory of Animals.
In the face of a pandemic, an unprepared world scrambles to escape the mysterious disease causing sensory damage, nerve loss, and, in most cases, death. Disgraced and indebted marine biologist Neffy registers for an experimental vaccine trial—perhaps humanity's last hope for a cure. Though isolated from the chaos outside, she and the other volunteers—Rachel, Leon, Yahiko, and Piper—cannot hide from past mistakes. As London descends into chaos outside the hospital windows, Neffy befriends Leon, who before the pandemic had been working on a controversial technology that allows users to revisit their memories. She withdraws into projections of her past—a childhood bisected by divorce, a recent love affair, her obsessive research with octopuses and the one mistake that ended her career. The lines between past, present, and future begin to blur, and Neffy is left with defining questions: Who can she trust? Why can't she forgive herself? How should she live, if she survives?
From Claire Chambers, author of Small Pleasures: "The collision between altruism and the survival instinct at the heart of the book is brilliantly dramatized and her disturbing vision of post-pandemic moral collapse is compulsive and thoroughly convincing. Terrific!"
Claire Fuller has an MA in Creative and Critical Writing from the University of Winchester and is the author of Our Endless Numbered Days, which won the Desmond Elliott Prize; Swimming Lessons; Bitter Orange; and Unsettled Ground, which won the Costa Novel Award and was a finalist for the Women's Prize for Fiction.
Click here to order your copy of The Memory of Animals from Boswell. Signed copies and personalization available on pre-orders. Please note that signed copies will not be shipped until after the event.
Boswell's Science Fiction book club will be discussing the book in-store at 5:30. Registration is not required, but participants are expected to have read the book prior to the meeting. The book is officially on sale June 6, but we will able to get copies in your hands earlier in order to read the book in time. If you are interested in joining the book club meeting, please preorder the book from us and say "book club" in the notes.