Abbey Arts presents: Claire Conway (EP Release), Arran Fagan, Matthew Fowler live at Ballard Homestead
About this event
---------------------------------------------------
See Updated Public Health Safety Info at the bottom of this page under Abbey Arts Presents
Thanks for helping keep our community safe!
---------------------------------------------------
"Lyrically, Claire Conway is wise, graceful, and honest. Her songs are dreamy, vivid portraits of her life backed by simple guitar riffs and layered harmonies. She's a confessional poet in the same vein as Joni Mitchell or Cat Power, writing with unmatched intimacy and a style unmistakably her own. Her evolution as a songwriter is evident in her 2019 EP Missing. Sonically more diverse and lyrically more authentic, Missing is a cathartic reflection on the birth and death of a relationship and a first taste of life away from home. 
Now living in Seattle, Conway describes her own songwriting as "a necessary form of expression... I'll find that I've been carrying certain feelings around for a long time, and once I'm finally able to write them out through a song, one that accurately reflects my internal experience, I feel physically lighter. That cycle is what keeps me going as an artist."
Her latest project, a 5-song EP titled Be Good, is set to be released October 2021."
-Artist Bio
"A product of the grassroots music movement of Southern Oregon, Arran has spent the greater part of his life pursuing music, creating wistful and evocative songs that explore themes beyond his age - love, loss, divorce, and the endless passage of time.
Often compared to artists like Joan Shelly, Josh Ritter, and Nathaniel Rateliff, Arran Fagan has been working his way into the northwest folk scene for some time, getting his start playing countless coffee shops and house shows for college classmates and eventually opening for northwest favorites like Leif Vollebekk, HorseFeathers, Kris Orlowski, and Jeffrey Martin. Praised for his introspective lyrics and vivid storytelling, Arran has garnered a following in his native Oregon with his uncanny ability to weave the personal and universal."
-Artist Bio
"Florida-based artist Matthew Fowler is the perfect storm of all the essential singer-songwriter elements: a flawlessly raw yet organic voice, intricate melodies, compelling musicianship, and an overwhelmingly rich and rootsy sound… Fowler's musicianship has been lauded by notable publications such as The Bluegrass Situation, CMT Edge, Acoustic Guitar Magazine, and Huffington Post.
Fowler's stage dynamic has formed into a capturing experience; he's performed live on various NPR affiliates, has an Audiotree session under his belt, and has opened acts like Richard Thompson, Damien Jurado, The Weepies, Sea Wolf, Angel Olsen, and many more. Matthew's fervor for performing live will see him back out on the road, where he's transitioned into a national touring artist. He continues honing new tunes and has a new record slated for a 2021 release with Signature Sounds."
-Artist Bio
@ Ballard Homestead
7p doors, 7:30p show
All ages, mostly seated
--------------------------------------------------------------------------
EVENT & VENUE INFO:
Please refrain from talking or texting during the show.
Please enter quietly if the show has already begun.
Please leave quietly, it's a very quiet neighborhood.
For ADA information at Ballard Homestead, please see www.ballardhomestead.org/rent or email arts(at)fremontabbey.org
Quiet Picnics Welcome. Light snacks & non-alcoholic beverages may be available for purchase at the venues, but no other food or bar service at these shows.
Audience size will be limited and reduced per current Public Health Guidelines. Concerts are held in large spaces rated for 180-260 people normally. Various creative activities will be included in the lobby. Some shows may be hosted outdoors when noted and weather permitting.
More info via www.instagram.com/seattlewellnessevents
--------------------------------------------------------------------------
ABOUT ABBEY ARTS, SEATTLE:
NONPROFIT 501C3, NON-RELIGIOUS, EST. 2005
Presenting welcoming music, arts & cultural experiences for people of all ages & incomes.
Home Venue: Fremont Abbey, 4272 Fremont Ave North, Seattle, WA 98103 / 206-414-8325 Ballard Homestead: 6541 Jones Ave NW, Seattle | + UHeights Auditorium, St Mark's Cathedral, & more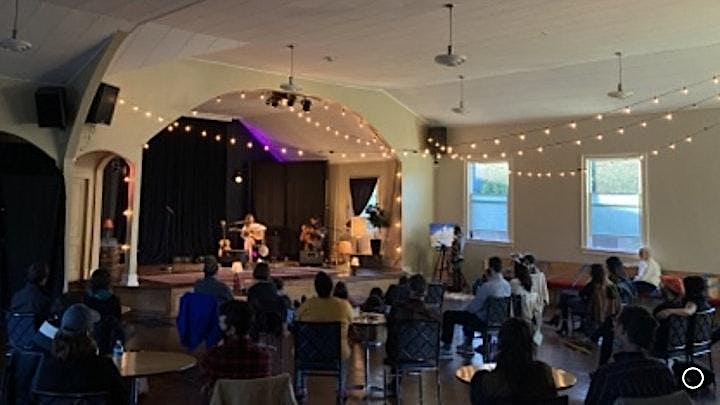 Organizer of Claire Conway (EP Release), Arran Fagan, Matthew Fowler @BALLARD HOMESTEAD
COVID Public Health Safety Info:
As of August 23, 2021
Welcome back Abbey Arts family!
As we reopen the doors to our venues, rest assured that we will be welcoming our patrons back in to an environment that prioritizes health and wellness. We are working with local officials to ensure current health and safety protocols are in place at Abbey Arts events, while being mindful that flexibility will be required as those guidelines will likely continue to evolve. Obviously with COVID-19 not being completely eradicated, we'll have to change some things around here as we go. Please consult the state's guidelines for the most up-to-date information on phases and state mandated guidelines.
IMPORTANT INFO
There is a statewide mask mandate for requiring masks for ALL patrons indoors REGARDLESS of vaccine status. More information from the State of Washington can be found at https://coronavirus.wa.gov/news/statewide-updated-mask-order-goes-effect-monday-aug-23
Starting 7/30/21 We are now requiring a government issued photo ID* and PROOF OF VACCINATION or a NEGATIVE COVID-19 PCR test result within 72 hours prior to the event to be allowed to enter the building. Find a testing center here. Please note that test results may take 24-48 hours. Please plan accordingly.
Full vaccination is defined as having received a final vaccination dose at least two weeks prior to the event date.
The name on your vaccination card or COVID test MUST match your state ID
Acceptable forms of proof of vaccination include: an official CDC COVID-19 Vaccination Record Card or a picture of your vaccination card; a digital or printed WA State Certificate of COVID-19 Vaccination; a WA State Immunization Information System printout; or a verified medical record printout from a medical provider.
*In addition to providing proof of vaccination or a negative PCR test, guests 18 or older must present a government-issued photo ID, such as a driver's license or passport. Guests younger than 18 may present a government-issued photo ID or a school photo ID as an alternative. Guests younger than 18 who do not have either a government-issued ID or school photo ID can only attend performances in the company of an adult who provides the required ID and vaccine documentation for themselves and can also provide documentation for the minor's test results or vaccination verification.

All employees are fully vaccinated and are required to wear masks indoors.
We are operating at mid capacity to allow more space and smaller crowds.
We have increased hand sanitizing stations around the venues. We encourage you to regularly sanitize and fully wash hands when you use the restroom.
NEED TO GET TESTED?
Find a location near you at:
https://www.doh.wa.gov/Emergencies/COVID19/TestingforCOVID19
****
NOT FEELING WELL?
Please do not enter the venue if you have a fever, are feeling sick, or displaying any symptoms of COVID-19, flu, cold or other transmissible diseases. Better yet, stay home, rest up, take care of yourselves and reduce the chance of getting others sick. If you've purchased a ticket to an upcoming show but come down with symptoms, please open your Eventbrite account and you can request a refund for a health related reason through Eventbrite system. We'd be happy to oblige, no questions asked. No refunds given after the event. Thanks!
HOW ABOUT MASKS?
Masks are currently required while indoors regardless of vaccine status. You may remove your mask while actively consuming a beverage, but we ask that you reapply your mask and continue to wear it throughout the performance.
****
By entering the Venue, you and the members of your group voluntarily assume the risks of contracting COVID-19 and agree to release, waive, discharge and covenant not to sue any Artist performing or Abbey employee or company (including their owners, officers, employees, volunteers, agents and the City of Seattle), and hold these entities and persons harmless from liability regarding any and all claims relating to COVID-19 and indirectly or directly arising out of or relating to the Venue or event.
****
Thanks for your ongoing cooperation and support and for helping us keep live music LIVE!
Individual events may have additional safety measures in place, see Ticketing pages for details.
No refunds if ticket buyer is unable to show proof of vaccine or negative test verification.
-----------------------
ABBEY ARTS, SEATTLE:
NONPROFIT 501C3, NON-RELIGIOUS, EST. 2005
Fremont Abbey | Ballard Homestead | South Park Hall | St Mark's Capitol Hill | The Auditorium @ UHeights |  & more
Independent nonprofit, non-religious, all ages/incomes. 
Low Fee Tickets! No hidden high fees like Ticktmstr. :-)
  (Note: Comedy shows may have different ticketing fees)
[ Click here to subscribe to our optional text messages. ]
[The views and opinions expressed at events are those of the artists and performers and do not necessarily reflect Abbey Arts. About Page | Respect Policy.]
Refunds may be available per event settings.
No refunds due to support act changes.
Tickets for rental events may be via their website.