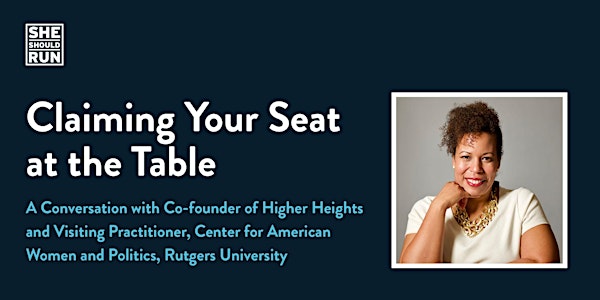 Claiming a Seat at the Table: A Conversation with Kimberly Peeler-Allen
Join our discussion about the barriers Black women face in running for office and how to break those barriers down.
Refund Policy
Contact the organizer to request a refund.
Eventbrite's fee is nonrefundable.
About this event
Juneteenth is the oldest nationally celebrated commemoration of the ending of slavery in the United States. Inherent to freedom in America is the opportunity and ability to participate in democracy. The power structure and White society at large that had been slow to grant Black women the right to vote continues to make it difficult and dangerous for Black women to access leadership in elected office.
As a country, we will not achieve our greatest policies without the voices of Black women.
In a conversation with She Should Run's CEO, Erin Loos Cutraro, Kimberly Peeler-Allen, Co-founder of Higher Heights and Visiting Practitioner, Center for American Women and Politics, Rutgers University, will share about her experiences building the political power and leadership of Black women.
Who Should Attend
This Juneteenth event is a conversation for those looking to hear from a leader in the space about issues Black women are facing.
About Kimberly Peeler-Allen
Kimberly Peeler-Allen has worked at the intersection of race, gender and politics for nearly 20 years. She is currently a Visiting Practitioner at the Center for American Women and Politics at Rutgers University where she serves as an advisor on CAWP's Election 2020 analysis, and guest lectures in various graduate and undergraduate courses. She is the co-founder of Higher Heights for America (HHFA), a national organization building the political power and leadership of Black women from the voting booth to elected office. Prior to stepping down from this role, her work helped build the organization into a network of over 90,000 members, donors and activists across the country who helped elect 10 Black women to Congress, 1 Black woman to the US Senate and a growing number of Black women to statewide and large-city executive offices.
Peeler-Allen currently serves as co-chair of the HHFA Political Action Committee, which engages Black women in supporting the organization's endorsed candidates.
As principal of Peeler-Allen Consulting, LLC from 2003 to 2014, she led the only African American-owned full-time fundraising consultancy in New York state. She served as finance director for Letitia James' successful bid to become New York City public advocate and co-executive director of James' New York attorney general transition committee. Peeler-Allen is the Board Chair of the ERA Coalition and board member of NARAL Pro-Choice America Foundation.
Important Note: As an accessibility accommodation, She Should Run commits to providing captioned recordings of all virtual events, and allows participants to submit questions for our speaker in writing in advance of the event.