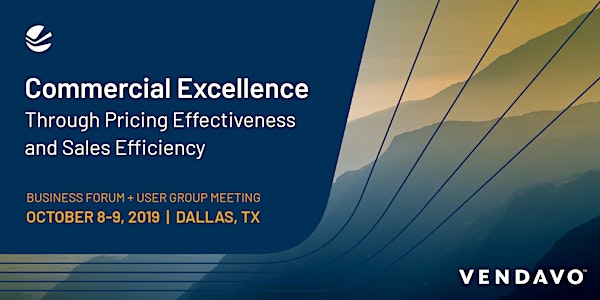 Claim Your Commercial Edge! Profitable Pricing Through Successful Selling
When and where
Location
Magnolia Dallas Downtown 1401 Commerce St, Dallas, TX 75201 Dallas, TX 75201
Refund Policy
Refunds up to 1 day before event
Eventbrite's fee is nonrefundable.
Description
VENDAVO BUSINESS FORUM + USER GROUP MEETING /// FALL 2019, DALLAS, TX
COMMERCIAL EXCELLENCE THROUGH PRICING EFFECTIVENESS AND SALES EFFICIENCY
DAY 1:

COMMERCIAL EXCELLENCE BUSINESS FORUM
TUESDAY, OCTOBER 8, 2019 | 8:30a – 5:00p
Pricing Leaders! Sales Leaders! Business Leaders! You're on the cusp of claiming your commercial edge, but do you find yourself struggling with execution of your pricing strategy? Are you getting the right product at the right price, to the right customer at the right time?
Chances are, you're in a better position than you think on this journey. To connect you to your business goals, we've built the bridge to commercial excellence: better pricing effectiveness and improved sales efficiency.
Join us in Dallas, October 8, for a collaborative agenda filled with workshops, vision talks, UX labs, a price war game, and maturity assessments. Register today to save your seat!
8:30am: Introduction/Welcome
8:45am: Colin Carroll, PwC – Commercial Excellence is achieved through relentless pursuit of several areas of business capabilities. The most critical key to maximizing profitable performance is Pricing Excellence.
9:30am: Customer Success – Case Study
10:15am: Networking Break
10:45am: Brian Doyle, Holden Advisors – Commercial Excellence is also about execution on the sale side - revenue and profit are not maximized to win if sales can't put the right price for the right product in front of the customer at the right time - ahead of the competition.
11:30am: Commercial Excellence Learnings – How many software companies can say they use their own solution? We share lessons learned and actions you can take in your own CPQ projects.
1:15pm: Commercial Excellence Maturity Model -- Assess your capabilities across customer and product/service classification methods, analytical diagnostics, sales process management, and of course, pricing process maturity. Then, compare/discuss/strategize with the group for actionable steps forward.
3:15pm: Price War Game -- Test your pricing strategy skills in a simulation of real-world competition - teams will compete by setting prices to win business in a common market.
4:30pm: Panel Discussion (Q&A across all speakers to strategize your next action items on your journey to commercial excellence.)
4:55pm: Day 1 Closing Remarks
6:00pm: Evening Networking Event (Details Coming Soon!)

DAY 2:
VENDAVO USER GROUP MEETING
WEDNESDAY, OCTOBER 9, 2019 | 8:30a – 5:00p
Are you a current Vendavo customer (using Vendavo Enterprise Profitability Solution (EPS), Vendavo CPQ Cloud, or Vendavo PricePoint) that would like to learn more about Vendavo's Commercial Excellence Road Map? Would you like to help shape Vendavo's future solution strategy and prioritize feature development? Would you like to meet with other Vendavo customers and share best practices about how to get the most out of your Vendavo investment?
If so, join Alex Hoff, VP Product Management & Product Marketing, along with many other Vendavo solution leaders for a regional users group meeting on October 9th, 2019. Register today to save your seat!
8:45am: Value Consulting Success Stories
9:30am: Customer Success – Case Study – Learn how Lubrizol navigated the S/4 HANA Migration as part of their digital transformation
10:15am: Overview - Product Roadmap
10:45am: Networking Break
11:15am: Vendavo Product Solutions & Roadmap (Session 1)
1:00pm: Vendavo Product Solutions & Roadmap (Session 2)
Note: (For Workshop Sessions below, choose and attend 1 of the 3 workshop sessions; we'll have 3 rounds, so you will have the opportunity to participate in all of them)
1:45pm: Workshop Session: Building A Stronger Pricing-to-Sales Bridge (Round 1)

2:30pm: Workshop Session: Dynamic Pricing - Operationalize Your Pricing Process (Round 2)
3:30pm: Workshop Session: 5 Things You Wish Vendavo Was Working On Now (Round 3)
==========
VENDAVO BUSINESS FORUM + USER GROUP MEETING, FALL 2019
DALLAS, TEXAS
Hotel / Venue Information: Magnolia Dallas Downtown, 1401 Commerce St, Dallas, TX 75201.