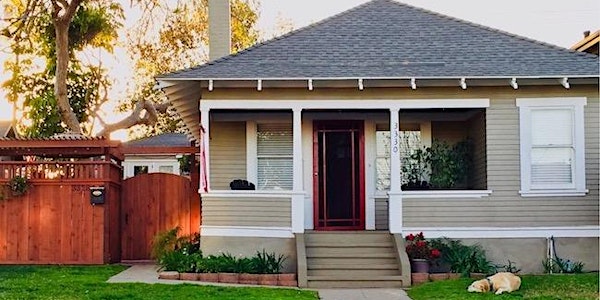 CLAIM $25,000 SUBSIDY "FREEMONEY" DOWNPAYMENT. CLOSING COST. BUY DOWNRATE P
CLAIM $25,000 SUBSIDY "FREE MONEY" DOWNPAYMENT. CLOSING COST. BUY DOWN RATE.
About this event
ALL WORKSHOPS ARE CONDUCTED VIA WEBINAR VIA ZOOM. (NO IN PERSON WORKSHOPS)
NO MASK OR GLOVES REQUIRED FROM THE CONVENIENCE OF YOUR HOME
Confused about buying a home in today's real estate market?
Attend our monthly Home Buyer's Workshop. Whether you are a first time home buyer or seasoned real estate investor, join us in this educational opportunity to better understand the current real estate market and lending environment.  Our Seminar will be conducted by HUD APPROVED COUNSELOR.
Topics covered include: DOWN PAYMENT ASSISTANCE, Real Estate Market, Home Buying Process, Credit / Mortgage Financing, The pros and cons of homeownership, Credit reports and how they're scored, How to improve your credit for homeownership, Disputing information on your credit report, Budgeting and saving for a home; How much home can you afford?, Resources for homebuyers, Who's who in the buying process (Inspectors, appraisers, Realtors); Mortgages, New responsibilities of homeownership.
COST: 55.00 per person *discount provided for couples \partners\ friends
What To Bring: Wage Earner (Last 2 Pay Stubs\ Last 2 Month Bank Statements\Last 2 Years Tax Returns \ Last 2 W2) Self Employed Last 6 Months Bank Statements Personal & Business \ Last 2 Years Tax Returns Both Personal & Business) GET QUALIFIED ON THE SPOT!
DONT HAVE THE CREDIT THAT'S OK! ATTEND OUR SESSION TO HELP YOU GET "UNSTUCK "Let's Face It You Need To Start Somewhere Why Not Today!
We will answer the most often asked questions…
How do I know if I'm ready to buy a home? Isn't it cheaper to rent? How do I begin the process? How much can I afford? What are the tax benefits? Do I have to put 20% Down? What if I don't have perfect credit? How do I determine my housing needs? What should I look for when shopping for a home? What is escrow and title? How do I make an offer? What types of loans are available to me?
Claim your 25,000 in subsidy to be used toward Downpyament, Closing Cost, or pay down your rate.
Still have questions send over and email: info@hppcares.org or give us a call 714.587.0320
BE ADVISED
As you know, the Los Angeles Housing + Community Investment Department (HCIDLA) requires that all borrowers applying for purchase assistance loans under HCIDLA's Low Income Purchase Assistance (LIPA) and Moderate Income Purchase Assistance (MIPA) Programs receive Housing Counseling and at least eight (8) hours of Homebuyer Education from an approved Housing Counseling Agency by HCIDLA and the U.S. Department of Housing and Urban Department (HUD).
TO ENSURE WE ARE MEETING THE REQUIREMENT YOU MUST HAVE AN 1 ON 1 SESSION TO COMPLETE THE TRAINING REQUIREMENTS A MINIMUM OF 1 HOUR IN LENGHT.
To help prevent the spread of the Coronavirus (COVID-19) and to help keep the public safe, HCIDLA is allowing borrowers to meet the required Homebuyer Education requirements by taking online classes or webinars for the remainder of this year, provided by one of the Homebuyer Education Providers on the attached list. This accommodation is expected to remain in place until December 31, 2020; however, as new information becomes available we will update you accordingly.