CJP Mackinac Island, MI Regional Event - June 23-26, 2017

Friday, June 23, 2017 at 1:00 PM

-

Monday, June 26, 2017 at 12:00 PM (EDT)
Event Details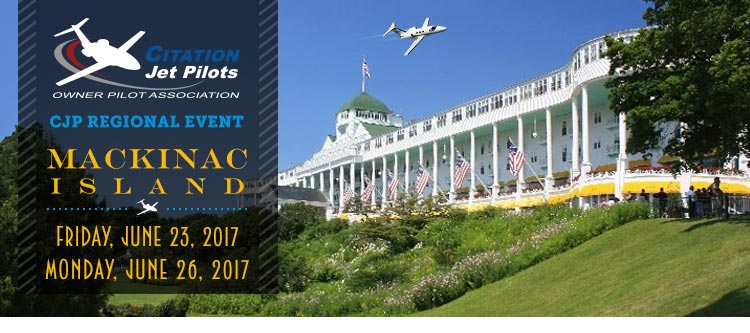 Dear CJP members,
Get out your calendars and block off some time for the summer CJP Regional Event, to be held June 23 – June 26, 2017 at the Grand Hotel on Mackinac Island. Covering 3.8 square miles in land area, and located on Lake Huron, Mackinac Island is listed as a National Historic Landmark and the only way around this island is by bicycle or horse drawn carriage, as motorized vehicles have been prohibited since 1898!
Getting to Mackinac Island
Attendees will have the option to land on Mackinac Island (KMCD – 3,501' x 75') or the larger Pellston (KPLN) Regional Airport. Regardless of which airport you land, transportation will be pre-arranged to get you to Grand Hotel located on the island.
While the island might be small, the activities and schedule we have planned for attendees is anything but! Mornings will consist of education seminars, with afternoons providing numerous options for action or relaxing. We will gather back together each evening in some of the most incredible venues to enjoy the company of your fellow CJP Members coupled with fantastic meals we have planned for you!
Hosted by CJP Member Steven Foote, to state this Regional Event is unique is certainly an understatement!
Friday June 23rd
Attendees arrive to Mackinac Island – transportation provided to Grand Hotel

Welcome Reception 

Five-Course Dinner in the picturesque Main Dining room overlooking the Straits of Mackinac

Dancing
Saturday June 24th
Breakfast followed by an educational seminar  - Speaker to be announced.
Afternoon
CJP Golf Outing

Back of the House Tour with Bob Tagatz, Grand Hotel Historian

Island Carriage Tours

*Many other options available to attendees to include Tennis, Spa Treatments, Hiking, Biking, Pool, Children's Programs etc...
Evening
Carriage Rides to Tea Room, Fort Mackinac for Dinner
Fort Mackinac was founded during the American Revolution. Believing Fort Michilimackinac at what is now Mackinaw City was too vulnerable to American attack, the British moved the fort to Mackinac Island in 1780. Americans took control in 1796. In July 1812, in the first land engagement of the War of 1812 in the United States, the British captured the fort. In a battle in 1814, the Americans attempted, but failed to retake the fort. It was returned to the United States after the war. The fort remained active until 1895. During these years Mackinac Island was transformed from a center of the fur trade into a major summer resort.
Sunday June 25th
Breakfast followed by educational seminar - Speaker to be announced.
Afternoon
Flower arranging

Other activities to be selected by attendees to include Tennis, Spa Treatments, Hiking, Biking, Pool, Children's Programs etc...
Evening
Carriage Rides to Woods Restaurant for Dinner
Located a short horse-drawn carriage ride into the wooded interior of Mackinac Island, the opulent Tudor mansion with Bavarian charm provides for a delightfully casual dining experience.
Monday June 26th:
Breakfast and departures
Opened in 1887 and visited by five U.S. Presidents (Clinton, Bush, Ford, Kennedy and Truman), guests will enjoy accommodations in a uniquely decorated lake-view guest room.
Thanks to many activities and kids' programs, the readers of Travel + Leisure Family magazine consider Grand Hotel one of the 10 kid-friendliest resorts in the U.S. and Canada. Grand Hotel was also recognized as a top resort in the family category in the 2015 Travel + Leisure's World's Best Awards. We encourage attendees to make this a weekend family event and bring along the entire family!
You can learn more about the resort HERE.
To reserve your room, please complete the form HERE, making sure to submit via e-mail or mail as outlined on the form. Please be advised that phone and internet reservations are not available for this event.
We have a great schedule planned for this event and welcome you to join us for a weekend of fun, education, and as always, an outstanding CJP experience. Join friends, new and old, from all over the world as we gather together for an experience you won't want to miss.
A more detailed agenda of the weekend's activities will be released as we get closer, but in the meantime, know that you'll have an amazing time with some amazing people, in an amazing location, flying some amazing Citation jets! What more could you ask for?
Space will be limited...
The cost to attend will be $1,200/person for adults and $500/person for children inclusive of credit card processing fee. Space will be limited! CJP regional events usually sell out well in advance of the event, do not wait to sign up!
Sign ups are limited to owner members and Platinum sponsors only.
NOTE: RESERVATIONS ARE NON-REFUNDABLE
If you have any questions on this event or are interested in sponsoring this or any future CJP Regional Events, please contact:
Best,
Cyrus Sigari
Industry Director
CJP Regional Event Chairman
+1.310.405.1439 / cyrus.sigari@jetaviva.com
When & Where

Grand Hotel
206 Grand Ave.
Mackinac Island, MI 49757


Friday, June 23, 2017 at 1:00 PM

-

Monday, June 26, 2017 at 12:00 PM (EDT)
Add to my calendar
Organizer
Citation Jet Pilots Association
www.citationjetpilots.org 
CJP Mackinac Island, MI Regional Event - June 23-26, 2017