A virtual session to discuss the book "Summer on the Bluffs" by best-selling author Sunny Hostin.
About this event
Join us as we discuss Summer on the Bluffs! The View co-host and New York Times best-selling author Sunny Hostin dazzles with this brilliant novel about a life-changing summer along the beaches of Martha's Vineyard.
Virtual Chat Preparation
Read the book! (available at your library, Audible or favorite bookseller)
Grab a sandwich and something to quench your thirst.
Settle in for a great discussion with CJA on topics including family, sacrifice, choices, forgiveness, joy and pain.
Zoom Link
After you register for this event, you will be sent a confirmation email with a personalized link to access the Zoom session. The email will be from CJA-DST.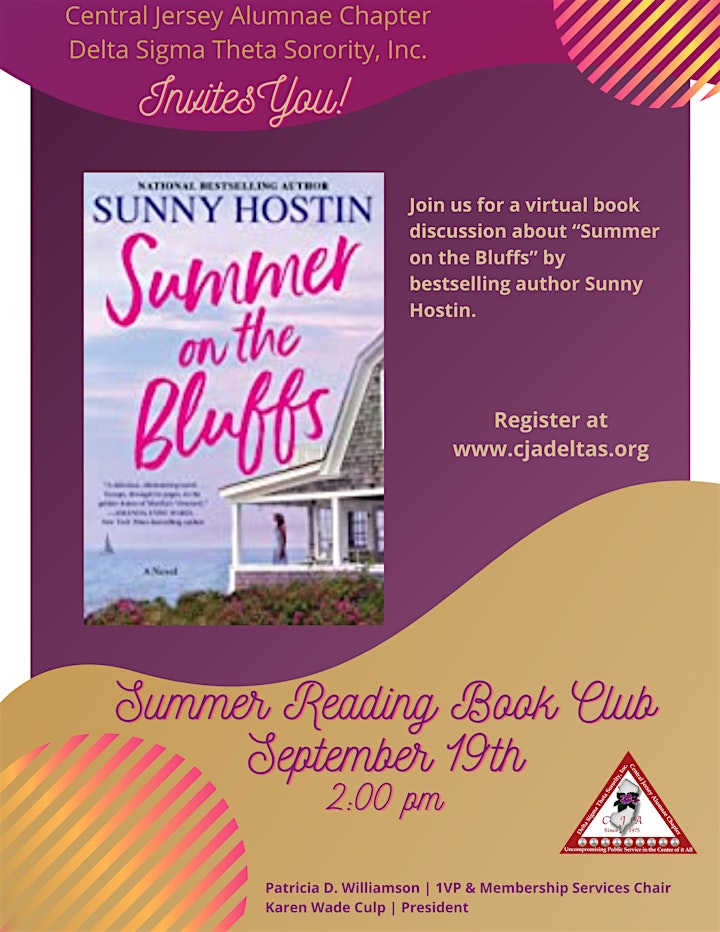 Organizer of CJA Summer Reading Book Club
This event is hosted by the Central Jersey Alumnae Chapter of Delta Sigma Theta Sorority Incorporated, a non-profit organization that provides community service throughout the world. For more information visit our chapter website at www.cjadeltas.org. You may also visit our national website at www.deltasigmatheta.org.