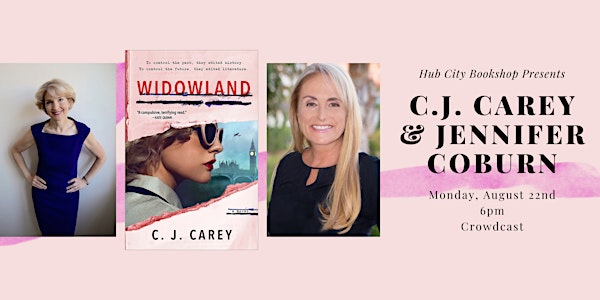 C.J. Carey, Author of "Widowland," in Conversation with Jennifer Coburn
Hub City Bookshop welcomes author C.J. Carey to Crowdcast for a virtual conversation about her dystopian feminist thriller, "Widowland."
Refund Policy
Contact the organizer to request a refund.
Eventbrite's fee is nonrefundable.
About this event
Do you like The Handmaid's Tale, The Man in the High Castle, or Fahrenheit 451? If so, this is the event for you! Author C.J. Carey will join us on Crowdcast at 6pm on Monday, August 22nd to discuss her novel, Widowland, a dystopian feminist story set in an imagined alternate history in which the Nazis won WWII. Following protagonist Rose Ransom's journey into the so-called "Widowland"—the slums to which childless women over the age of fifty have been banished in this fictional past—the story intelligently and enthrallingly explores themes of freedom, equality, and the power of literature. 
C.J. will be joined in conversation by Jennifer Coburn, author of the upcoming novel Cradles of the Reich. This event is free and open to all, but you'll need to register to access the livestream. You can do so using the link below, and don't forget to buy your copy of the book from Hub City!
About the Book
For readers of Margaret Atwood's The Handmaid's Tale comes a thrilling feminist dystopian novel set in an alternative history that terrifyingly imagines what a British alliance with Germany would look like if the Nazis had won WWII.
To control the past, they edited history. To control the future, they edited literature.
LONDON, 1953. Thirteen years have passed since England surrendered to the Nazis and formed a Grand Alliance with Germany. It was forced to adopt many of its oppressive ideologies, one of which was the strict classification of women into hierarchical groups based on the perceived value they brought to society.
Rose Ransom, a member of the privileged Geli class, remembers life from before the war but knows better than to let it show. She works for the Ministry of Culture, rewriting the classics of English literature to ensure there are no subversive thoughts that will give women any ideas.
Outbreaks of insurgency have been seen across the country with graffiti made up of seditious lines from forbidden works by women painted on public buildings. Suspicion has fallen on Widowland, the run-down slums where childless women over fifty have been banished. Rose is given the dangerous task of infiltrating Widowland to find the source of the rebellion before the Leader arrives in England for the Coronation ceremony of King Edward VIII and Queen Wallis.
Will Rose follow her instructions and uncover the criminals? Or will she fight for what she knows in her heart is right?
About the Author
C.J. Carey was born in Venezuela, went to school in London and then to Oxford University, where she read English. She has worked as a BBC journalist, as well as at The Sunday Times, The Daily Telegraph and The Independent. She lives in London with whichever of her three children is around. Widowland is her first novel under the pen name C.J. Carey. 
About the Conversation Partner
Jennifer Coburn is the author of Cradles of the Reich, a historical novel about three very different women living at a Nazi Lebensborn breeding home at the start of World War ll.
She has also published a mother-daughter travel memoir, We'll Always Have Paris, as well as six contemporary women's novels. Additionally, Jennifer has contributed to five literary anthologies, including A Paris All Your Own.
Jennifer lives in San Diego with her husband, William. Their daughter, Katie is currently in graduate school. When Jennifer is not going down historical research rabbit holes, she volunteers with So Say We All, a live storytelling organization, where she is a performer, producer, and performance coach. She is also an active volunteer with Reality Changers, a nonprofit that supports low-income high school students in becoming the first in their families to attend college. She specializes in college essay development, and interview prep.