Civinomicon 2013

Friday, November 15, 2013 at 5:00 PM

-

Sunday, November 17, 2013 at 12:00 AM (PST)
Event Details
If you'd like to get involved or help out, please check out the Civinomicon indiegogo campaign at:
http://www.indiegogo.com/projects/civinomicon-help-us-create-a-paradigm-shift-in-civic-engagement/x/4850322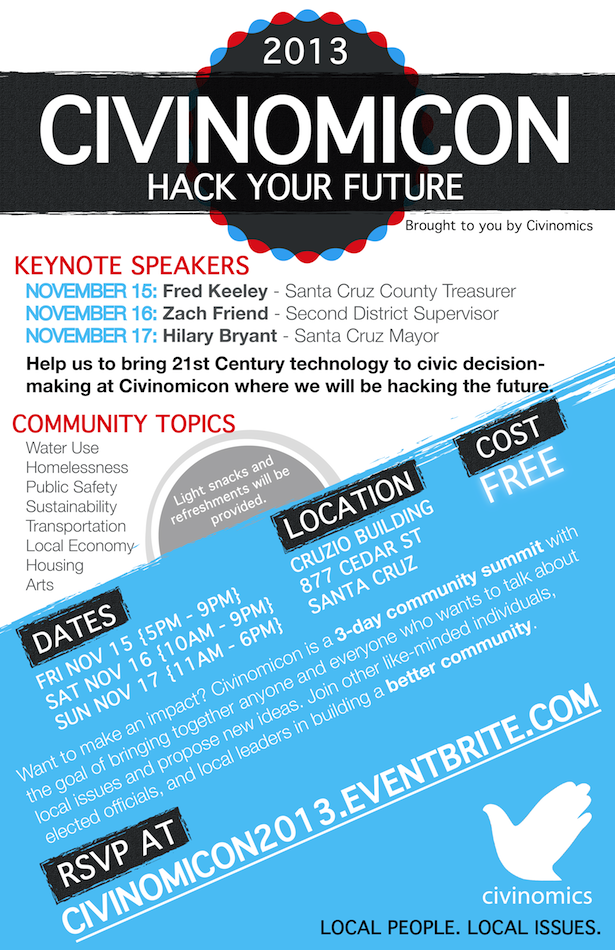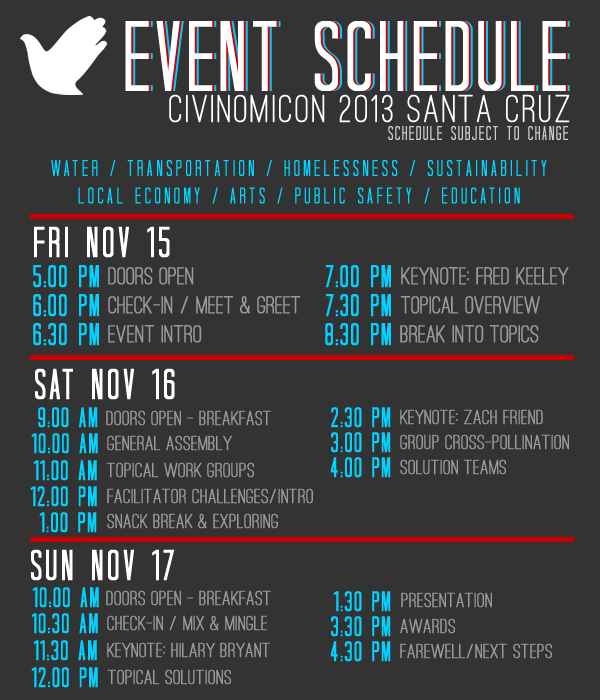 Hi friends! We are Civinomics. Our main vision at Civinomics is to create a paradigm shift in civic engagement. How are we trying to do this? Well, we offer a platform where citizens can collaborate on local issues that are important to them in an crowdsourced environment. We believe that information is power and by creating a transparent policy creation process, we can diffuse the power of large institutions and give more power back to individual citizens. 
Our first major project to showcase the importance of the citizen ripple effect (small changes, big impacts) is by putting on Civinomicon. Civinomicon is going to be a free three-day "civic hackathon"  where the public can collaborate on how to address issues in the Santa Cruz County such as:
Public Safety

Water Use

Homelessness

Sustainability

Transportation

Local Economy

Housing

Arts
Civinomicon is not just an event for Santa Cruz County citizens. It's an event for anyone who is interested in a government system change. This nation was birthed with the thought that government should be of the people, by the people, for the people, and we're just trying to keep it that way.
Help us give the power back to the citizens.
From November 15th to November 17th, Civinomics will be holding a 3-day community summit, bringing together members of the community and our local elected leaders to envision the future of Santa Cruz. The event will be live streamed and everyone is invited to participate in-person and online. Help us to bring 21st Century technology to civic decision-making at Civinomicon where we will be hacking the future.
What to expect: 
Join locally elected leaders in discussing and voting on new ideas in topic areas that include public safety, water use, local economic development and more.
 
Hear local keynote speakers offer insights into how our county works and what you can do to improve it, featuring Mayor, Hilary Bryant, and County Treasurer, Fred Keeley, and Supervisor, Zach Friend.
 
Enjoy locally sponsored snacks and beverages, including free beer and wine.
 
Finish the event by pitching your ideas to the community at large via live stream and in-person
This goes beyond being a weekend-event.

We want to show that creating a sense of transparency is vital in civic decision making. Not only will there be people who are educated on the topics joining the discussion, but you'll be able to post/transcribe the ideas onto the Civinomics website where it will then be publically accessible to anyone who wants to vote or contribute to the discussion.
One last thing,
it's completely free!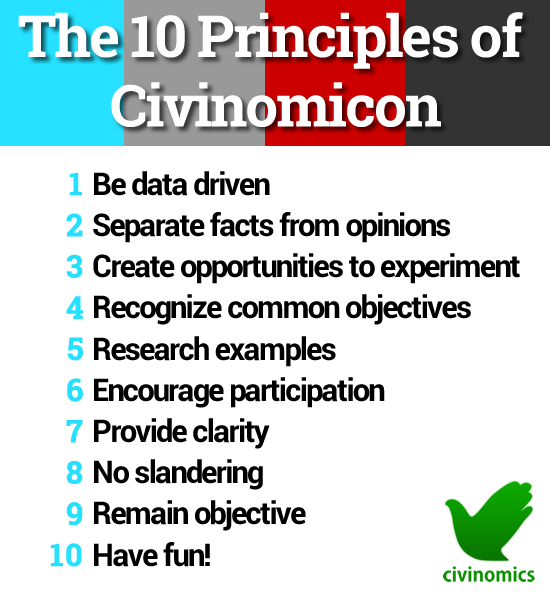 Thank You to Our Supporters
Santa Cruz Mountain Brewing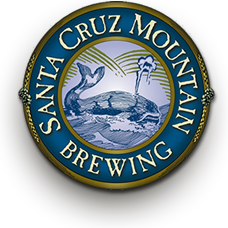 Santa Cruz Mountain Brewing is an award winning, local, certified organic brewery-- and proud of it! They brew with organic grains and organic hops and the taste is phenomenal! Brewed in the traditional fashion by the family-owned and operated brewery, these ales are NOT filtered, pasteurized, radiated, or genetically modified.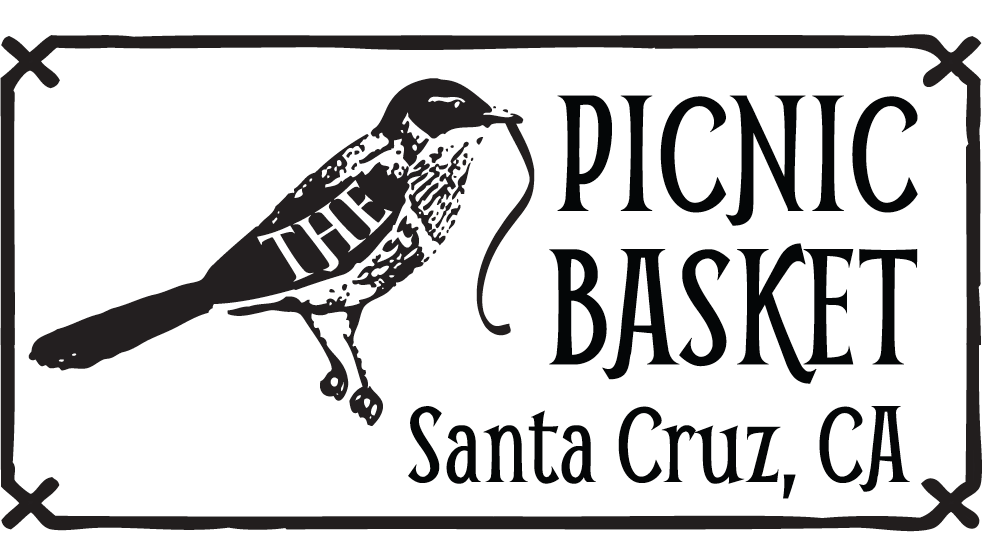 The Picnic Basket is dedicated to simple, delicious food and treats, seasoned with lots of love. Local farmers, foragers, and artisans, including the famous Penny Ice Creamery, are the cornerstone of our seasonal menu. Dine in our cozy café, grab an ice cream cone, or take a picnic basket to go as you venture out into the city, sea, or mountains.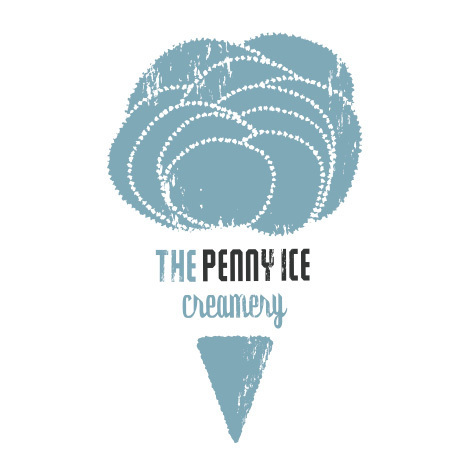 The Penny Ice Creamery combines fresh local ingredients in small batches to create delicious artisinal ice cream. As one of the smallest dairy manufacturing plants in California, our production from all organic dairy and sustainably grown ingredients is done in the shop in full view of our visitors.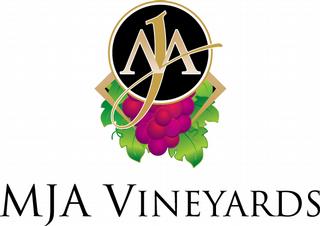 MJA Vineyards specializes in Napa Valley Cabernets and Sauvignon Blancs as well as Santa Cruz Mountain Pinot Noirs and Chardonnays. Open 7days a week both locations. In 1997 Marin was voted "Best Coffee in America" by Forbes Magazine, receiving a the very prestigious Gevalia Kona Coffee Cupping Competition.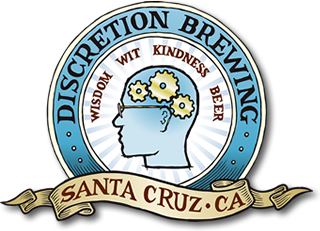 Discretion Brewing is a family-owned company in Santa Cruz, CA dedicated to producing handcrafted organic beer of consistent high quality. We are known for quality and elegance in both our products and our presence in the community. Our name speaks to our desire to be wise and full of care as we go about our business. We encourage the notion that we all have the freedom to decide what we consume. 
We have defined "Discretion" with the words, "wisdom," "wit," and kindness."  These are qualities that we hope will define our interactions with each other, our customers, and our community. 
What is Civinomics? Watch our video to learn more about what we do.
Local people. Local Issues.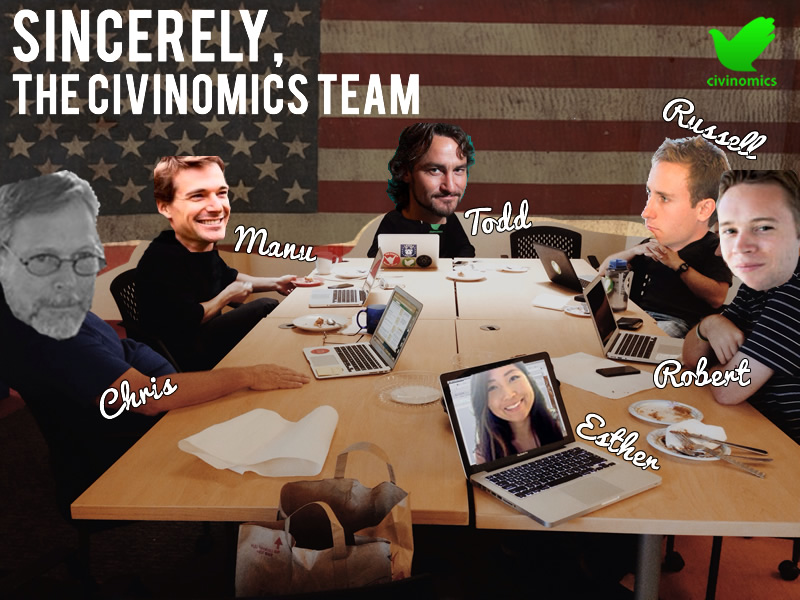 When & Where

Cruzio Building
877 Cedar St
Santa Cruz, CA 95060


Friday, November 15, 2013 at 5:00 PM

-

Sunday, November 17, 2013 at 12:00 AM (PST)
Add to my calendar
Organizer
Civinomics is an online civic engagement platform to collaborate on issues in communities. We offer an iterative process of compiling resources, information, and ideas to create actionable steps towards a better future. Get on Civinomics and join in on discussions with fellow citizens.