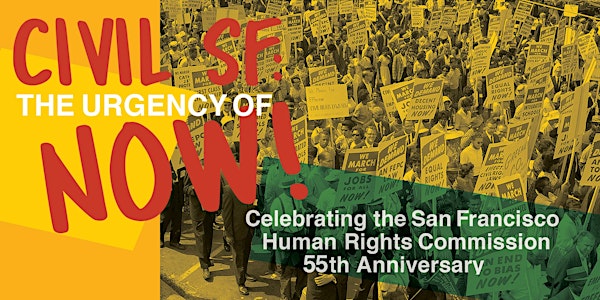 Civil SF: The Urgency of Now, San Francisco Human Rights Commission's 55 An...
Location
San Francisco War Memorial, Green Room
401 Van Ness Ave
San Francisco, CA 94102
Refund policy
Refunds up to 7 days before event
Description
Join the San Francisco Human Rights Commission for its 55 Year Anniversary Celebration, featuring Dr. Cornel West!
This year's theme, Civil SF: The Urgency of Now, is an opportunity to reflect on where the agency is now in contrast with our founding to address anti-Black racism, and discuss strategies for how we can achieve the racial equity goals that inspired our creation.
The daylong event includes:
Panel Discussions:
Movement Building in Marginalized Communities
John Kim
Executive Director, Advancement Project California
Saru Jayaraman
Co-Founder & President, Restaurant Opportunities Center United
Nikki Jones
Professor of African American Studies & Author, UC Berkeley
Jessica Nowlan
Executive Director, Young Women's Freedom Center
Aria Sa'id
Founder & Executive Director, Compton's Transgender Cultural District & Kween Culture Initiative
Reparations
Angela Glover Blackwell
Founder in Residence, PolicyLink
Morning Star Gali
Project Director, Restoring Justice for Indigenous Peoples
Theodore Miller
Executive Director, HOPE SF
Carmen Rojas
Co-Founder & Chief Executive Officer, The Workers Lab
KEYNOTE: Dr. Cornel West
---
Lunch and refreshments will be provided. Must RSVP.
HRC would like to invite you to sponsor our 55th Anniversary events, please click the link for more information (https://tinyurl.com/y3we699g).
For more information or discounted rates, please reach out to tuquan.harrison@sfgov.org.