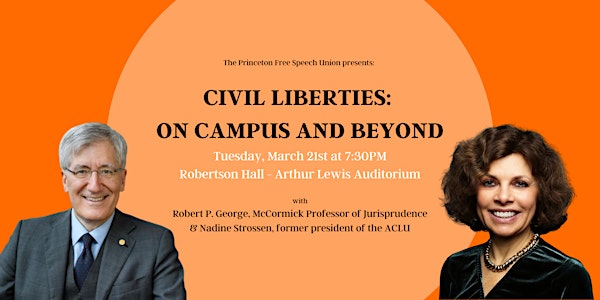 Civil Liberties - On Campus and Beyond
Professor Robert P. George and former ACLU president, Nadine Strossen discuss a multitude of current free speech issues facing our country.
By Princetonians for Free Speech
Date and time
Tuesday, March 21 · 7:30 - 9pm EDT
Location
Robertson Hall - Arthur Lewis Auditorium 20 Prospect Ave Princeton, NJ 08540
About this event
Hear two accomplished individuals from both sides of the political spectrum discuss issues such as due process, K-12 curriculum, affirmative action and more.
Refreshments will be provided beginning at 7pm.
The speakers:
Nadine Strossen has written, taught, and advocated extensively in the areas of constitutional law and civil liberties, including through frequent media interviews. From 1991 to 2008, she served as President of the American Civil Liberties Union, the first woman to head the nation's largest and oldest civil liberties organization. Professor Strossen is a Senior Fellow at FIRE, the Foundation for Individual Rights and Expression, and she serves on the Advisory Boards of the ACLU, Academic Freedom Alliance, Heterodox Academy, National Coalition Against Censorship, and the University of Austin.
Robert P. George holds Princeton's celebrated McCormick Professorship of Jurisprudence and is Founder and Director of the University's James Madison Program in American Ideals and Institutions. He has served as Chairman of the U.S. Commission on International Religious Freedom and on the U.S. Commission on Civil Rights and the U.S. President's Council on Bioethics. He has also been the U.S. member of UNESCO's World Commission on the Ethics of Scientific Knowledge and Technology. He was a Judicial Fellow at the U.S. Supreme Court, where he received the Justice Tom C. Clark Award. A Phi Beta Kappa graduate of Swarthmore, he holds the degrees of JD and MTS from Harvard University and the degrees of DPhil, BCL, DCL, and DLitt from Oxford University, in addition to twenty-two honorary doctorates. He is a recipient of the U.S. Presidential Citizens Medal, the Honorific Medal for the Defense of Human Rights of the Republic of Poland, the Canterbury Medal of the Becket Fund for Religious Liberty, and Princeton University's President's Award for Distinguished Teaching. He is Of Counsel to the law firm of Robinson & McElwee and a member of the Council on Foreign Relations.
Hosted by the Princeton Free Speech Union
Faculty, students, and alumni of Princeton University have come together to create the Princeton Free Speech Union to promote and defend the core values of free speech, academic freedom, and viewpoint diversity at Princeton. These core values are fundamental to the very concept of a university and to the democratic ideals of our country. The Princeton Free Speech Union is a project of Princetonians for Free Speech, the alumni arm of the Union