Civil Liberties in San Francisco with Stan Yogi and Elaine Elinson

Wednesday, July 11, 2012 at 6:00 PM (PDT)
Event Details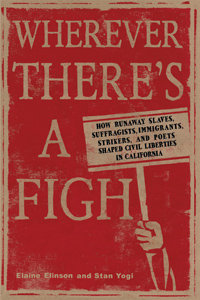 Civil Liberties in San Francisco with Stan Yogi and Elaine Elinson
Wednesday, July 11, 2012, 6:00 p.m.
Join Stan Yogi and Elaine Elinson, co-authors of Wherever There's a Fight : How Runaway Slaves, Suffragists, Immigrants, Strikers and Poets Shaped Civil Liberties in California, 2010 Gold Medal winner in the California Book Awards.
Wherever There's a Fight captures the sweeping story of how freedom and equality have grown in California, from the gold rush right up to the precarious post-9/11 era.  It connects the experiences of early Chinese immigrants subjected to discriminatory laws and expulsion to those of African Americans who challenged the color bar on San Francisco Streetcars and workers who fought for union contracts on the docks and in the fields.
With vivid, illustrated stories, the authors will take you on a tour of key civil liberties sites in San Francisco – places you may have passed every day without realizing the hidden history they hold.  They will also share some treasures they found in the archives of the California Historical Society. 
When & Where

California Historical Society
678 Mission St
San Francisco, CA 94105


Wednesday, July 11, 2012 at 6:00 PM (PDT)
Add to my calendar
Organizer
Our mission is to inspire and empower Californians to make the past a meaningful part of their contemporary lives.
The California Historical Society holds one of the richest collections of primary and secondary materials in the state on the social, cultural, economic, and political development of California.
The Gallery provides public access to the collection through changing exhibitions, Tuesday through Sunday, 11:00 to 5:00 p.m.
The North Baker Research Library provides public access to the collection, Wednesday through Friday, 1:00 to 5:00 p.m.