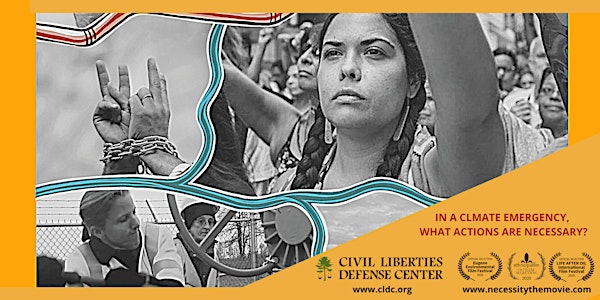 Civil Liberties Defense Center & NECESSITY documentary benefit
The Climate Necessity Defense: Breaking the Law to Confront a Larger Evil. Join CLDC & filmmakers for a preview and panel discussion.
About this event
Join us for an event to support climate change activists and storytellers, through exploration of the NECESSITY documentary series and the work the Civil Liberties Defense Center.
This event will support the unfolding stories of NECESSITY, a documentary series following frontline activists and movement attorneys confronting the immense threats to the planet, now inescapable with fires engulfing much of the Pacific. The benefit will also support the work of the Civil Liberties Defense Center in Eugene, Oregon, providing legal services for these same activists on the ground.
Join us in raising funds to keep telling powerful stories of grit, determination, and creative possibilities as communities come together in a larger fight to save the planet.
The panel discussion will also tackle this urgent question: In a climate emergency, is civil disobedience a necessity?
NECESSITY part II features Lauren Regan and the work of the CLDC, Cathy Sampson-Kruse, elder and member of the Waluulapum Band of the Confederated Tribes of the Umatilla Indian Reservation, Cager Clabaugh, member of the International Longshore Workers Union Local 4, Arlene Burns, Mayor of Mosier who tells the story of the oil train derailment in her town, Suzie Kassouf an Oregon organizer with the Sunrise Movement---and other inspiring climate activists!
The event ticket includes a link to watch at your leisure NECESSITY Part I, (also screening at the 2020 Eugene Environmental Film Festival Oct 2nd-11th), and to participate in the live benefit event on Sunday.
Attendees hear from Director Jan Haaken, Associate Producer Haunani Kalama, CLDC Founder and attorney Lauren Regan and activist Cathy Sampson-Kruse, and have the opportunity to ask questions of the panelists. Stephanie Tidwell, CLDC Deputy Directory, moderates the event.
THE DETAILS
What: After registering, you will receive a confirmation email. About five days before the event, you will receive an email with two links: 1) one to NECESSITY Part I, and 2) another to the Benefit Event. The event program includes a ten-minute Sneak Preview, the Panel Discussion, and Q and A.
When: Sunday, October 18, 6pm-7:15 Pacific time
Where: Register via Eventbrite here
For more information, please contact CLDC Deputy Director Stephanie Tidwell at stephanie@cldc.org or (541) 687-9180. To learn more about NECESSITY Part I and to watch the trailer, go to www.necessitythemovie.com