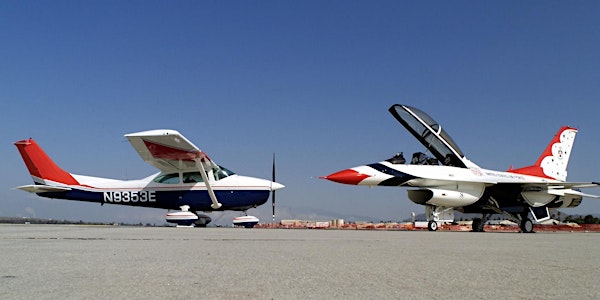 Civil Air Patrol Open House (Youth 12-17) - Renton Squadron
Location
Embry-Riddle Aeronautical University
1000 Oakesdale Avenue Southwest
#110
Renton, WA 98057
Civil Air Patrol Cadet Program Open House (Youth 12-17). Aerospace Education, Leadership, Community Service, Search & Rescue, Learn to Fly!
About this event
My name is Major Brad Berger.
In my non-work time I volunteer as the Deputy Commander for Cadets of the Renton Composite Squadron of the Civil Air Patrol. I am the Senior Member responsible for the Cadet Program in our Squadron. I am assisted by a very dedicated staff of professionals who are passionate about our program.
We have a robust program and active Squadron in Renton and have an exciting year planned. It's never been a better time to be a member (Cadet or Senior) of the Civil Air Patrol!
We meet at Embry-Riddle Aeronautical University in Renton on Monday nights from 6:30pm to 9:00pm. We on-board new cadets through a Cohort style program. This means we kick off a new training class of cadets, starting with an Open House. Then over the next 7 weeks at our regular Monday meetings, we train you on the various elements of the cadet program to set you up for success. We have a 100% track record of successfully moving every cadet under this system from Cadet Basic to Cadet Airman (and receiving their first stripe and award) in that 8 week period of time.
This notice should give you time to prepare family calendars and make the necessary adjustments and/or choices as you go into the next academic year to be able to commit to the full 7 weeks (weekly meetings on Mondays) following the Open House on 9/12/2022, as well as continued participation in weekly meetings.
At the Open House, in which we highly encourage parents to attend, we will have both formal presentations by myself and other cadets, and Q&A sessions, including a parent only Q&A session with me. We will have cadets who recently participated in the following events share their experiences:
CyberPatriot
National Cadet Competition (Renton was 1 of 16 teams from across the nation to compete)
Cascade Falcon Summer Encampment
Desert Eagle National Flight Academy
Ground Search and Rescue Academy
National Emergency Services Academy
Washington All Mission Academy
Marksmanship Training
Arlington Fly-In (Skyfest)
Cadet Orientation Flights
Feel free to forward this information to someone you know who may also be interested in attending.
We hope you can join us!