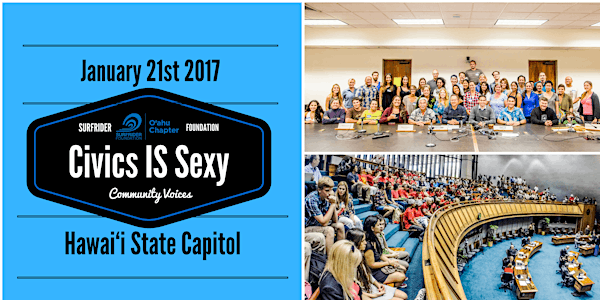 Civics IS Sexy: Community Voices Getting Louder 2017
When and where
Location
Hawaii State Capitol 415 South Beretania Street Honolulu, HI 96813
Description
For the past 2 years Surfrider O'ahu has held Civic IS Sexy, a free public workshop to empower our community to make positive change, understand the legislative process, and have their voice heard. In 2017 we are back and building a powerful program for you. We hope to increase our numbers greatly in participation as the positive feedback from previous years has been overwhelming, and thus we are releasing this invite now, so you can save the date for January 21st 2017. Please let us know early if you can commit so we can lock in the appropriate rooms and give you advanced notice of our program.
Want to know what inspired this workshop? In a TED talk by Eric Liu entitled: "Why Ordinary People Need to Understand Power" - Liu asserts, "We need to make civics sexy again. As sexy as it was during the American Revolution or the Civil Rights Movement." At Surfrider O'ahu we agree that you getting involved in making decisions for our State is of the utmost importance for creating a world that we want to call home into the future.
Civics IS Sexy is a free to the public participatory workshop promoting effective community engagement in the Hawai'i State Legislature. The process of creating, following, and testifying on important issues in our society can be overwhelming, but the Surfrider Foundation's O'ahu Chapter in coordination with many of our partner organizations want to help you navigate these unfamiliar waters.
Join us for a Saturday at the Capitol and we will walk you through the process with details on how to use the State's legislative website, gather information through the public access room, and give in-person testimony in front of a panel of legislatures on real-life bills. You'll also be able to connect with a wide variety of communities and organizations doing extraordinary work to make Hawai'i a better place.
Join us for a day of inspiring guest speakers, interactive discussions, hands on training, and a free lunch for all participants.
Bring a laptop, tablet, or internet ready device to follow along!
The doors open for sign-in and networking at 11:30AM, with the event officially beginning at 12PM