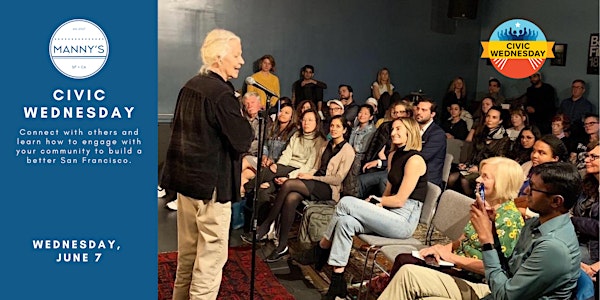 Civic Wednesday: Creating New Connections to Build a Better San Francisco
Together, we can save our democracy. Join us and help make San Francisco a better place for everyone.
Date and time
Wednesday, June 7 · 6 - 8pm PDT
Location
Manny's 3092 16th Street San Francisco, CA 94103
Refund Policy
Contact the organizer to request a refund.
About this event
Civic Wednesday is a space to reflect on–and rebuild–our faith in democracy. It's a place for connecting around the values and practices of being an active citizen and meeting new people who want to continue engaging with or become more engaged with their communities to make San Francisco a better place for everyone.
Young people in San Francisco are at a crossroads right now–many of us feel burnt out not just from our jobs but also when we pause to reflect on the future of society.
We witness first hand the impact of crime and substance use within our community. We feel the weight of inaction from the government on our planet's future. We're disheartened when it seems like every time we read the news, another mass shooting has taken place. We need to figure out how to afford a home when the average listing price for a house in this city is 1.3 million dollars. Meanwhile, thousands of people are laid off from Bay Area companies.
The list of societal issues in our country can go on and on.
We all feel exhausted, but if we don't take action, start caring more, and re-connecting with our fellow neighbors, the issues will only get worse. We'll ignore and dehumanize each other. We'll adopt a scarcity mentality. We'll be at risk for losing our sense of greater purpose and meaning. After all, millennials were dubbed the "purpose generation" and generation z are referred to as the "hopeful generation". So let's live up to these reputations.
There is so much talent and ingenuity concentrated in SF that it would be a shame to focus only on benefiting ourselves.
On Civic Wednesday, we'll gather at Manny's and chat with one another to share and identify ways to re-engage with our community, especially those whose lived experiences are unlike our own. Be prepared to become inspired and energized!
Civic Wednesday was created by Citizen University, a national non-profit building a culture of powerful, responsible citizenship. Learn more about Civic Wednesday at citizenuniversity.us/participate/civic-saturday
Manny's never turns away people due to lack of funds. For a complementary ticket, please email the title of the event and the word "grapefruit" to Angelina at angelina@welcometomannys.com
Want to support community members? By purchasing a "Pay It Forward" ticket you will allow us to provide free tickets to those who may not be able to afford entry otherwise and ensure we can create a diverse socio-economic audience that represents San Francisco.