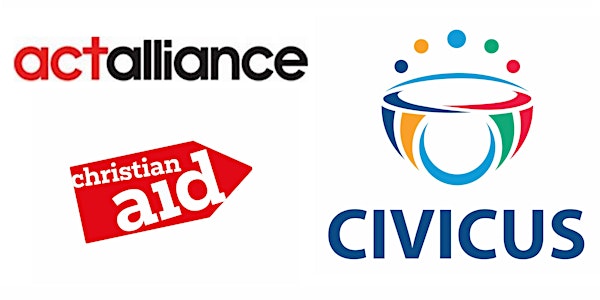 Civic Space and Covid - lessons learnt and looking ahead
Please join CIVICUS, Christian Aid and ACT Alliance for a joint learning event on the state of Civic Space following the Covid pandemic
About this event
Important update: change of date to Monday, 3 October
This meeting has been rescheduled to the Monday 3rd October due to a public holiday in UK related to the late Queen's funeral - many apologies for the late change in schedule and hoping that many of you will still be able to join and participate in this important learning event. The zoom login details and time of day remain unchanged.
12.30-14.00 UK/Nigeria, 13.30 – 15.00 Belgium/South Africa (CET) 17.30-19.00 Bangladesh, 6.30-8 am Colombia
-----------------------------------------------------------------------------------------------------------
CIVICUS, Christian Aid and ACT Alliance jointly invite you to this learning event around the impact of covid on civic space.
We will explore recent research by Christian Aid on How covid-19-has-shrunk-civic-space, the latest CIVICUS analysis in the 2022 SOCS (State of Civil Society) report and share ideas and plans for countering this trend, supporting CSOs and alliances, looking for ways to fund civil society and asking how to make digital space more inclusive. We will look ahead to future policy/advocacy opportunities! All welcome. (You can also look back at a pre-covid ACT Alliance publication on civic space and the SDGs)
Moderator: Nicolás Rosenthal, Director of Hora de Obrar (Argentina) and member of the ACT Alliance Governing Board
Panelists:
• Nuzhat Jabin, Christian Aid Bangladesh Programme Manager – Economic Justice
• David Kode, CIVICUS Advocacy and Campaigns Lead
Contents of the event:
Introduction to the 2 reports
Discussion with the panel around 3 discussion questions:
1. What do you see as most important recent trends in civic space, and what might be the potentially lasting impact of COVID (and related restrictions and threats to civic space posed by Covid-19 restrictions and further shrinking of civic space?
2. What could be done to confront these, what role can local civil society and international INGOs play and how can we best support CSOs to overcome these threats and claim Civic Space? - How can we ensure improved inclusion in civic spaces post-covid? (eg. of women, or specific other marginalized groups, also considering digital inclusion)
3. What are the key advocacy take-ways or priorities that emerge from this and what action can we take looking forward to 2023?(Note: this is a learning rather than advocacy event, but we will be exploring potential advocacy implications)
-------------------------------------------
Veuillez vous joindre à CIVICUS, Christian Aid et ACT Alliance pour un événement d'apprentissage conjoint sur l'état de l'espace civique après la pandémie de coronavirus : nous explorerons les recherches récentes de Christian Aid sur la façon dont Covid-19 a rétréci l'espace civique, la dernière analyse CIVICUS dans SOCS 2022 et partager des plans pour contrer cette tendance. Tous les bienvenus.
Únase a CIVICUS, Christian Aid y ACT Alliance para un evento de aprendizaje conjunto sobre el estado del espacio cívico después de la pandemia de coronavirus: exploraremos la reciente investigación de Christian Aid sobre cómo Covid-19 ha reducido el espacio cívico, el último análisis de CIVICUS en SOCS 2022 y compartiremos ideas e planes para contrarrestar esta tendencia. Todos bienvenidos.