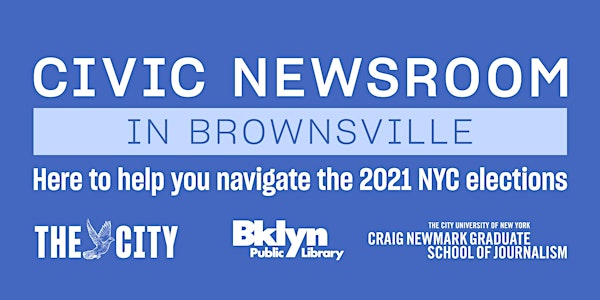 Civic Newsroom: Brownsville (Brooklyn)
The Civic Newsroom is a project from THE CITY to better understand what information voters need ahead of the upcoming local elections.
Date and time
Wednesday, March 10, 2021 · 3 - 5pm PST
About this event
What do you want to know about the upcoming election in NYC?
Join THE CITY for the Civic Newsroom, a wide-ranging effort to better understand what New Yorkers need and want to know as the city enters a crucial election season.
To kick off this project, we're holding a series of virtual meetings — assembled in partnership with local nonprofits and cultural institutions — including a virtual meeting in Brownsville (Brooklyn) on March 10 at 6 p.m.
We'll also have neighborhood-specific virtual meetings in Mott Haven (Bronx) and Flushing (Queens) and a city-wide meeting.
While all of the meetings are open to everyone, if you live in those specific neighborhoods, please join us for those meetings. You can sign up here:
Sign up here for the city-wide meeting on March 3 from 6 p.m. - 8 p.m.
Sign up here for the Mott Haven meeting on March 6 from 2 p.m. - 4 p.m.
Sign up here for the Flushing meeting on March 13 at 2 p.m. - 4 p.m.
During the first round of meetings we'll talk about who has power in our neighborhoods, why voting matters and why it's sometimes hard to cast your vote. These meetings are discussion based — we want to hear from you about your experiences with local elections, why you're drawn to vote and why you're maybe not.
You know your neighborhood best, and we want to know what questions you have about city government so we can build our election coverage around what you want to know.
Once you sign up, we'll send you the Zoom link to the Civic Newsroom the day of the event. If you have any questions, you can email us at civicnewsroom@thecity.nyc.
More information about Civic Newsroom:
The Civic Newsroom is a project from THE CITY to better understand what information voters need ahead of the upcoming local elections. In addition to a series of virtual meetings, the Civic Newsroom will use stories, newsletters and explainers to encourage and inform more New Yorkers to participate in the electoral process.
Note about technology: If you're a little uneasy about how the technology works, we can help! We'll send all the info you need about how to set up Zoom as well as troubleshoot with you if you're having any issues. If you can't video chat, there will be an option to phone in.
About the organizer
THE CITY is an independent, nonprofit news outlet dedicated to hard-hitting reporting that serves the people of New York. Our reporters pound the pavement in all five boroughs, working with New Yorkers to tell their stories and make their lives better. We're here to listen to New Yorkers, dig into their concerns and deliver stories that drive the public conversation and set the agenda on key issues. At a time when the media has been upended by technological, economic and political shifts, we want to reconnect people back to local news – and reconnect local news to getting action.