Civic Engagement Kickoff: Preparing Ohio's New 50+ for 21st Century Jobs

Thursday, March 15, 2012 from 9:30 AM to 12:00 PM (EDT)
Event Details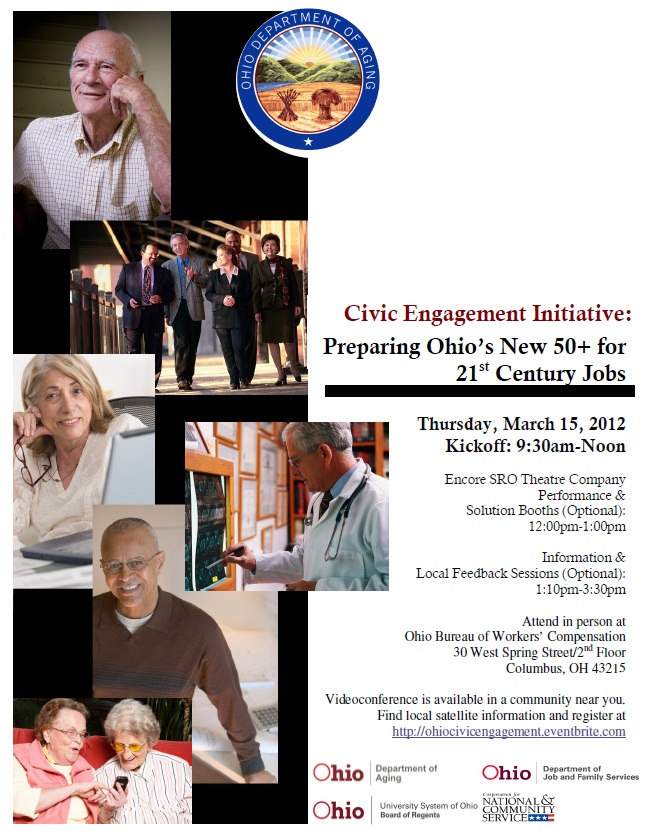 Ohio Civic Engagement Initiative
The Ohio Department of Aging (ODA) is excited to announce our Civic Engagement Initiative.  The Civic Engagement Initiative expands the focus of lifelong learning and volunteerism as tools for increasing job readiness among adults age 50+.  Its goals include:
§  Ensuring that Ohio's older workers have skills and credentials that are aligned with employer needs;
§  Connecting older adults with diverse skills to volunteer opportunities throughout Ohio to help build their communities and resumes;
§  Providing educational opportunities that both enrich the lives of older adults and offer opportunities for career growth; and
§  Providing tools to local organizations to assist with their efforts to increase civic engagement.
Many of our 50+ volunteers are already actively engaged and making a valuable impact with their community.  Along with expanding our definition of civic engagement, the initiative will also take a look at the ways Ohio can tap the wealth of knowledge in our elders- including the emerging wave of Baby Boomer retirees.  To that end, the wonderful thing about a partnership of lifelong learning with volunteering is that it promotes individual growth and a sense of purpose and meaningful contribution, whether the volunteer is working on developing new skills to meet an urgent community need or to improve personal employability.
Civic Engagement Council
Because the rubber meets the road at the local level, ODA has formed a new locally driven Civic Engagement Council.  Council membership includes representatives of forward-thinking local organizations across Ohio (i.e., chambers of commerce, regional planning commissions, community development organizations, not-for-profits, education providers, employers, and others.)  They have been called upon to support the Initiative as follows:
§  Define and document the current civic engagement situation in Ohio's local communities; including existing programs and services, funding resources, and opportunities/barriers; and
§  Propose recommendations for ensuring successful implementation of Ohio's Civic Engagement Initiative.
Morning Kickoff
Come hear about the reason why ODA has expanded our approach to civic engagement from leaders around the state- Including employers, job seekers, nonprofits and education providers.  Participants at the Downtown Columbus location will also have the opportunity to see firsthand examples of successful programs at Ohio Solution Booths and talk to the local experts behind them.
Local Feedback Sessions & Reports
The ultimate purpose of this kickoff? We want to hear from you! Attendees in Columbus and the satellite locations will have the option to attend afternoon information sessions.  The afternoon will also include the opportunity for attendees to provide the Civic Engagement Council with guidance for their work and immediately hear feedback from other communities around the state.
We are committed to providing information and resources that are immediately useful to local communities- Throughout this process, from day one, your opinions are what will make this initiative a success. Come out, share your opinion and network with representatives of forward-thinking organizations across Ohio. 
Arts & Civic Engagement 
We are incorporating the arts ~ To reach new and diverse participants of all ages, stimulate public dialogue about issues, and inspire action to get involved, the Department of Aging welcomes the SRO Theatre Company to bring Ohio's 50+ job issues to life.
This event is provided through a partnership between the Ohio Department of Aging, Ohio Board of Regents, Ohio Department of Job and Family Services and the Corporation for National and Community Service.  For more information, contact Tiffany Dixon, Workforce Policy and Planning Administrator, at (614)728-2042.
When & Where

Note: The main auditorium is in Columbus. When registering for a satellite location, the address is listed on the registration ticket.
Main Auditorium: Ohio Bureau of Workers' Compenstation
30 West Spring Street
Columbus, OH 43215


Thursday, March 15, 2012 from 9:30 AM to 12:00 PM (EDT)
Add to my calendar
Organizer
Ohio Department of Aging: Workforce Development
The Ohio Department of Aging is the designated State Unit on Aging, as required by the Federal Older Americans Act. We are a cabinet-level state agency with a director appointed by the governor. We receive and administer funding from a variety of state and federal sources and oversee several programs.
ODA's Ultimate Outcome: To ensure Ohio is on the leading edge of innovation and responsiveness to the growing and changing older population.
Civic Engagement Kickoff: Preparing Ohio's New 50+ for 21st Century Jobs